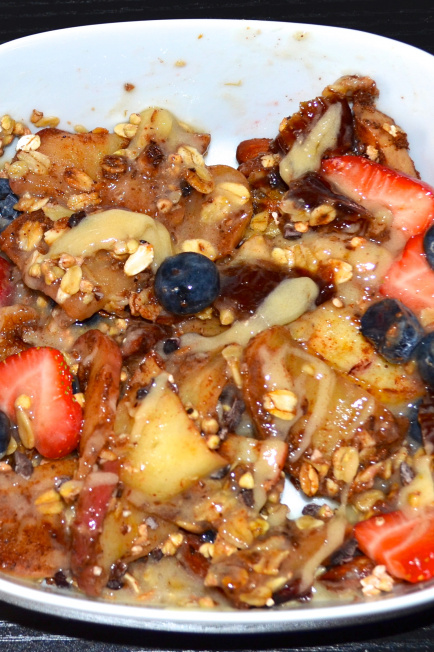 Nothing says November like a good, crunchy Apple Crisp. As I've mentioned before, my mom didn't cook a lot when I was growing up. I was also very picky, so what she did cook I didn't always necessarily eat. You could usually find me at my miniature kids' table eating mac n' cheese or a tuna sandwich with purple Gatorade – no wonder my stomach always hurt?
One thing my mom did make frequently, and exceptionally well, was apple crisp. Her version is delicious – gooey cinnamon apples bubbling over with brown sugar and butter, how could it not be? My friends used to beg me to make my mom's apple crisp all the time. (Funny story: I made it once in my first few months of college and accidentally quadrupled the amount of butter the recipe called for. Needless to say… it was a huge hit.)
Ever since I went vegan I haven't been able to enjoy my mom's lovely apple crisp. She made it this summer with fresh berries baked into it and it definitely took some self-control to stay away. I have been dabbling with vegan apple crisps for a while now, and I have to say this one is mighty tasty. And you know what would make it even better? Chocolate chips baked in! But that recipe is for another day.
If you're not a huge nutmeg person, I recommend either decreasing the nutmeg or taking it out entirely. Strong flavor! The cinnamon and agave (or honey, if you prefer) give the apples enough zing as it is. And you can add walnuts or any other nuts you'd like, but these were the only ones I had on hand! 
Ingredients:
            Apple Filling:
–       2 ripe apples (I used Honey Crisp)
–       1 T cinnamon
–       ½ T nutmeg
Topping:
–       ½ cup oats (I used gluten-free)
–       ½ cup flaxseed meal
–       ¼ cup roasted almonds
–       ½ cup chopped pecans
–       1 T coconut oil
–       2 T agave/honey
Directions:
Preheat oven to 350 degrees. Thinly slice and peel the apples.
Grease a baking dish with coconut oil.
Mix apples and spices together and add to baking dish.
Combine the toppings together in a bowl and then pour the topping on top of the apple mixture.
Bake 30-40 minutes. Be careful that it doesn't burn on top – this happens very quickly! Check on it and sift the topping around a bit.
Enjoy! You can even serve any way you'd like. Here I served it with berries, raw honey, cacao nibs and banana cream: