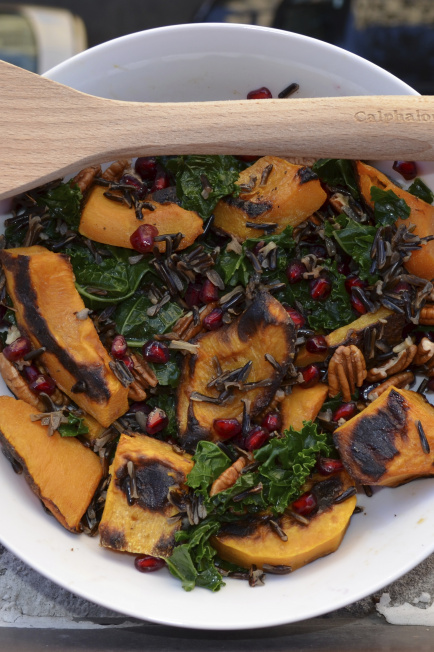 If you thought being the only uber health conscious at the dinner table was hard, try being the only uber health conscious person at the Thanksgiving dinner table. You don't want to be that pesky health freak friend/sister/daughter/cousin who requests something special, but you also don't want to starve. That's why the best thing for us wellness lovers to do is to come prepared.
Two things I will be making this year are a Butternut Squash Kale Salad & a low-glycemic cranberry sauce. Technically, most cranberry sauce recipes are made of a small amount of ingredients (a staple for me) but they are extremely high in sugar and all sorts of additives. This is a healthier version of that traditional Thanksgiving treat we all know and love.
The salad is a delicious burst of flavor between the squash, the kale, pecans, pomegranate seeds and wild rice! Sneak it on the buffet table when you arrive and your friends and family won't even know that it's vegan, gluten-free, low glycemic and delish!
For the recipes, check out my recipe post on WorldLifestyle.com.
Also… I want to take this time to ask you all what are you thankful for? I am thankful for my incredible family, my amazing friends, my health, and my happiness. Under the umbrella of happiness comes a huge number of things (yoga, writing, TBV!!!, living in the fabulous city of NYC, being on this healthy journey, and so much more). If you post a photo on Instagram or Facebook, tag me in it (@thebalancedblonde) and hashtag #thebalancedblonde writing what YOU are thankful for, I will choose a winner by the end of next week to receive a free TBV Cleanse Program. To be thankful is to be aware, and awareness is where so much of our health and happiness stems from. I know I am ever so thankful for all of you!
Head on over to WorldLifestyle.com for more awesome articles on health, wellness, fitness and beauty. And while you're there show my article some love!