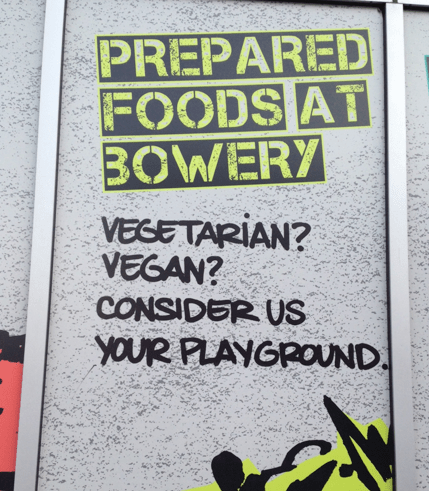 Eating Out as a Vegan: Tips, Tricks & NYC Hot Spots
Eating out as a vegan can be intimidating. People often tell me that they are afraid to take the vegan plunge specifically because they fear eating out would be too difficult. No one wants to be that token vegan friend who makes choosing a place and ordering way more difficult than it needs to be.
So what spawned this post, you ask? I have written about this before, it's in my FAQ section; I obviously don't seem to have a huge problem with it in NYC, so why write about it? Because it is an on-going battle for any vegan, and truly for anyone who eats outside the realm of the Standard American Diet. (And everyone deserves to see an awesome sign like the one below – outside of the Whole Foods on Bowery!)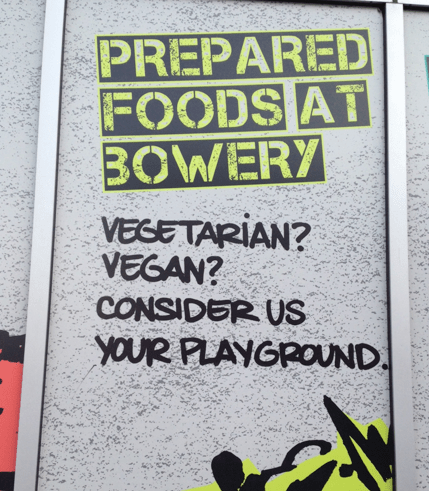 I ate my Thanksgiving dinner at Mercer Kitchen in SoHo with my family and close friends this year. I know what you're thinking… The Blonde Vegan, with all of those healthy vegan Thanksgiving recipes on her page?! She had Thanksgiving dinner at a restaurant? Yes she did, folks. And we specifically chose this place because they guaranteed us that they had a vegan-friendly menu. Turns out, while the rest of the table was indulging in a lovely four-course Thanksgiving prix fixe meal, I had a plate of kale, a bowl of watery lentil soup and a half of a grilled zucchini. And they tried to give me grilled onions, but I politely ate around them. Who wants to eat nearly raw onions?! My dad and I at Thanksgiving dinner below. (Excuse the iPhone pics in this post… didn't carry about the Nikon with me this weekend!)
And guess what? I wasn't mad about it. I'm not a very patient person, and I am someone who very much values holidays and the traditional food we eat around the holidays, so everyone at the dinner table looked at me with a bit of terror in their eyes when my plate of raw kale was set down in front of me. But I didn't mind because A) after being vegan for the last year I was prepared that vegan-friendly does not always mean very much, B) I knew that being surrounded by great company and people I loved was much more important than the food I was eating, and C) I love the vegan lifestyle and how it makes me feel, so sometimes you just have to roll with the punches.
I accepted it. And I ate a chocolate brownie flavored Larabar when I got home. Simple as that.
Most of the time I don't have a problem eating out, but only because I am used to what it entails and I know to come prepared. I am also lucky to live in a city where veganism and eating healthy is widely accommodated so there is usually an option or two on the menu at most restaurants. However, I am from a much less vegan-friendly town in Northern California, so I know what it's like to show up and have to order a plate of lettuce for the sake of being in good company.
Here are some tips to make it easier & some things to expect:
If you have the luxury of choosing where to eat out, Google vegan-friendly restaurants in your city and check out some menus beforehand. A vegan/vegetarian restaurant would be awesome, but let's face it; most of your friends and family are probably not super into that so instead try to find a place where there is something exciting for everyone.
If you are going to a pre-determined restaurant, find the menu online beforehand and scope out the veggie options. If it looks like all you will be able to order is a garden salad, eat something before you go or keep in mind that you can eat afterward if you're still hungry!
Be OK with the fact that you will often be stuck with a salad or a side of veggies, and go out to eat for the company of the people you choose to surround yourself with rather than an all-around dining experience. The people are the most important part, anyway!
Don't be afraid to speak up. Ask your waiter if there are vegan options (key words to use with waiters: dairy-free, egg-free, meat-free… not everyone is familiar with the term vegan).
Don't be afraid to modify a menu. I am the queen of ordering a salad without the cheese, without the meat, lemon juice instead of the dressing, etc. Your friends might poke fun of you at first, but everyone is happier in the end when you can actually eat your meal and enjoy it too. And you might be surprised with what the chef is willing to do!
Switch it up – if you go to some restaurants that are difficult to find things to eat as a vegan, suggest to your friends that next time you want to take them to one of your favorite places. People are usually willing to try something new – and there are lots of cool veggie-friendly spots.
Remember that this lifestyle is worth it! You've chosen it for a reason, and being out at a restaurant is no reason to break that.
Annnnddd for anyone who is interested, this is where my family and I ate while they were here and how I navigated the waters of ordering:
Pastis
This restaurant, in the heart of the Meatpacking district, is where my parents like to go for their first breakfast every time they come to visit. When it comes to the breakfast menu there is hardly anything available for vegans, so what I do is bring my own all-natural granola, order a side of fresh berries and banana, and eat the granola with the fruit. Simple, but delicious. (They don't even have soymilk… or else I would order that to eat with the granola and fruit as well!)
Eataly
Oh, Eataly. One of the fabulous restaurants I fell in love with when I lived in New York two summers ago because of the incredibly authentic Italian atmosphere and food, and because the place is truly one of a kind. Even though all I could order was a plate of arugula with fresh lemon squeezed on it, it was worth every moment of being there because my dad enjoyed his meal so much. (Spaghetti, pizza, salami and wine… he was in heaven!) This was a case of eating out for atmosphere and because someone I love loves it. Makes it fair when I dragged him to a vegan restaurant a few nights later!
Mercer Kitchen
As I stated, my Thanksgiving dinner consisted of a plate of kale, a watery lentil soup and a "side of vegetables" that was really just ¼ of a grilled zucchini and some grilled onions. I didn't mind at all though because the atmosphere was great and I was surrounded by people that I loved. I ate plenty beforehand and had a Larabar when I got home, so I was fine! And the cocktails were delicious.
Trump SoHo Room Service
I am a room service freak! When I stay at a hotel, I would be more than happy to eat room service for every meal. My first morning at the hotel I had a green smoothie (spinach, blueberries, banana, soymilk) and a bowl of granola. I had to request the smoothie ingredients specifically and remind them to keep it completely dairy-free (no yogurt), but they were very accommodating. The next morning I ordered granola with fresh fruit, and then I decorated it myself for fun!
Candle 79
Boy, oh boy. I will save writing about this for later because this restaurant far and away deserves its own post on my blog. All I have to say for now is: Best. Restaurant. Ever. 100% vegan, upper-east side, amazing service. A++
Spring Street Natural
This is one of those restaurants my parents and I discovered last time they were in town that is perfect to go to because it accommodates everyone. They have several healthy and vegan options, and they also have meat, dairy and egg items on the menu. Everything I've had here is delicious. This weekend I had the steamed veggies over brown rice. Delicious! I would come here again and again.
Juice Press
When I'm walking around the city with my parents, I make frequent stops at Juice Press (and by frequent I mean about once a day). I come here for a breakfast smoothie, a midday juice or a salad or soup for lunch. It is an absolute staple, and they have several locations around the city.
Whole Foods
It's a staple. I pop into Whole Foods as often as humanly possible – like this past Saturday for an afternoon pick-me-up of sesame tofu, soybeans, green bean falafel, buttnernut squash mash, scallions, and Asian slaw! Check out my Grocery List for some other great Whole Foods ideas.
And because my parents are so adorable… hey, you two!