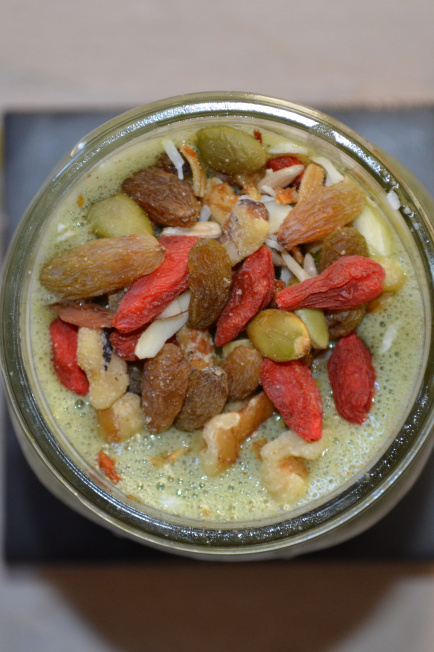 This smoothie is so yummy. Especially because there is a secret ingredient that you would never be able to tell by its color, but the flavor it adds is oh so delicious. Trying to think of what it could be? That's right: chocolate.
Well, chocolate protein powder that is. I used the brand Vega One and then added a little of Oriya Organic's superfood green medley. But you can use whatever you have on hand – you can even use raw cacao powder!
I've said it before, and I will say it again. There is no healthier way to start your day than with a green smoothie. When you first wake up in the morning is when your body absorbs the most nutrients, and if you begin the day with a healthy start you are more likely to crave healthier things throughout the day. Green smoothies fuel you with energy, fiber, protein, natural sugars and vitamins.
And if you top them off with some granola, you get an extra boost of energy and deliciousness. Especially if you're someone who prefers to "crunch" your breakfast rather than sip on it. I had that discussion with someone this weekend – they told me they could never replace a meal with a smoothie because a big part of the whole experience of eating for them is chewing their food. My suggestion was to add granola, mulberries, goji berries, fresh fruit or raisins to their smoothies so they have something to scoop out with a spoon and chew between sips.
P.S. The countdown to the release of The Blonde Vegan Cleanse Program is getting freakishly and excitingly close. Who is ready for another sneak peak?! Email me to get an idea of some of the recipes that will be included in the cleanse, and also email me to get on the mailing list to be notified when it is released if you haven't already done so!
Now, on to the smoothie recipe:
Ingredients:
–       1 cup kale
–       1 cup spinach
–       ½ cup almond milk (I used vanilla… SO good)
–       ½ cup blueberries
–       1 very ripe banana
–       1 large carrot
–       1 tablespoon almond butter or peanut butter
–       1 scoop chocolate protein powder of your choice
–       1 teaspoon green protein powder of your choice, or spirulina
–       1 handful of ice (about 3 large pieces)
Directions:
Blend all ingredients thoroughly.
Top with granola, nuts or topping of choice. Enjoy!
Nutrition Information: