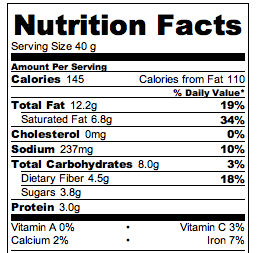 Chocolate Chunk Avocado Brownies
Ok… Yum. I have been on the hunt for a healthy brownie recipe that still has that brownie pizzazz we all know and love. You know the pizzazz… moist, gooey, and super chocolatey with just the right amount of sweetness.
It's hard to hit those qualities just right when you are making a healthy, vegan alternative to a decadent brownie or cookie. With the absence of butter, oil, refined sugar and eggs, people are often left to believe their dessert is going to be a crumbly, sad substitute that does not hit the spot.
That's where these come in.
The combo of avocado with raw cacao powder (lots of it – I like my chocolate dark!), honey (or agave), flax, oats, coconut oil and yummy dairy-free chocolate chips just so happens to be a little slice of heaven. Or a big slice, depending on who you talk to 😉
That's right. The culprit of amazingness behind these brownies is none other than mister avocado. Our good old source of healthy fats has great anti-inflammatory properties and the ability to help absorb fat-soluble nutrients.
I have been turning to avocados lately to cure a quite hilarious problem that I've developed. My skin is turning ORANGE from the amount of beta-carotene I have been eating. Too many sweet potatoes & carrots! This was first brought to my attention when my family visited me in New York a few weeks ago and my mom pointed out the fact that the palms of my hands were bright orange.
It's only gotten more noticeable in the last few weeks, and since avocados are one of the best foods to help the body absorb beta-carotene I have been sneaking them into my meals right and left. Hence, the main ingredient in these brownies was born.
To be honest, this recipe began as a simple kitchen experiment since I had a few things to get rid of in my pantry & refrigerator before coming home for the holidays. I didn't plan on them turning out great, and I definitely didn't plan on sharing on the blog – but woooahhh-wee did they go way above my expectations.
As usual with my desserts, these brownies can be eaten for breakfast (think scone-like quality here), as a midafternoon pick-me-up, or after dessert for something sweet.
Chocolate Chunk Avocado Brownies
Yields 10-12 brownies
Ingredients:
1.5 ripe avocado
2/3 cup cacao powder (carob powder works here too)
1 tablespoon of honey (or agave)
¼ cup coconut oil
2/3 cup almond milk
¼ cup oats
¼ cup flaxseed
1 teaspoon vanilla extract
½ cup vegan chocolate chips 
Directions:
Preheat the oven to 350 degrees Fahrenheit.
Blend avocado, cacao powder and coconut oil in a high-speed blender or food processor until smooth. It should look/taste like a thick chocolate mousse
Pour into a bowl and add the honey, almond milk, vanilla, oats, flaxseed, salt and chocolate chips. Mix well.
Form the dough into balls and place on a well-greased baking sheet (I use Earth Balance to grease), or you can pour into a pan to make the traditional brownie shape.
Pop them into the oven and bake for about 15 minutes, or until the edges are golden brown.
Let them cool for a few minutes once they're out, and enjoy!
* I stored these in the fridge after making them, and I have to say on the second and third day they tasted even better than the first! I think once all of the flavors sat together they took on an even chocolatier flavor and a more brownie-like consistency. The fridge might have also had something to do with this. So yummy!
Nutrition Information (for 1 brownie, or about 1/10th of the recipe):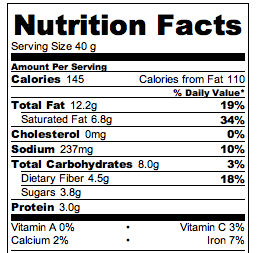 P.S. if you haven't gotten a chance to check out The Blonde Vegan 5-day Cleanse Program yet, give it a look!!! The cleanse is officially available for purchase and we will begin the first wave of cleansers on January 6th. Too excited!