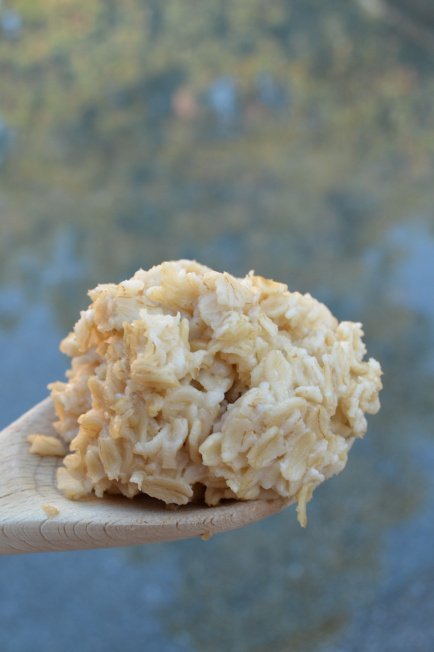 I'm giving you one warning, and one warning only. This is one of those "stick your face into the blender to lick every last drop because it's just that good" smoothies.
Otherwise known as: The Oatmeal Cookie Smoothie.
Holy yumminess. I don't even know where to begin. Ever since my bowl of oatmeal yesterday morning, which I lovingly dubbed Cookie Dough Oats because it was so decadent and creamy, I have been dreaming about the perfect oatmeal concoction that would top yesterday's deliciousness.
However, you know my obsession with smoothies does not allow me to stray too far from my smoothie for breakfast every morning routine. Solution: combine creamy, protein-rich gluten-free oats with sweet fruity goodness. And of course I through some nuts in there because what's a good smoothie without some nutty deliciousness?
The result was out of this world! This is the perfect breakfast, post-workout treat or nighttime dessert. That's one of the greatest things about living this awesome clean vegan lifestyle: your desserts double as fuel for the day. A.K.A. You can eat dessert for breakfast. Disclaimer: You'll want to do it all the time.
Especially when your breakfast is full of vitamins, fiber, protein, healthy carbs and all sorts of natural energy sources.
PLUS! Super exciting news. The Blonde Vegan 5-Day Cleanse Program was featured on Elite Daily's "5 Simple Ways to Detox That Won't Make You Crazy." Check out the article and show it some love! The writer, Laura, partook in the cleanse program and had such a good experience that she wanted to share with her readers. Super exciting for me – the goal is good experiences all around!
I also want to thank all of you for your super amazing responses to my last post about my one-year vegan journey. It was scary to put my struggles out there, but the emails and comments I got from all of you reaffirmed to me how important it is to be open about any and all difficulties we may have. No diet is perfect, no body is perfect, no one lifestyle is perfect, and I was reminded of that when I got so many amazing suggestions from you all about how to deal with my stomach problems. It's also so awesome to hear from those of you who have been in the same boat, because it's very easy to fall into the rut of feeling alone when it comes to stomach issues.
THANK YOU for inspiring me every single day! You all rock.
Ingredients:
½ cup oats (I used Red Mills gluten-free)
1 very ripe banana
1 apple
½ cup almond milk
½ cup water
1 tablespoon almond butter
a few shakes of cinnamon (I like to add a lot)
Ice if you like your smoothies cold (I do!)
Directions:
Boil oats in water (a little more than 1 cup) until the oats are fully soaked through.
Slice the banana and chop the apples small enough for your blender to be able to blend them. Pour the oatmeal, fruit, and all other ingredients into a blender. Blend until smooth.
Enjoy this delicious treat on its own, or add 1 tablespoon of cacao powder if you're feelin' chocolatey. Also feel free to add honey or agave to sweeten the smoothie if you're looking for something even more dessert-like.
And because two is always better than one:
Nutrition Information:
P.S. How cute does the smoothie look with my pool as a backdrop? I am really going to miss these fabulous California settings and weather conditions when I head back to NYC next week. Window ledge and snowy streets, here I come!