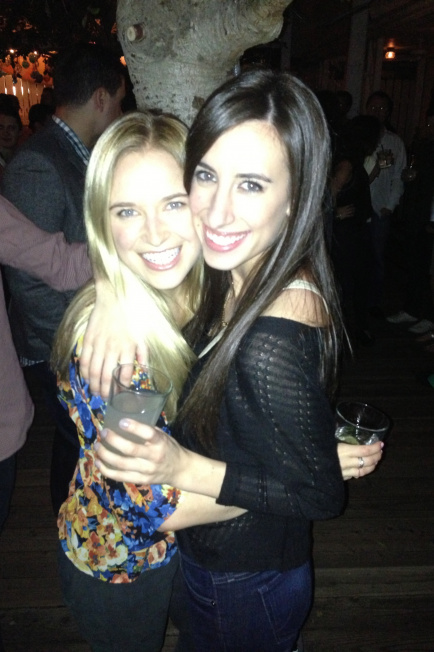 My Vegan Weekend in Los Angeles
I have to admit, I was a little nervous to visit L.A. this weekend. Before moving to N.Y.C in July, Los Angeles had been my beloved home for the last four years. Almost all of my friends from college and most of my family members still live there. I was scared I was going to love it so much that I was going to question my new city life.
Come on, Jordan. 80-degree weather, my favorite restaurants and YogaWorks (my yoga crack) on top of the people aspect… of course I was going to love it.
While I was there I had intense moments of wishing I lived with all of my friends in an apartment on the beach where I could walk to the Brentwood Country Mart each day post-yoga-amazingness and get green juice and all-natural almond milk from Almond Milk LA and spend the weekends hopping from one Santa Monica bar to the next… but I also had equally intense moments of being very grateful for my New York City life.
I don't have it that rough. I live with my lifelong best friend in the heart of Greenwich Village. I am pursuing my dream of getting my Creative Writing M.F.A at The New School. I work on the blog day and night because I love it. I get to collaborate with super awesome like-minded healthy NYC-ers every day. I have an Equinox on my street, a Juice Press, three organic restaurants, Integral Yoga Foods grocery store and an awesome yoga studio.
I can take a stroll in Central Park on any given day or visit my college roomie at her law firm in Midtown. I can write the day away in a charming café in Brooklyn. I'm stepping out of my comfort zone and living on the other side of the country, gaining amazing writing material and new experiences.
It's not sunny La-La land, and I may not be up to my neck in old friends, but it's New York City. Visiting L.A. did not take away my love for my new city life (although weather-wise there is no comparison). It only reaffirmed that I am in a win-win situation. I am a California girl at heart, but for now there is lots more to conquer in New York. I can be super happy in both places, and for that I am extremely grateful and relieved.
What I Ate this Weekend:
Anyway, what I'm really here to do is tell you about what I ATE in Los Angeles. My stomach had been acting up before I left for L.A (you can read more about my tummy problems here), so I was a tad hesitant to indulge when I first arrived. I had a delicious carrot orange ginger maca juice from Rawvolution for a post-yoga dinner on my first night in the city, and it hit the spot.
I woke up feeling light and amazing – thanks, juice for dindin – and decided to check out Juice Crafters, which had been highly recommended to me by my Brentwood friends. Yeah, you could say I kinda fell in love. But is that really that surprising? It's an organic cold-pressed juice bar… a.k.a my heaven on earth.
I met some friends for lunch at Café Gratitude, my favorite Los Angeles vegan spot that I had been missing and craving since I moved. I ordered the "I am Pure" salad because I was still nervous about messing up my stomach by eating anything too rich, but my friends got the "I am Fortified" bowl and the butternut squash enchiladas. Everything was incredible, as always.
Then I made my obligatory Whole Foods pit stop. If you know me, you know that Whole Foods Venice Beach is my home of all homes. I drove there just about every day when I lived in Marina Del Rey. With their raw food bar, their two vegan sections and their a-freakin'-mazing bulk aisle, it's basically the greatest place I could dream of. Plus, everyone in there is beautiful. That's certainly one guaranteed aspect of L.A.
I treated myself to this raw treat while I was there… Can you say y-u-m?
Plus, I had one of my best friends meet me there. How cute is she?
Dinner on Friday was at M Café. I dragged three of my awesome non-vegan friends there, and somewhere between attempting to explain tempeh and the Macrobiotic diet all at once, they actually thoroughly enjoyed their meal. They also have fish there, which is cool for non-vegs.
Later that night the hash tag #isvodkavegan was born by one of my  friends. That might explain to you where the night went.
The next day was spent doing yoga, getting a salad from the Whole Foods salad bar and bringing it to the beach, and dining at Katsuya. Contrary to popular belief, Katsuya is quite vegan friendly. I ordered a veggie sushi roll and a tofu salad… but I couldn't really eat the salad, since the tofu was fried.
Sunday I got a YUMMY acai bowl from Juice Crafters. Can you tell that I was staying right down the street from this place?
Sunday night I went to my sister's house and was treated with a delicious Lentil soup and a yummy veggie salad. Monday I was back at Whole Foods for lunch, and then off to True Food Kitchen for dinner.
True Food is one of my favorite places to go with friends and family because it has something for everyone. The restaurant is all natural, organic, healthy and delicious, and it has vegan, vegetarian and carnivorous options. I ordered my favorite: Teriyaki brown rice bowl with tofu. Yum. And a carrot ginger lemonade.
My last morning in L.A. was dedicated to spending time with two of my favorite girls who I have missed ever so dearly. We had breakfast at M Café (oatmeal with berries and maple walnuts) and then got farewell juices at Juice Crafters. (I spilled mine all over me about 5 minutes into my drive back to Nor Cal.)
Overall, the trip was a massive success. Food-wise and everything else-wise. I will certainly miss the beach, the yoga studios, hiking the canyons, and of course the beautiful shining souls who make my world go round, but I will be back for another visit in two short months! And when the time comes for that you know there won't be a shortage of restaurant hopping.
Modeling our lemon cayenne ginger juice shots right before my drive back!
Biggest missed food/juice opportunities while I was there? (The trip was short.) Moon Juice, Kreation, FEED Body + Soul, Pressed Juicery, Sage Organic, Lemonade, Mendocino Farms. Those are some of my absolute favorites, so just all the more reason to return in no time!
P.S. If you're traveling to Los Angeles, New York, or Northern California soon, email me and I am happy to work with you to create a personalized meal plan for your trip. I do have some restaurant and grocery shopping experiences up my sleeve!