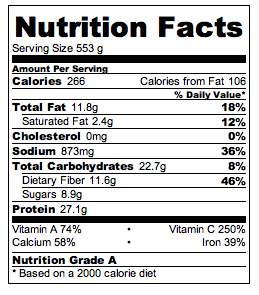 Superbowl Sunday: Spicy Teriyaki Cauliflower "Wings"
I have never been a huge Superbowl girl. Maybe it has something to do with the fact that I've never been a big football girl. Or a big sports girl for that matter… unless yoga counts.
Regardless, there are a few things I do love about the Superbowl:
a)    The halftime show (hellloo, Beyonce 2013!)
b)   An excuse for a Sunday afternoon party
c)    Eventually getting into the game and feeling extremely competitive by the end of it (I'm a competitive person… what can I say?)
d)   Tricking people into eating yummy vegan snacks that taste like their favorite sports bar treats.
…Did I say tricking people?  I meant encouraging people. Hehe…
What comes to mind when you think of Superbowl food? I think of pizza, wings, beer, lots and lots of ranch dip and perhaps the occasional Caesar salad for those who are trying to be healthy. (Tip: Caesar salads are not healthy.)
In other words, Superbowl food is a plant-based vegan's worst nightmare. Unless you are cool with snacking from a veggie platter all day long (I didn't think so), you've gotta come prepared.
And this, my friends, is where the Spicy Teriyaki Cauliflower Wings come in. Spicy, tangy, healthy and sports-bar-approved, you won't even realize you're not eating the real thing.
Actually, you will realize it. Because these are better. And buffalo sauce is full of nasty additives, oils, and fats so who wants to eat that anyway? (The same person who's OK with rolling into work Monday morning with a fat hangover and Superbowl-bloat. We can do better than that, people!!)
The ingredients I used to create this delicious saucy sauce might surprise you:
WestSoy organic Sweet Teriyaki baked tofu (yes, I blended it!)
Paprika
Hot sauce (I used Bao's Raw hot sauce… organic and non-GMO all the way, baby)
Tahini
Water
Yep. Five simple ingredients. And let me tell you a thing or two about choosing soy products. I typically stay away from soy because there are so few organic, non-GMO brands out there that do not use additives, dyes, preservatives or excess ingredients that are going to lead to me feeling nasty later on.
WestSoy is a non-GMO brand and they keep their ingredient list short. There are only 90 calories per serving (I used two servings in this recipe), and it also tastes super good. You can find their products at Whole Foods, or check out their website or Instagram @westsoy.
Plus… it's extremely low calorie. 266 cal for the entire recipe – a whole head of cauliflower and a major amount of sauce! That is equivalent to 3 and a half KFC hot wings… minus the nutritional benefits and plus a bunch of fat and grease.
Ready for the full recipe?
Spicy Teriyaki Cauliflower Wings
Serves 2-4
Ingredients:
1 head of cauliflower
½ package (2 pieces) of WestSoy Sweet Teriyaki baked tofu
1 tablespoon tahini
1 tablespoon paprika
1-2 tablespoons hot sauce (or more or less depending on how spicy you like it)
½ cup – ¾ cup water. You can also use almond milk if you want a creamier consistency
Directions:
Preheat oven to 350 degrees. Wash and chop cauliflower into small florets. Place cauliflower onto baking sheet, and bake until golden brown. This should take about 15-20 minutes.
While the cauliflower is baking, put tofu, paprika, hot sauce and water into a blender and blend until smooth. Depending on how you like it, keep adding water until it is at a paste/sauce-like consistency.
Once the cauliflower has finished baking, take it out and place it in a mixing bowl. Pour the sauce over the cauliflower and toss until evenly distributed.
Put into a bowl and serve!
You can also…
–       Use the leftover sauce as a dipping sauce for veggies, chips, crackers or whatever type of protein your Superbowl peeps want to eat.
–       Refrigerate and bring to work the next day. The flavors soak in and the cauliflower gets even tastier. Don't wait too long though, in case those little florets get soggy.
–       Substitute cauliflower for any veggie or protein of your choice. Some other ideas I have up my sleeve? Brussels Sprouts, carrots, broccoli or sweet potato. Or sweet potato FRIES! Now that would be good.
Nutrition Information: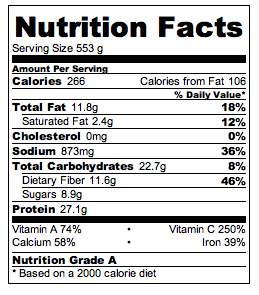 Other Superbowl ideas?
Pumpkin Chocolate Chip Cookie Dough Dip
Chocolate Chunk Avocado Brownies