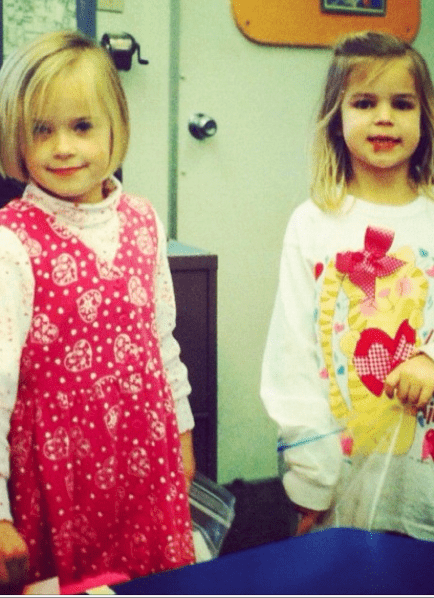 Vegan Valentines Day Treats
Best thing about February? Valentines Day. Hands down. Especially now that I live on the east coast and most of February means 20-degree weather, dressing like an Eskimo, trudging through muddy snow and longing for spring.
Something I absolutely love about this holiday is that regardless of whether or not we're in a relationship, we are encouraged to express our love to those around us. It's fun to shower our loved ones/parents/siblings/friends with flowers, bake them yummy treats and decorate cards for them.
I'm not even a particularly crafty person (especially compared to some of the girls I have lived with in the past, and my current roommate!), but for V-Day I go all out.
Seriously – who doesn't remember the ecstatic joy they felt when their "Valentines Day Mailbox" in first grade filled up with valentines and candy from their friends, crushes and teachers? Let's keep the magic alive, people! (And in case you were wondering, this is first grade me and first grade Katie, who I now live with, getting our V-Day mailboxes ready!)
I have three yummy valentines recipes for you all today, but before I get to those I want to give you a little update on what has been going on in my neck of the woods. You may have noticed that my posts have been slightly fewer and further between these last few weeks.
What's keeping me busy?
1. Working on my novel. School started two weeks ago, which means that my novel has become a huge priority again. I got feedback from my teacher and classmates on Monday, so I have been giving the book a lot of attention and playing with some new installments. The novel is a daunting (and wonderful… but daunting) endeavor, and diving back into it has been a fun challenge.
2. Fully Raw February. I have decided that instead of being 100% raw this month I am going to strive to be raw for 2/3 of the day. A raw breakfast is easy for me (green smoothie – yum) and a raw lunch is usually doable with a salad full of delicious berries and veggies, but when it comes to dinner I've found that what works best for me is steamed veggies with quinoa or a roasted veggie soup. I was fully raw for about two weeks and was getting super sore from my workouts and didn't have as much energy as I usually do, so I decided to listen to my body and go from there. And since one of my number one resolutions this year was to listen to my body first and foremost, if a raw breakfast isn't calling to me on a particular morning I sure as heck won't eat one. This morning I had a heavenly bowl of oatmeal with a peanut butter cacao date sauce (don't worry, the recipe will be at the bottom of this post!). I am proud of myself for figuring out what works best for my body and going with it. It's not easy for me to "give up" on a challenge, but I think modifying it is necessary when your body is telling you its important.
3. Fifty Mile February. I have been hitting the gym every other day (interspersed with yoga on the opposite days) and feeling amazing! Last night my roomie and I went to a "Danceology" class at Equinox, only to find out that it was an advanced level 2/3 lyrical class. After watching people strut into the studio in their professional dance shoes and dance company imprinted sweats, we asked the teacher if we would be fine as beginners and he looked at us and said, "no. You'll probably have to leave after the warm up." We lasted about five minutes, and returned to our familiar treadmill haven. Please just envision two very white, not-so-coordinated, hysterically laughing blonde girls in the back of the room trying to do advanced lyrical jazz with semi-professionals. It was hilarious.
4. Blog Interviews. I have been interviewing up a storm for the blog. Four interviews last week, two this week, and more to come. Too many inspiring people to chat with! Lots to look forward to… including a WORK OUT PLAN created specifically for yogis who want to start incorporating strength training and cardio into their workouts made by the one and only Zachary Koval.
5. Enjoying my life! I have been reconnecting with friends after my six weeks away from the city, connecting with other health bloggers, exploring new neighborhoods and trying to spend less time stressed out and more time living in the moment. "Live in the present moment, the only place where life exists."
6. New TBV Installments! Ok, it's a little too early to share exactly what I am referring to, but there are a few new, very exciting things happening on TBV in the next few months. You know I will probably spill the beans ASAP, so stay tuned! All I will say for now is that: I. Am. Very. Excited.
Ok, ready for these recipes? I sure am! One condition: you share with your loved ones on Friday.
Chocolate Chunk Brownie Bars
Yields 7-8 bars or 12-15 brownie balls 
Ingredients:
1 cup pitted dates
1 cup walnuts
½ cup cacao powder (I use Navitas Naturals)
OPTIONAL: 2 teaspoons vanilla extract & 2 tablespoons cacao nibs for topping
Directions:
1. Blend or process until smooth. It should be a sticky paste-like texture.
2. Pour into a baking tin and spread evenly. You can use your hands or the back of a spoon. Let set in the refrigerator for about 30 minutes, and then cut into bars or squares! You can also roll into brownie balls. YUM.
P.S. These bars also double as HOMEMADE LARABARS! Oh, heck yeah. I have been trying to perfect one of these bad boys for quite some time. And I think they're even better than the real thing – like anything homemade tends to be.
Pink Dream Smoothie
Ingredients:
1 banana
2 strawberries
5 raspberries
½ cup almond milk (or any type of milk you prefer)
½ cup water
3 big pieces ice
Directions:
Blend until smooth!
Oatmeal with Chocolate Almond Butter Sauce
Ingredients:
½ cup oatmeal (I use Gluten-free Red Mill)
Sauce:
1 tablespoon almond butter
2 teaspoons tahini
1 tablespoon cacao powder
2 dates
1/3 cup water
Directions:
1. Boil oatmeal in water until the oats are fully soaked through. This should take about 15 minutes.
2. Blend almond butter, tahini, cacao powder, dates and water until a sauce is formed.
3. Pour oatmeal into a bowl and top with sauce. Voila!
Happy Valentines Day, my loves. Take the initiative to make your loved ones feel special this year, and I can guarantee you someone will return the favor!
What are you all doing this Friday for V-Day?