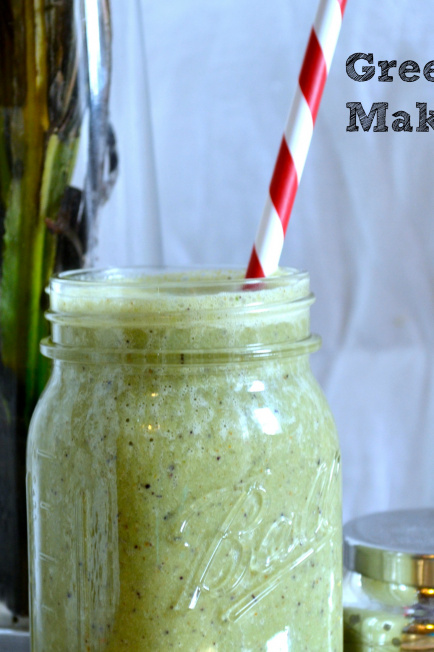 14 Tips for Making the Perfect Green Smoothie
Hey, everyone! One of the questions I get asked most frequently is how the heck do you make a good green smoothie? That's right, a green smoothie without half-blended chunks of kale, overly fruity flavors or disappointing watery aftertastes. A green smoothie that tastes delicious, sustains you until lunchtime and isn't overflowing with calories.
Well, my friends, you are in the right place. If there is one thing I know how to do it's how to make a mean green smoothie. Here are some things to keep in mind when green-smoothie-makin':
1. Must Haves: kale + spinach + ripe bananas + berries + pineapple + oranges + nut milk + nut butter + ice + cinnamon + superfoods (we'll get to that) + a good protein powder (I like Vega One Chocolate, Vega One French Vanilla and Manitoba Harvest Vanilla). This isn't all for one smoothie (that would be breaking rule #7), but these are good items to have on hand for the week if you want to switch your smoothies up. Good toppings? Chia Ginger superfood granola (Whole Foods), any type of all-natural granola, coconut shreds, hemp seeds, goji berries.
2. Ratios: I usually like to pair every serving of fruit with one cup of greens, ½ cup nut milk and ½ cup water. For instance: 1 cup kale + 1 banana + ½ cup nut milk + ½ cup water + 3 large pieces of ice. Boom. If using more fruit: 1 cup kale + 1 cup spinach + 1 banana + ½ cup blueberries + ½ cup nut milk + ½ cup water + 4 large pieces of ice. If you want your smoothie to be more green, add in another cup or half cup of greens. If you want it to be more fruity, add in another half cup of berries, orange or pineapple, or another half banana. If you want it to be extra filling and full of fiber, use 2 bananas or even 3.
3. Great combos. If you want to enjoy your green smoothie, you have to have some good combinations in mind. You can't just force the same combo down your throat every morning. Wake up and listen to your body. What are you in the mood for? Something chocolate-banana-esque, perhaps? Make yourself 1 cup kale + 1 banana + 1 tablespoon chocolate protein powder + 1 tablespoon raw cacao powder + 1 tablespoon almond butter + ½ cup almond milk + ½ cup water + 4 large pieces of ice. Something fruity? Add some strawberries and some acai powder and omit the protein powder. Here are some other great combinations for you (more on my Recipe page):
Tye-Dye Swirl Smoothie Over Chocolate Oats
4. Switch it up. I am a certified creature of habit, and even I would get bored of having the same smoothie for breakfast every morning. Half the fun of making breakfast is trying new things. Buy fruits that are in season and try different types of dairy-free milks. Sometimes when I am feeling extra exciting I buy vanilla cinnamon cashew milk, and it's absolute heaven! Almond milk is always a great staple. Hemp milk and rice milk are good to switch it up with, and if you're looking for something light try coconut water.
5. Invest in some superfoods. Sure, they are expensive, but they are an investment in your health and they also last a very long time so you only have to buy them a few times a year. Some of my favorites are raw cacao powder, maca powder, acai powder, lucuma powder, spirulina, goji berries, coconut palm sugar and yacon. They all contain incredible health properties, add flavor and variety to your smoothies and (if you're into the way your food looks, like I am!!) they make the colors awesome. My favorite brand of superfoods is Navitas Naturals.
6. Meal prep. I don't want to catch any of you saying that green smoothies take too much time to make in the morning! Prep your ingredients the night before (or better yet, prep them for the entire week on Sunday if need be) and put them into ziplock baggies in the fridge or freezer. Ever think about how easily a cup of greens, a sliced banana, a handful of berries and a few nuts go together in a bag? All you have to do is dump them into your blender in the morning, add some liquid and ice, and boom!
7. Don't go wild with ingredients. This is basically an oxymoron for someone like me, because I don't typically believe there is such a thing as too much creativity… until it comes to green smoothies. It's OK to have fun and switch things up, but putting everything that sounds delicious into a smoothie at one time is usually a recipe for disaster. Sometimes all it takes is that one extra ingredient to throw things over the top and turn a delicious concoction into something pretty gross or at least subpar. Trust me, I've been there a few too many (thousand) times. Trust the ratios.
8. Listen to your bod! If you think you need a little more fuel for your day, add a half-cup of all-natural granola or trail mix into your smoothie. You can also top it with sliced fruit, honey/agave, hemp seeds, coconut shreds, dried fruit, nuts… the possibilities are endless. And if a green smoothie sounds like too much upon first waking up on a particular morning, don't force it. Have a piece of fruit instead. You can always get your green smoothie on later in the day.
9. Don't fear the nuts. I can't tell you how many people have said to me, "You put almond butter in your smoothies? Isn't that, like, a thousand calories?" The answer is yes, I do, and no, it's not. One tablespoon of almond butter is about 90 calories, and I usually stick to a tablespoon. If I am in a really nutty mood, I might do two tablespoons (that would be a very nutty smoothie, just warning you.) Nuts are full of healthy fats and protein and will give you the energy you need to begin your day. And they add a great creamy texture that is pretty impossible to create without them. Sometimes I add walnuts, pecans or tahini instead of almond butter – so good!
10. Let your fruit ripen. Have you ever tried to make a smoothie with an under-ripe banana? If you have, you'll never do it again. Big mistake. The riper the fruit, the sweeter it will be and the easier it will be to digest. This is pertinent in smoothies.
11. Spoon versus straw. If you are adding in granola or other toppings, you might want to consider putting your smoothie into a bowl and eating it with a spoon. If it's a straight smoothie, keep it in a glass or jar and drink with a straw! I like to switch between the two options. One is not better than the other.
12. Accept the color. Green smoothies aren't always going to be green. Sometimes the best green smoothies are a muddy brown color, and that doesn't mean they taste any less delicious. Other times the green will get outweighed by the berries and powders and it will take on the color of an acai bowl. Don't freak out if it's not perfectly green!
13. Get cool glasses. Green smoothies are way more fun when you drink them out of jars, wine glasses, shooters, milkshake glasses, etc. It's a fact. Any home goods store (Or Target or Bed Bath & Beyond!) will have some great, super cheap ones.   
14. Blend thoroughly. So many people think "blending" a smoothie means turning on the blender for 10 seconds and then pouring the concoction into their glass. Blend, people!! Sometimes this takes a full 60 seconds. Sometimes more! Test out the consistency with a spoon, and if it's not right then add more liquid, more ice, or more fruit. It's a simple science.
There you have it, my dears! Enjoy the green smoothie making. And happy VALENTINE'S DAY!