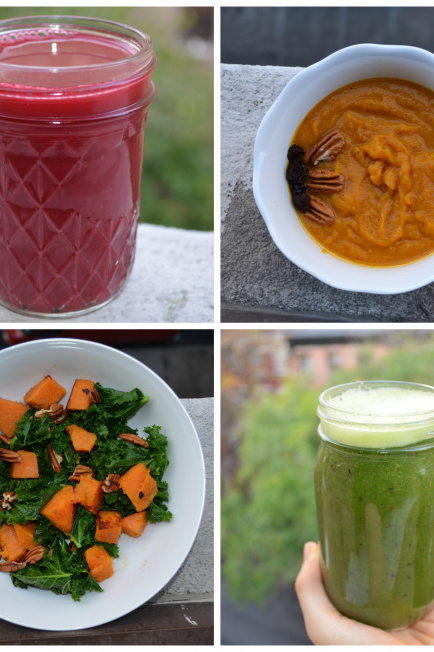 Workout Recap Friday + My Experience with Grains
Calling all grain-lovers who frequently ask me why in the world I don't eat bread… Well, today is your day. I had sprouted grain toast for breakfast. With almond butter. And coconut oil. And cinnamon. And strawberries.
It tasted like a little slice of heaven on earth. And I am not exaggerating when I say it was the first time I have had bread with a meal (or for a meal, in this case) in almost a year and a half. I was a dedicated gluten-free gal, partially because of research I've done about grains and wheat products and partially because of the way wheat affects my sensitive tummy.
When I saw a nutritionist a few weekends ago, he put me on a meal plan that included whole wheat toast for breakfast once a week and a whole wheat wrap for lunch once a week. I bought the toast and tortilla wraps during my first grocery sweep after the meeting (yes, I have resorted to calling them sweeps because I buy so frickin' much every time I set foot in a grocery store) but to be completely honest I have been afraid to try either of them until today.
I ran into a friend at Feel Food last night (Hey, Max Goldberg!) and we ended up having a pretty serious conversation about my stomach problems. I told him how frustrated I've been with the way I've been feeling and how even this new meal plan has its downsides if I don't stick to it with 100% rigidity (and trust me, I need flexibility in all areas of my life or else I start to have some issues, so following a very strict diet on top of my veganism has been quite difficult).
I told him how I have developed fears of certain foods since going 100% plant-based over a year ago. These fears range from wheat products to soy products to starchy veggies to oil and more. He encouraged me to give the toast a try (and possibly change my diet in an even more radical way), because what I've been doing is obviously not working for me right now.
So, lo and behold. My yummy little breakfast was born. Just to give you a littttle idea of how deep this issue runs, after I posted a photo of my breakfast on Instagram I got four different texts from friends/family saying something along the lines of, "You ate TOAST?! I'm so proud of you! You go girl!"
It's been a few hours, and I feel completely fine. I don't think wheat is something I would reincorporate into my diet on a daily basis, but having it a few times a week might be good for my stomach at this point. I am still on the road to cutting back on my fruit intake, so I am hopeful that adding in grains will give me the options I need to be able to do that.
Anyway, enough about my tummy probs. Let's talk about my workouts this week! Workout Recap Friday is a new installment on TBV, and I am super excited about it. If you're a new reader I will give you a little rundown: I am a total yoga freak, I am training for a half-marathon, and exercise is an essential component of my healthy lifestyle.
Workout Recap Friday
I wanted to create this new segment so I can share my workouts with you on a more detailed scale. I am also happy to help you create your own personalized workout plan, incorporating cardio, yoga and strength training, to help you reach your goals. You know I am always available by email to work with you on an individual basis.  
Saturday:
Today I got down and dirty with the running part of my training. The half marathon I signed up for is on April 13th, so following my 10-week training plan I should be running about 3 miles every other day with one 6 mile run on the weekends. But, the extremist in me said, "Screw it, we're gonna run 6 miles today instead, and then we're gonna run 2 more!" So I ran 8 miles on the treadmill (all while watching Girls of course. #girlcrush Lena Dunham.) And then I took a nice long steam shower. Love ya for that, Equinox. 
Sunday:
I was on such a high from my Saturday run that I decided to go on another long run today. I ran 5.5 miles on the treadmill, and then I did an hour and fifteen minutes of vinyasa yoga. It felt incredible to stretch my body and center myself after the two long runs.
Monday:
Today I decided to stick to my training program and not overdo it. I have such an extreme personality that I tend to try to top my workouts from the previous day, but I don't want to work myself too hard and then burn out. That's part of the reason I signed up for this half marathon, so that I can stick to a training plan and find balance while having a larger end goal rather than daily mini goals. I ran 3 miles on the treadmill and walked 2 miles on an incline to cool down. Then I did a 15-minute abdominal workout (see Wednesday's ab workout for details.)
Tuesday:
Today was a rest day. I normally do yoga or at least a light jog or a long walk on my rest days, but today was a stressful day in particular and I needed some time to myself. To write, to reflect and to relax. Most of the time when I am stressed out exercise helps, but today I knew what I needed was a day off and I am so glad I gave that to myself. I didn't even leave the apartment!!
 Wednesday:
3 mile run on the treadmill, 2 mile walk uphill on the treadmill, and a 15-minute ab workout to cool down. This was my ab workout:
–       Hold plank for 1 minute (I like to do this while listening to a super awesome pump up song)
–       Downward dog for 5 breaths (it's the yogi in me… sorry, guys!)
–       Hold plank for 30 seconds
–       Downward Dog for 5 breaths
–       Hold plank for 30 seconds while alternating right knee to right elbow and then back, left knee to left elbow and then back. Repeat until 30 seconds is up.
–       Downward dog for 5 breaths
–       3 sets of 50 Bicycle Crunches. Lay on your back and bring your knees up to a 90 degree angle. Bring your right elbow to left knee and then back down. Left knee to right elbow and then back down. Do 25 on each side. Rest. Repeat 3 times.
–       Bridge pose. Lay on your back with your knees bent and your feet on the floor. Feet should be hips-distance apart. Lift your pelvis and peel your back off the floor until you are at a comfortable level, and then interlock your hands together underneath your back. Hold for 10 deep breaths. This is a counter-pose to the abdominal work. Bring it down, and repeat x3.
–       Gentle twist to the right, gentle twist to the left. 
#sweatygymselfies are a key aspect of any good workout 😉
Thursday:
Today was a yoga day! An hour and a half of power vinyasa yoga at Modo Yoga NYC.
Friday:
Today is a running day. I am headed to this gym after this, and I plan on running about 5 miles today. I am going to a yoga class tonight as well.
When it comes to workouts, find what works for YOU and stick with it. Also, tell me what you want to see more of in this new workout section. Breakdowns of yoga poses? Instructional videos? Sweaty gym selfies? You tell me, and I will make it happen!
Cleanse It Up!
P.S. It's that time again… tomorrow is March 1st!! A.k.a time to CLEANSE! No, not a starvation cleanse. A 5-day cleanse full of fresh, whole, natural fruits, veggies, nuts, smoothies and juice goodness. You can purchase the cleanse here for $25 and join the #fallinlovewithyourself movement. More info under the Cleanse tab of the site, and of course endless amounts of info if you want to have an email chat with yours truly. Xo!