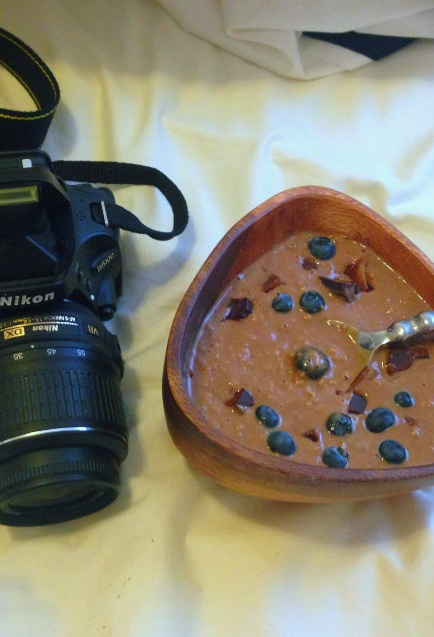 Chocolate Lover's Oatmeal
Ok, the main thing I have to say about this recipe is that it's chocolatey. Very chocolatey. Which, by the strict laws of association, means that it's abso-frickin'-lutely delicious.
If you've been reading my blog for the last few weeks you'll know that I have been on a major Dessert for Breakfast kick. I have no idea what's gotten into me! The best guesses I can make are:
A) I've only recently discovered that I can stray from having a green smoothie for breakfast and still eat a totally healthy, balanced diet throughout the day.
B) I am training for a half-marathon, which inevitably means I am hungry all the time.
C) Oats are so easy to mix with cacao powder, carob powder, cinnamon, maca, dates, banana, etc. to make healthy and delicious breakfast treats
D) My nutritionist has me eating three big meals a day instead of eating tinier meals more frequently, so I am having fun with the "big meal" idea behind my breakfast creations.
E) Everything is better with chocolate, nut butter and bananas. Everything.
Some of my previous Dessert for Breakfast Oatmeal creations like Chocolate Banana Bread Oatmeal and the Oatmeal Cookie Smoothie satisfy your morning sweet tooth in a subtle way, but not this recipe. This recipe is entirely decadent, sweet and chocoholic-friendly – AND somehow it achieves this without using any sweeteners. Not even agave or honey!
I think the secret behind this masterpiece is the use of carob powder. I usually use raw cacao powder, which is absolutely delicious but has a bit of a bitter, uber-dark chocolate undertone. This morning I was out of raw cacao so I resorted to carob. Ummm, YUM! Fun fact: carob was traditionally used to soothe an upset stomach. Maybe that's why I feel so light and energized after eating this.
Another fun fact: one tablespoon of unsweetened carob powder has 25 calories, 0 g fat, 0 g saturated fat, 0 cholesterol and 6 grams of healthy carbohydrates. Score.
Chocolate Lover's Oatmeal:
Ingredients:
½ cup steel cut oats (I use gluten-free Bob's Red Mill)
1 tablespoon carob powder (use less if you want it to be less chocolatey)
½ ripe banana
2 dates
1 tablespoon peanut butter (or any nut butter of choice)
¼ cup almond milk
Toppings (**Optional**):
1 chopped date
¼ cup blueberries
Directions:
1. Boil the oats in 1 cup of water over medium-high heat until the oats are fully boiled. This should take about 10 minutes, depending on your stovetop.
2. While the oats are boiling, combine the banana, dates, peanut butter, almond milk and carob powder in a high-speed blender. Blend until smooth.
3. Once the oats are boiled, add the oats to the blender and blend until smooth. Don't blend too much though, because you still want your oats to have their texture.
4. Top with desired toppings, and enjoy!
Nutrition Information:
And thennn my camera died, and I took the liberty of snapping some good ol' fashioned iPhone photos. Like this one! (Can you tell I thought I was really artsy with my Nikon in there, and then I got my finger in the photo? Totally killed my fancy photog vibe.)