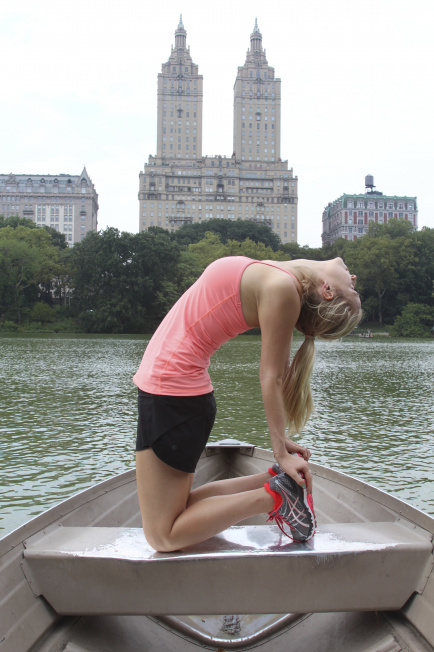 Cookie Dough Brownies with PB Cream Frosting + Workout Recap Friday
Two Part Post alert! This is what happens when you have an ultra busy week. Today we are going to talk about brownies AND a workout recap – and because the brownies are so healthy, that's not an oxymoron.
First let's talk about brownies. Actually, let's talk about cookie dough brownies. Specifically, let's talk about cookie dough brownies with rich, creamy whipped peanut butter frosting.
Don't go running and hiding just because I said the word brownie. They're healthy as can be, of course. Whose blog do you think you're on?!
I posted a photo of these decadent little chunks of amazingness on my Instagram the other day and asked followers to guess the three ingredients that were used to make them. My first mistake is that there are actually four ingredients, but in my head I wasn't counting the cacao powder because making them chocolate is optional. (Then again, who wants to eat brownies that aren't made of chocolate?)
Between Instagram and Facebook I got over 100 responses, and not a single one was correct! Hehehe, I love tricking people… When it comes to indulgent desserts that are deceptively healthy, that is.
The reason the ingredients were so hard to guess is because these brownies have a secret ingredient. I'll give you a few hints. It's a vegetable, it's orange, and it starts with a "b"…
Did ya guess butternut squash? If you did, props to you. If you didn't, I will add you to my running list of people I've tricked with this recipe. Even people who have tasted the brownies were shocked to hear about the healthy little trickster veggie packed in!
These brownies are awesome because a) the taste rocks, b) the texture rocks, c) they're virtually sugar-free and fat-free and you would never even know it. Usually I use dates and nuts in vegan brownie recipes, which are high in sugar and fats respectively. Good sugars and good fats, of course, but when you're eating nearly the whole batch in a matter of days (sorry guys, guilty as charged) those are still things to look out for.
If you eat these brownies without the frosting, they are fat-free, but the fat coming from the coconut oil and peanut butter is minimal and they are good fats that will fuel you through your day. Nothing to be afraid of.
Now, I've rambled enough, time for this recipe!
P.S. My apologies for the iPhone photos… didn't know I was going to post these on the blog until I tasted them, and they went fast after that. 😉
Cookie Dough Brownies with Peanut Butter Cream Frosting
Yields 6-8 brownies 
Ingredients:
Brownie:
1 cup ground oats (or oat flour)
¼ cup cacao powder (carob powder will also work)
1 mashed ripe banana
½ butternut squash
Optional: a few tablespoons almond milk to help blend, 1 tablespoon agave and/or 1 teaspoon vanilla extract for sweetness
Frosting:
¼ cup peanut butter
1 tablespoon coconut oil
1.5 tablespoon almond milk
Directions:
1. Preheat oven to 350 degrees Fahrenheit.
2. Steam or roast the butternut squash until tender. This should take about 20 minutes.
3. Blend oats, cacao powder, banana, and butternut squash in a high-speed blender or food processor. You can also mix by hand, but you will have to make sure the butternut squash and banana are fully mashed. Mixing works better if using oat flour, or else you will still want to blend the oats to grind them into flour.
4. Add almond milk if the mixture is too sticky, and add sweetener if you don't think the batter is sweet enough for your liking.
5. Spread mixture in a greased (I use coconut oil or Earth Balance) 8×8 baking dish and place it in the oven.
6. While it's baking, blend peanut butter, coconut oil and almond milk in a high-speed blender. If you want to make it even more creamy, whisk it once it's blended. It is pretty creamy as is though, and sinfully delicious.
7. After 25 minutes or until the edges of the brownies are golden brown and they have hardened to a good brownie texture, take them out of the oven. Spread frosting over them, and let cool.
These brownies were delicious after I let them sit for about 30 minutes, but they were even more delicious the following day once the mixture had set and the flavors had combined. Keep them refrigerated, and I actually found that I enjoyed them most when I ate them cold. It takes several hours for the brownies to develop a brownie-like/spongy texture, but if you simply cannot wait, they certainly aren't too shabby right out of the oven.
Nutrition Info (1/7 of total) Including frosting:
Workout Recap Friday
Saturday: Technically I was supposed to rest or cross-train today before my first "LSR" (long slow run) of the half-marathon training, but I ended up running 3 miles on the treadmill. It felt great, and I am slowly getting used to pushing myself to run the distance without doing the whole "run walk" thing that I'm used to. Then I went to a 75-minute vinyasa yoga class to stretch and get my yoga cardio in.
Sunday: Today was my first Long Slow Run! 7 miles. Holy crap. Other than the half-marathon I ran (that I did not train properly for at all) in Long Beach a few years ago, this is the longest distance I've covered without stopping or walking in between. It felt amazing. I ran at a slow steady pace the whole time. Huge accomplishment when I was finished!
Monday: I went to yoga today to cross-train after the LSR, and needless to say it felt fantastic. 60-minute flow class.
Tuesday: Made a mistake today. Woke up and my ankle was hurting from the LSR, but I pushed through it and went on a 4 mile run. My ankle was bothering me the whole time, so I should have scaled back and given myself a break today. Learning not to push myself too hard has been the most difficult part of this training for me so far. Tomorrow I need to get new running shoes and do some major icing and elevating.
Wednesday: Yoga time! Knew I needed to do something low impact today that wasn't going to bother my ankle. I did a 75-minute vinyasa flow class. And because I promised I would, I'm going to break down one of my favorite heart-opener poses here for anyone who is interested in trying something new!
Camel Pose
Camel should be done after the body is already warmed up, unless you're planning on going halfway down. You don't want to feel any compression in the lower back in this pose, so if you're working up to it, do some mild heart-openers (Triangle Pose, Extended Side Angle Pose, Bridge Pose) and some forward folds (Seated forward fold, Standing forward fold,  Rag doll) to get your body ready.
The sanksrit word for Camel Pose is Ustrasana. Not only does it open the heart but it's great for relieving stress, energizing the body, improving spinal flexibility and stretching the hip flexors and upper body. To get into camel begin by kneeling upright with your feet hips-distance apart. You might need to put a towel under your knees so that you're comfortable. Rotate your thighs inward and press the tops of your feet into the ground.
Bring your hands to your lower back with your fingers pointing downward. Lean back with your chin slightly tucked toward your chest. Take some deep breaths here, and then decide if you want to go deeper. If you do, reach for your heels (you can point your toes into the ground here to make your heels easier to reach) and continue breathing. Tip your head back, and feel the stretch in your upper back. Take about ten deep breaths here, and then walk your hands back to your lower back to release. Slowly come back up and sit on your heels.
As a counter-pose, lay on your back and do a gentle twist to either side.
Thursday: Today was awesome for me because I went swimming for exercise for the first time in a long time. I absolutely love to swim, but it had been a while since I swam laps. So long, in fact, that I had to borrow a swim cap and goggles from the lifeguard at Equinox! I swam for about 40-minutes (breath stroke and freestyle). Later in the afternoon I went to a Yin Yoga class, which was a tad out of my comfort zone because it's rare that I go to yoga without the intention of getting my butt kicked. Yin is the counter-part to the Yang style intensely physical practice and is centered around long, passive stretches to relieve the body. I thought it would be good for my ankle recovery. The 75-minutes flew by in what I thought was only 30 minutes!! It was incredible, and I was proud of myself for doing something different and taking care of my body.
Friday (today): Again I think I need to give my ankle a rest, sadly. I am headed to Soul Cycle after this for a spin class, which will be lower impact than going on a run, so I'm all for it!
* Today was only the second installment of Workout Recap Friday, so let me know what you liked and what you didn't like – I want to hear it all so I can improve this section and make it as helpful as possible for all of you!! Comment below and tell me what your workouts were like this week?