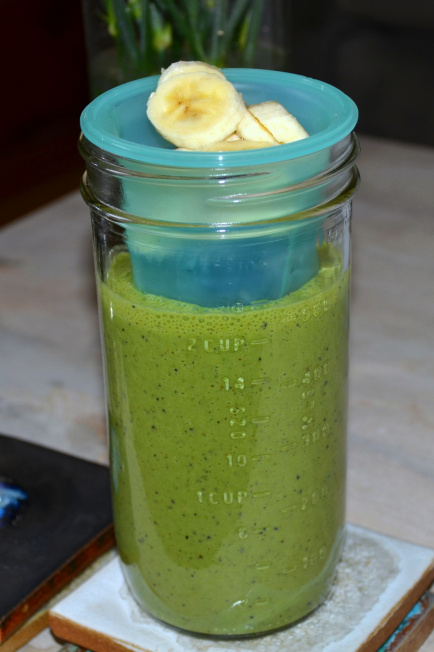 Silky Green Tofu Smoothie + Cuppow Giveaway
Happy Tuesday, everyone! If you've been following along with my nutritionist journey for the last few weeks, you know that I made the decision to hop off the "green smoothie for breakfast every single morning no matter what" train for a little while.
The reason I did this was to show myself that it's OK to switch things up, to reintroduce new foods into my diet (hello, grains and tofu scrambles!) and to satiate my hunger in a different way so that I eat three satisfying meals per day rather than a bunch of smaller, less filling ones.
The plan has certainly been working to reduce the stomach issues I've been having, but there is one tiny problem – I'm a food blogger! I get such joy out of walking into the kitchen and deciding what I want to create for each meal based upon what sounds good, what I have in the kitchen and what I have been inspired by lately. Creating food and experimenting with recipes is a huge passion of mine, so sticking to a rigid plan has been a little tough.
But of course, in the end it's so, so worth it to feel better. I am sick of feeling sick all the time. I have a follow-up meeting with my nutritionist this Saturday, so I am going to talk to him about what I can do to continue and see what kind of progress I've made so far.
In the meantime, I decided to have a green smoothie for breakfast this morning (woo!!!). I drew inspiration from my friend Lottie of Running on Veggies (She rocks. She is also the one who hooked me up with my nutritionist!) and made a little "tofu pudding" smoothie variation, since I am still trying to keep my fruit intake to four servings per day.
And another super awesome thing about my smoothie this morning was that I was using my new Cuppow products, which I absolutely love. Cuppow's BNTO lunchbox adaptors are the perfect size for me to fit all of my little smoothie add-ons like blueberries, banana slices and (when I'm not on a meal plan) my beloved granola.
And the drinking lids are also fantastic, because that means you can make your morning smoothie and not have to A) spill it all over yourself on your way out the door or B) wolf it down like a madwoman because you're in a rush. (Spoiler: I've done both. Not fun.)
Because I love you all and I want you to experience how awesome Cuppow's products are, I will be doing a giveaway on this post until Thursday, March 6th. Write in the comments below why you would like to win a Cuppow mason jar (a "tall-boy" jar just like in my photos), a BNTO lunchbox adaptor, two lids and a blue heritage jar. What smoothie recipe would you make?  Telll meee!
Maybe you'd like to get started with this yummy smoothie. It's pretty fab.
Silky Green Tofu Smoothie
Ingredients:
1 cup spinach
¼ large cucumber
1 carrot (raw or steamed)
1 large cube tofu (about 3 oz)
½ cup blueberries
½ banana (optional, but definitely helps with sweetness)
1 tablespoon almond butter
¾ cup water
4 large pieces of ice
Optional:
1 teaspoon spirulina powder
½ tablespoon maca powder
½ scoop Manitoba Harvest vanilla hemp protein
Directions:
Blend all ingredients thoroughly and enjoy.
Nutrition Info: