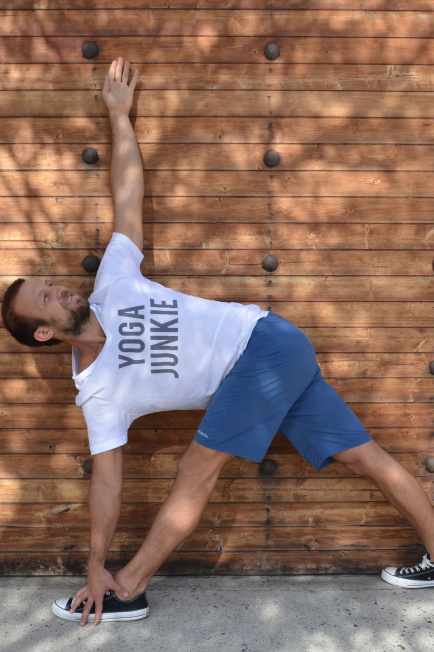 1. Detox Water – Alright, I'm calling it detox water, but I really don't know what the term is for sliced fresh fruit, herbs and lime in chilled water. Might as well be fruit water, because once you sip up all your h2o you're obvi going to munch on the fruity goodness. I started dabbling with "detox water" because of the Instagram craze that has arisen surrounding the @detoxwater and @detoxtips accounts, and I am so glad that I did. More than anything else it's such a fun way to stay hydrated.
I have also been trying to drink about 2 cups of water between waking up and having breakfast, because it coats the lining of the stomach and helps our food be more easily digestible. Fruit-infused water is a fun and delicious way to trick your brain into thinking you're getting a jumpstart on breakfast when you're really just hydrating your bod. Same goes for chia water and aloe water, two of my favorite Juice Press picks this week.
2. Juice Press – I've said it many a time since I've moved to NYC, but Juice Press has been an absolute godsend in my life. I've been a cold-pressed juice freakazoid for as long as I can remember, and moving out of the pressed juice mecca of Los Angeles was a pretty scary venture for a vegan chick like me. My mom and I stumbled into Juice Press (conveniently located on the corner of my street) when I was moving into my apartment. We ordered two smoothies that straight up chaaaanged my life because they were so delicious. I got the "Peachin' to the Choir," which is still a favorite of mine. 
I am currently on day 5 of a 10 day Juice Press cleanse. I can't even tell you how fun it is to go into the store each morning and pick out my 6 juices for the day. I have gotten to try some flavors I have always been curious about, like Body Fit (a fennel and arugula green juice), Sweet Potato Pie (tastes like actual sweet potato soup, it's so good), Complete Source (basically a delish medley of vegetables), and quite a few more.
But what makes Juice Press so truly amazing is the community it's built upon. Each store has a super neighborhoody vibe despite the fact that JP has taken over the city's juice scene. They always have samples out, everyone is super friendly, and everyone affiliated with the company is fun, innovative and easy to work with. I can't sing their praises enough.
3. 31 bits – Has anyone heard of 31 bits jewelry?! It is gorgeous jewelry made of 100% recycled bead products made from Ugandan women. Every purchase made goes toward the creators, helping them earn an income to provide for their families. They provide counseling, health education, finance training and business mentorships for the women involved. Their goal is to empower people to rise above poverty. They are making a new name for the fashion industry, and I am 194839% supportive of what they do. Their values are love, equality, hope, honesty, quality and growth (ummm, can every company have those values, please?!?!?). I am so thrilled to rock my new 31 bits!
4. Microgreens – Through my friends over at Goodwater Farms in Brooklyn, I have been learning about the power of microgreens and what a fundamental role they play in our health. Microgreens are whole plants harvested at the seeding stage that have been proven to contain four to six times as many nutrients as their full-grown counterparts. I have been cooking with them up a storm lately, especially because Goodwater Farms provided me with an abundance of awesome broccoli, daikon and arugula variations. Stay tuned for a full blog post on micro greens next week, but I just wanted to plant the seed (ha, ha) in your brains about the importance of these nutrient-rich little bundles of joy! They also taste ten million times fresher than regular greens, which is a huge plus.
5. Bedtime tea – I have had to skip out on my nighttime tea while cleansing, which has been a bit of a bummer, but I am always willing to give up my developing vices for a few days to make sure my body is not dependent on them. I have tried everything under the sun when it comes to nighttime teas that are supposed to relax you and help you sleep. A few current favorites are a peppermint tea from Whole Foods, and The Teatox Company's Nighttime Detox Tea.
It's made with 100% organic ingredients, and has a delicious peppermint and spearmint undertone. The Teatox Company also has a daytime variation that I absolutely love sipping on after I have my morning detox water. What is it about tea that is just so calming and rejuvenating? I always associate sipping on tea with winding down or giving myself a relaxation break, and I think that makes my teatime all the more enjoyable. There is nothing as wonderful as taking a hot bath, sipping on a warm tea with a bit of almond milk and cinnamon, eating dessert and reading. But don't even get me started on taking baths. (I'm a bath-a-holic… Just created a new word. And here's my adorable niece Kealey in the bath– bath lovin' runs in the fam.)
6. Perusing other blogs – Since my blog journey originally stemmed from Instagram, I have been such an "Instagram scroller" type of gal to connect with other health bloggers who are doing similar things. But over the last several months I have reacquainted myself with the actual Internet world of blogging, and holy crap there are so many awesome blogs and bloggers out there. I have been loving connecting with them, reading them daily (and nightly, let's be real – insomniac) and assimilating myself into the world of health bloggers.
Makes me feel more legit when I have all of these awesome blogger friends, and it's so fun supporting everyone else and seeing what they're all up to. Besides the blogs on my blog roll, a few blogs I've been loving lately are Kim's Busy Bod, Christine's Apple of My Eye, and Jessie's Jessie Loves 2 Run blog. Those are just a few of many (and many and many!), but they totally rock and the girls behind the blogs are freaking adorable and so sweet.
7. Poetry – I am in a poetry class this semester at The New School, and I have been loving reading a more lyrical form of writing. Poetry comes straight from the soul, and is such a personalized form of self-expression. If you're looking for a good book of alternative contemporary poetry, check out Maggie Nelson's Bluets. It's written in list form (hell yes) about her connection with the color blue. I wrote a spin-off titled Lime Green – if anyone wants to read it, I will totally email it to them!
8. Reusable water bottles – Would you believe me if I told you I've lost upwards of seven reusable water bottles since I moved to NYC in August? That's right. As a food blogger, I get sent water bottles by many of my favorite companies (Vega, Greens Plus, Oriya Organics) and I have even bought a few of my own at Bed Bath & Beyond. Dropped/broken, left in the yoga locker room, left on the floor of Duane Reade, totally disappeared; you name it, I've done it. I was recently sent one by IIN, the nutrition school I have enrolled in for health coaching, and I am determined not to lose it! So determined, in fact, that I carried it with me for all 13.1 miles of my half marathon on Sunday. Dedication.
And I always manage to drink a heck of a lot more water when I have a reusable water bottle I can continuously fill up through out the day. Anyone else feel that way? Katie (roomie), I know you do.
9. Reflecting / meditating / journaling – A huge part of the reason I embarked on this 10 day cleanse was to reconnect with myself, reflect on my eating habits and the way that I treat my body, and to chill the f out and allow myself to relax. Most of you know I have an extreme personality, I exercise until my body is bone tired, I stay up way too late, I am a terrible sleeper, and I have a habit of trying to see everyone I possibly can during the day to the point where my "me time" basically flies out the window.
Switching up my eating habits and stepping out of my comfort zone has been incredible in terms of reconnecting with myself. I have been journaling (that's right – writing for something other than the Internet or my novel, who am I?!), meditating, and allowing myself to go to Yin Yoga classes versus high powered Vinyasa classes. The relaxation has been doing wonders for my happiness level… yesterday I felt truly like myself for the first time in weeks, and even felt comfortable spending the entire afternoon out with friends and doing to a yoga class instead of working. After some 7 day work weeks up in here, it was so refreshing I almost cried.
10. Finding fun new places in my area – I met up with a friend at Why Not Coffee on Christopher Street the other day, only about a 5 minute walk from my apartment, and it was the cutest little coffee shop ever. They have jazz nights on the weekends and the décor was so adorable and rustic I wanted to hole up in a corner and write there forever. It reminded me that I live in the most awesome city ever, and there's no reason to go to the same places all the time when I have the opportunity to endlessly explore.
11. This Buzzfeed article: "11 Things You Will Learn Having a Vegan as Your Best Friend." My best friend (who I also live with) sent this to me today. Let me just say, she's an absolute trooper. All this stuff is too accurate. We have a running list of quotes that are eventually going to turn into a "What It's Like to Live with a Vegan" post… which is gonna be hilarious.
12. Self-love challenge – Everyone has been doing an incredible job participating in the #fallinlovewithyourself #tbvchallenge. I have amazing pictures to scroll through on Instagram every day, tons of inspirational emails popping into my inbox, and comments on the blog from people all over the world sharing their stories. Learning to love everything about yourself, be your own best friend, and show yourself positivity versus negative energy is SO BEAUTIFUL. And so hard. We are all in this together, and all of your stories make my heart buzz and remind me how incredibly lovely it is to work together and inspire one another in this awesome self-love journey. This 10 day cleanse is part of my self-love journey, and I am feeling more rejuvenated than I have in a really long time.
13. Family – I have been feeling extra grateful for my family lately. I am very close with my fam, so truth be told they might always make the list of "Things I'm Loving Lately," but lately (maybe it's all the reflecting I've been doing) my heart is bursting with love and appreciation for them. My mom and my sister are coming to visit me in NYC next week, and I simply cannot wait. It's hard to be a 23-year-old girl and live across the country from all of your family members… seeing them is going to be so refreshing. I wish they were bringing my dad, my other siblings and my nieces and nephew! But the upcoming girls weekend is much needed and the three of us always have a blast together.
14. Creative bursts in yoga – I don't know what has been in the air lately, but every time I step into a yoga class my mind runs WILD with new ideas for the blog/apparel/novel/life stuff and somehow works out all the problems that seem unsolvable in my regular routine. My savasanas have been exceptionally peaceful, and classes have been leaving me feeling on top of the world. I am so grateful for my yoga practice… I would be nowhere without it.
Look, I even make up my own poses… don't be afraid to PLAY! That's what exercise is all about. Play time. We've all gotta stop feeling like we have to be so serious (new blog post idea?? YES).
15. TBV Apparel launching next week!!! – This speaks for itself. My excitement is unparalleled by everything else (sorry, numbers 1-14!). One weeeek until you can all order the incredible t-shirt designs we have been working on for all these months. Cannot wait to share with all of you and see you rocking the fab tees. Check out last Friday's post for all of the TBV Apparel details!
My good friend & yoga teacher, Vytas (take his class if you live in LA!! Your life will be changed), striking a warrior and a twisting triangle pose in the Yoga Junkie tee. Perfect alignment not included with the t-shirt…. I wish!