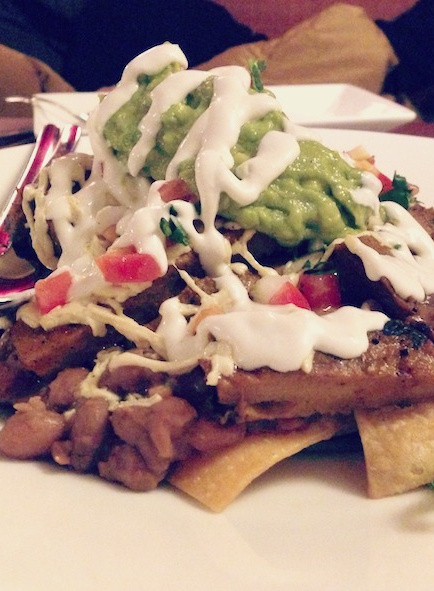 Hey, guys! Well, it's Tuesday and you haven't heard from me since Friday, which can mean just about one thing: I have been a very busy girl. I launched TBV Apparel this weekend and my mom and sister were in town from California. A.k.a two of the most awesome things ever that made for an incredible weekend.
If you haven't had a chance to check out my new clothing line yet, head over to theblondeveganstore.com to shop around! We sent out of the first batch of shirts today to the first customers, and I seriously cannot wait for everyone to receive them. I am beyond appreciative and thrilled for the support that I have gotten throughout this process – you all ROCK!
With "self-love April" coming to a close, I wanted to address a topic today that I find extremely important: learning to break the food rules we have all created for ourselves so we can let go, relax and enjoy food for what it's meant to do – nourish us! 
I have shared with all of you the less-than-healthy relationship I've had with food over the years and the battles I've fought with it to get to this point. For many years I was more comfortable completely restricting my diet and my calorie intake because I knew that is what would make my stomach feel best (wildly sensitive stomach problems), even though I knew I wasn't getting enough nutrients, or at least not enough nutrients from the right places.
And of course, when you're restricting your nutrients, you are going to have moments where you are so completely starving and helpless that you totally gorge your face on whatever is available regardless of whether it is healthy, oil-free, fat-free, etc. It's not hard for that restrict-binge cycle to be born, and it is so hard to get out of it once it is created.
Adopting a plant-based lifestyle healed my relationship with food, but I am definitely not perfect. There are days (and weeks) that are extremely hard, I get off balance, and I feel helpless again. That's why it is so important to have a wellness vision that you can come back to, and to remember that food is not the enemy, it's a beautiful gift that fuels you through your day and nourishes you from the inside out.
The most frustrating thing for me was that whenever I was doing well and then I slipped up and ate too much, or ate too little for a few days, I felt like the battle was lost and I was back at square one. The truth is… once you've made progress, you don't regress from a healthy place all the way back to square one. It's a day-by-day process. You can't have a healthy relationship with food if you don't trust yourself.
This is a topic I will be writing about on the blog quite a bit for the next few weeks, because it has totally fascinated me for a long time and I have learned a lot about my own food relationship lately. I also get a lot of questions from people in a similar boat, so I figure why not address it… it's a hard thing to talk about, but that's why we are all here! To listen and to be help each other by talking about what we've learned.
Here we are this weekend with my bestie Paul at Buddakan, where indulgence definitely went down!
So, more to come on that topic, but for today's post specifically I want to talk about learning how to indulge in a healthy way. This is important because we all deserve to indulge in the foods we love (ummm, raw vegan chocolate peanut butter cups, anyone?) without feeling guilty and without feeling like we have no control over stopping.
I took my mom and sister to Candle 79 this weekend, my favorite vegan restaurant in the city and by far one of the most delicious vegan restaurants on this earth. Normally I order the warm kale salad with grilled tempeh and potentially share a dessert with whomever I am with… but this weekend was a special occasion. I rarely get to eat at Candle 79 because it's all the way uptown and I don't have a ton of people who like to hit up gourmet vegan restaurants with me on a regular basis.
So we decided to go all out. Here are is my mom's "Spaghetti & Wheat Balls": 
Last time I ate at Candle, my roommate ordered the "Angel's Nachos" (an amazing nacho plate with vegan mozzarella, vegan sour cream, guacamole, pinto beans, seitan, pico de gallo and olives) and I tried a bite and basically died over it. Nachos are not something I would normally order – it doesn't really fall under the umbrella of "plant-based" and for me it's basically a stomachache waiting to happen.
But I knew if we ordered them and split them between the three of us I would be fine. I just had to trust myself to know that I had the self-control to stop myself before I ate too much. And guess what? I did. I had about three chips with all of the delicious fixin's and then I stopped. I knew my entrée was coming, and I knew we wanted to get dessert, so that was enough for me.
And I felt totally fine… and in control! What an incredible and empowering feeling.
My entrée was a kale salad special that they had on the menu with a creamy wasabi dressing. To be honest, it wasn't my favorite thing in the world. I was a much bigger fan of my sister's quinoa stuffed avocado dish.
Then came dessert. Being the chocoholics that we are, we couldn't decide on just one dish, so we ordered both the "Peanut Butter Bliss" chocolate mousse and the Mexican Fudge Brownie. OMG they were both so ridiculously good I don't even know how to convey it.
I eat desserts with real sugar only once in a very blue moon, so this was a serious treat for me. I don't restrict myself from eating those kinds of desserts. It has more to do with the fact that I prefer to eat desserts that have more nutrients and health benefits to them (like yummy raw desserts and cacao / nut butter combos), but in these types of situations I totally go with it.
So here comes the twist: I didn't hold back at all. We 100% devoured those desserts. I was super full and I made the conscious decision that I wanted to keep eating because the food was so frickin' good.
And I was totally okay with it. That is HUGE for me – being okay with that decision, walking away and feeling ridiculously full, and knowing that it was a conscious and worthwhile decision and not wanting to beat myself up about it later.
The next day I started my morning with a green juice and a peppermint tea and, other than still feeling pretty full from the night before, felt totally fine with my decision.
Moral of the story: if you are going to indulge, make it a conscious decision. Be aware of the who, what, why, where and when of the situation. Is it a special occasion? Is the food worth it to you? It's not every day that I get to eat at one of the most fabulous vegan restaurants in NYC with two of my favorite people. Food issues were not going to hold me back.
My sister actually told me that was the most she had seen me eat since I went vegan (lol) and she is probably right. When you make the decision to indulge for the right reasons, YOU are in control. It's the helpless and restrictive mentality at the other end of the spectrum that is detrimental — when you don't allow yourself to let loose on the reigns once in a while, and then you indulge in an unhealthy way and you have no control or willpower over the situation.
Those of you with sensitive stomach issues / food issues / body image issues… do you make conscious food decisions when it comes to indulging? What have you learned about your eating patterns that have helped you heal yourself?