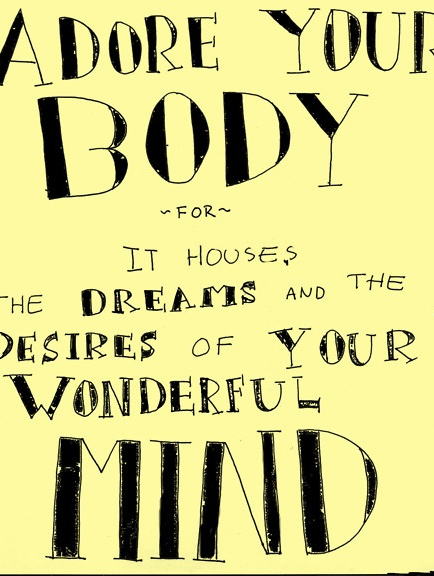 Guest Post: Paul Florez on Male Anorexia
Hey, guys! Happy Tuesday. Today is a special day on TBV, because, drum roll… I'm posting my first ever guest post. I don't normally do guest posts on the blog because this is a very personal space for me. You all know my voice, you know the topics I like to cover, and you more or less know what to expect when you type "The Blonde Vegan" into your Google search bar.
Well, there are very few people who I feel embody the style and principals I look for when brainstorming material I'd like to cover on the blog. My friend Paul, my writing partner in grad school and by far one of the closest friends I've made in NYC, is the perfect person to share his story on TBV.
Paul is not only a phenomenal friend an a phenomenal writer, but his story is captivating. Once I started hearing (and reading!) all about the journey he's been through, I knew I had to share. Paul suffered from male anorexia, and he is here on TBV today to share a bit of his story and how his relationship with food took many twists and turns before he reached where he is now:
Paul Florez: My Battle with Male Anorexia:
My Abuela was a cook. She used to make caldo vegetal, or vegetable soup, for me everyday after school. She'd strain the carrots, pepper the broth and add cream so it would be filling. The soup was her art, a recipe she stowed away deep in her memory when she fled Cuba decades prior. In that broth swam everything she had ever loved and lost, and when I sipped it, she'd smile.
It's not surprising that as a first generation Cuban-American, food played a pivotal role in my childhood. It was symbolic of our family unity, and the best memories I have involve my cousins and I feasting on lechón, croquetas, and frijoles negros on Nochebuena, and then opening up our Christmas presents under the tree. (Sidenote, Nochebuena is the Spanish tradition for Christmas Eve).
Even when I was a teenager food played a big role in my life. When Buffy the Vampire Slayer would come on every Tuesday night, my parents would order pizza and we'd watch it together in our living room. I was eating a slice of veggie supreme when Buffy killed Angel at the end of season two. My mom and I cried, but my dad predicted Angel would be back next season (spoiler alert, he was right). Eating dinner with my parents those Tuesday nights meant I was safe from bullies, gossip, and all the other problems everyone has as a teenager. As long as there was a box of pizza on the table, nothing in the world could harm me.
However, something happened when I began college. I became anorexic. Now, I know you've heard of male anorexia before (or as some of the glossy magazines like to call it, manorexia) but I want to give you an in-depth understanding at what happens when all of a sudden food, something that represented family and love, becomes an enemy.
First off, there is no sole reason for my anorexia. Anorexia, like other mental diseases, occurs because of a myriad of reasons. I don't want to weigh this blog post down with those reasons. You can check out my essay, "My Battle with Male Anorexia" over at the Huffington Post for better insight. What I will say is that my anorexia emerged because I had severe self-esteem issues. I did not love who I saw in the mirror and was desperate to change that reflection.
I would eat ten dry roasted peanuts a day for weeks and think I was invincible. How did I find the willpower not to eat between homecoming and midterms? Well, I made several visits to a pro-anorexic message board where I met other people who not only hated food, but themselves as well.
"Water weight is for fatties," one poster wrote. "Drink as little water as possible if you want to be beautiful."
Take a moment to evaluate the above quote. Water makes up 90% of our bodies. To state the obvious, we need water to live. My self-esteem was so low, that I purposely dehydrated my body. I did not drink anything for days because I was afraid of putting on water weight.
Of course, I'd have to eventually eat. But by that point, my relationship with food was so incredibly unhealthy that I would just binge on potato chips, burritos, and cheeseburgers then feel guilty and not eat for the next few days.
When I'd visit home, my abuela would look at my frail figure and offer me caldo vegetal, but I'd just shake my head and say I'd already eaten.
"You're so skinny," she'd say to me. "What happened to my beautiful grandson that enjoyed my soup?"
I'd roll my eyes. We never spoke about the anorexia, but she knew.
Then one day, I woke up to my heart racing and tightness in my chest. I hadn't eaten in two days and was convinced I was having a heart attack. I thought of Jeremy Gillitzer, the once beautiful male model who lost all bone density in his face and had starved himself into an early grave. I did not want to die in my twenties. I knew I had a greater purpose in life and made a promise to myself that I would not let my low self-esteem kill me.
I wish my abuela could see me now and be proud of the man I've become, but a few years ago she was diagnosed with Alzheimer's and doesn't recognize me. I would give anything just to have her caldo vegetal one more time. It's just another thing anorexia cost me.
Eating again was the easy part. However, anorexia does not vanish, no matter how much you feed it. How do I manage my weight issues now? I've learned the importance of eating right and maintaining a strong gym regiment as well as accepting the person I see everyday in the mirror. Yes, he certainly has his flaws, but flaws are what make us unique. And of course, any time the thought of starving myself enters my head, I just think of my abuela, and remember she always saw the best in me.
Here's Paul with me, my mom and my sister in NYC a few weeks ago:
I'd like to say a huge thanks to Paul for having the courage to share his story, and for allowing me to post about it on the bloggy. He is amazing- and there is no way I would have made it this far in NYC without him. You must check out his writing over at The Huffington Post (you're guaranteed to be rolling on the ground with laughter, but also touched by the truth and sincerity of his pieces) and on his website The Ink & Code.
Question(s) of the Day: Have you been through any particular struggles with weight or body image? How have you learned to accept yourself and your body? Does any particular part of Paul's story resonate with you?