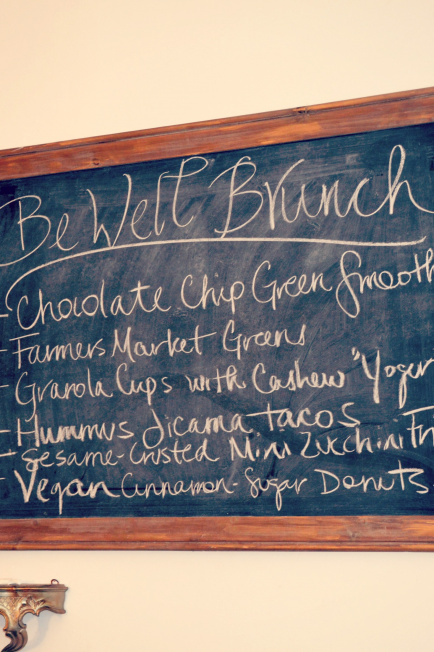 What I Ate Wednesday: Brunch Style
It's that time of the week again… What I Ate Wednesday! I have been loving participating in this awesome blog partay every Wednesday for the past several weeks. It's fun for me to give you guys a glimpse into what I eat in a day, and it's fun to document my meals and look back on a full day's worth of food. It also helps me from snacking on those random things that I'm not really hungryfor and reminds me that three balanced meals per day is key.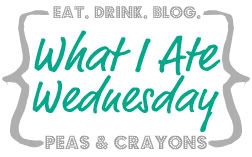 Today's WIAW is going to be a little different, because I am documenting the
awesome
brunch hosted by my friend Arielle over at
Be Well With Arielle
this past Saturday. She invited a group of us gals from the wellness world who live here in NYC, and we all had so much fun hangin' out and getting to know each other. (A few other girls at the table? Some of my NYC besties Tara from
Skinny by Tara
, Cassandra from
Go Sweet and Skinny
, and new friends Katherine from IG @fitnuzz, and a lovely girl named Liza who works at Conde Nast Entertainment.) Say hi to Cassandra & Tara!
Plus, Arielle's hostessing skills were BEYOND supreme, so I kinda sorta had to interview her for the blog so I could learn some of her secrets (and share them with you)! Stay tuned for a Q&A with the beauty behind the brunch at the bottom of the post! Food photos first – I know what y'all love most. 😉
The Eats!
We started with some delicious pineapple champagne, with star-shaped (!?!?! heck yes) blueberry ice cubes. You know I'm not the biggest drinker in the world (not in the morning, at least… anymore…!) but this was pretty delicious and I had to go all out. I mean, what is brunch without some bubbly?
Then we had something that may have been my personal favorite. OK, second favorite. Nothing touches the amazingness of those granola cups for me. These were "Cookies N' Cream" green smoothie shots. Holy yumness. Still drooling over this one.
After some cheers-ing of the green smoothie shots and some chit chat, we sat down for the meal. Our first course was this super fresh farmer's market salad with maple dressing. It may as well have been straight from the garden, because it was bursting with flavor. You all know I love a good salad. This was delish.
Then came the works! We loaded our plates with avocado toast with mint, GRANOLA CUPS WITH CASHEW YOGURT (all caps because I die every time I think about it… and it gets two pictures because it really has my heart right now), and jicama hummus tacos (favorite #3).
And, no great brunch would be complete without dessert. Arielle made these vegan cinnamon sugar donuts and I just about DIED. I am a total donut freak, but I never eat them because A) hard to find a good vegan donut, B) most vegan donuts are full of total processed crap and fake sugar, and C) I didn't know anyone (until Arielle!!!) with a legit recipe. Ok, and Gigi's recipe looks bomb dot com too but I have been lazy and haven't tried it yet.
And of course the lovely Cassandra brought some of her out-of-this-world cupcakes. These were strawberry-basil cupcakes, and while I am usually a chocolate fan when it comes to dessert… she totally turned me on to the beauty of basil in desserts! Wow. Really loved these, too. And I am a total sucker for "mini" anything.
Q&A with Miss Arielle Fierman:
Q: You are seriously the hostess with the mostest, wellness brunch throwing, healthy cooking/baking extraordinaire! Top 3 tips for aspiring hosts (like myself) who have no clue where to begin?
Oh my goodness- thank you for that compliment! Seriously, my motto is "just do it". If you have the willingness to cook, let alone, entertain, all it takes is some prep, delicious recipes, enough chairs, silverware, some flowers and you're set!
Q: 3 tips to get started: 
1. Send out a pretty invite and firm up guest list. Sending out a pretty invite  gets people excited to come – even an easy one on paperless post will do. Once you know the guest list and who is coming, send out an email kindly asking if they have any allergies, food sensitivities, restrictions or preferences. Once you know what you shouldnt serve, you can focus on what you can serve!
2. Create a menu. I like picking a theme and then getting inspiration from pinterest (follow me at http://www.pinterest.com/bewellwarielle/ for inspiration), or even looking up menus from your favorite restaurants and emulating their recipes is inspiring! Hosting a brunch? Look up your favorite brunch spots and what they typically serve!
3. Buy flowers or plants. Flowers instantly brighten up a table and can provide the entire decor for a party. No need to purchase an expensive bouquet – pick one up from the supermarket or nearby deli for less than $10, put it in a pretty vase and voila – looks like you got it professionally done! Base your colors off of the theme. Cinco de mayo? Purchase red or yellow flowers. Brunch for girlfriends or Mother's Day? Pinks or purples always work well for the women!
Q: Top 3 kitchen must-haves in order to throw a successful food partay.
– Enough plates, forks, knives and spoons for all of your guests (oh- and enough for serving pieces as well)
– Blender: it's so versatile. You can whip up smoothies, cashew "yogurt", almonds into almond flour, soups, hummus, dips and creamy salad dressings. No need to purchase an expensive one. Even a $30 blender will do!
– A good knife: having a good quality knife will save you so much time and energy, not to mention, it will make everything look so clean (and professionally) sliced! I like these Kuhn Rikon knives and they come in pretty colors too.
Q: Top 3 wellness principals you live by.
– Chew! Cients come to all the time with stomach issues. Often, its not just what they're putting into their bodies that are affecting their digestion – its lack of chewing! Enzymes are in your mouth to break down food. if you chew well, mixed with the enzymes in your mouth, once the food gets to your digestion, it will hardly have work to do and you know what that means: less tummy aches.
– Sleep. Get it! Its as important as your work, will make your skin glow and energized for you to work even harder the next day!
– Eat food that you can pronounce. Just because something is labeled "healthy," "vegan," "gluten free" or "dairy free" doesn't necessarily mean that it's going to make you feel good (and look good). If you can't pronounce it, don't put in your cart, kitchen or your mouth. Your body will thank you.
Q: Who is YOUR inspiration for all things wellness?
– Christa Orecchio's weekly nutrition videos
– Dr. John Douillards weekly wellness newsletter
– Gabrielle Bernstein for spirituality and positivity and business skills
… and that concludes today's WIAW! You can find any and all of these recipes over on Arielle's blog. Do yourselves a favor and make, well, all of this. Starting with the donuts and granola cups. And the salad if you're feeling extra tame… hehe, but really, it's AMAZING!