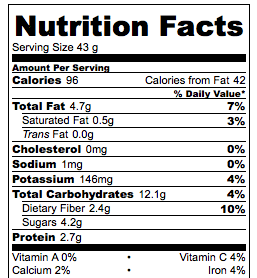 Healthy Banana Chocolate Chip Muffins
Happy Thursday! Here I am comin' at ya with a recipe post for the first time in… how long?! Too long.
The funny thing is, when I started this blog back in August it was meant to be a recipe blog. I basically copied Chocolate Covered Katie's style, inserting food photos and writing about the recipe at hand. I added in little tidbits about myself or my day, but I usually kept it all closely tied to the food I was discussing. I quickly moved on to ingredients, directions, nutrition info, and was outskis.
Well, needless to say, the blog has turned into sOoOo much more than that for me. It's a bit of a diary, an outlet for the issues/events/food/people I am passionate about, a mode of connection to all of you lovely beings, an excuse to interview some people and restaurant owners that I am wild about, and a hub for all things health, fitness, wellness and blonde vegan-ness.
But I still love a good recipe post! And I certainly intend to amp them back up once I am back in California, where my lighting is better, my kitchen is bigger, and I have a whole lot more time on my hands (one more week of grad school… what, what?!).
For now, I am sharing one of my all-time favorite recipes. This recipe is superbly dear to my heart, because when I very first went vegan a year and a half ago, I was totally gung-ho 100% sugar-free, gluten-free, processed food petrified, etc. (still am all of those things, but I was that to the millionth degree in the beginning!)… and I started researching chocolate chip cookie alternatives.
When I came across a recipe that called for mashed banana in place of eggs and sugar, oats and flax in place of flour, and almond butter in place of oil, I was a little skeptical. The good thing is, dairy-free chocolate chips were included so I knew no matter what I would be semi-pleased.
Well holy shit. This recipe blew me out of the water. Since my first time making it, I have tweaked it quite a bit and made it A) even easier to make, B) even yummier and C) even healthier.
Three things I totally cannot pass up.
These cookies (which I have now transformed into MUFFINS! But you can really make them in whatever shape your hearts desire) hit the spot for so many different things: breakfast, dessert, snack (add some peanut butter or honey/agave on top and you'll die), post-workout recovery, pre-workout fuel… all of the above… 😉
So sinful tasting. Yet so not sinful because so healthy and so full of goodness. Fiber, protein, iron, potassium, healthy fats — basically an all-natural energy bar.
The Recipe!
Yields 12 muffins
Ingredients:
1.5 cup gluten-free oats (I use Bob's Red Mill)
1/3 cup flaxmeal
4 tablespoons almond butter (or any nut butter of your choice)
3 overly ripe bananas
a few generous shakes of cinnamon
3 tablespoons dairy-free chocolate chips (I use Enjoy Life)
Directions:
1.Preheat oven to 350 degrees Fahrenheit.
2. Thoroughly mash banana until there are no chunks.
3. Combine all ingredients together in a large mixing bowl and mix until a cookie batter is formed.
4. Grease a muffin tin (or cookie sheet) with coconut oil (or whatever you like to use to grease), and place spoonfuls of the batter into the tin.
5. Bake for about 15 minutes or until golden brown.
6. Pop out of the oven, let cool and enjoy!
And please drool over these photos with me… swoooon-worthy!
I store these in the refrigerator and I find that they last up to 2 weeks- if you can make them last that long!!
Nutrition Info (for one muffin):