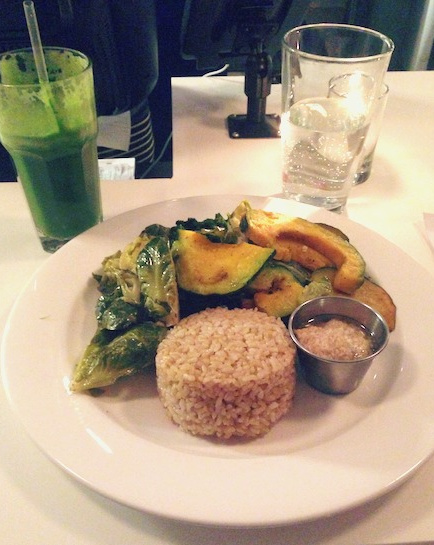 A day in the life of a plant-based vegan
I realized that I haven't written a typical "What I Ate Wednesday" post in several weeks – it's been all about the fun eating days, the untypical days, like the Be Well Brunch, Smorgasburg and my 10-day juice cleanse.
So here I am with a post about a legitimate day in the life of a plant-based vegan. My eating varies day to day based on what I am in the mood for (so important to listen to your body's cravings), my activity level and how busy I am. When I am on the go, I like to eat very small portions throughout the day and bring little snackies with me for sustained energy. When I am home working on the computer all day (a.k.a posted on my couch sitting criss-cross applesauce in my boxers and slippers like I am now) I follow more of a three meal per day thang, generally because I have more time.
Today is one of those sitting-at-home-in-boxers kind of days (so far at least), so I had a delicious green smoothie with ½ cup of my favorite superfood cereal granola – a total treat for me, because I rarely buy this granola since it's basically like crack to me. So good! I wandered into Whole Foods at 10pm last night and decided it was a great idea to load up on it, mainly for my vaycay this weekend but of course had to sneak a bit this morning.
Yesterday was more of an on-the-go type of day, so I will share those eats with you. By the way… have you entered the Greens Plus giveaway yet?! Open until Friday.
Double by the way, I have been inspired by the lovely Annie Lawless of Blawnde (and Suja!) and her "Foods That Are Lying to You" posts. I am going to do a few installments of something similar on the bloggy ASAP. By ASAP I mean hopefully tomorrow, and if not tomorrow then next week post-Hamptons.
Ready?!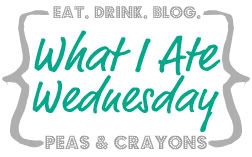 What I Ate Wednesday: A Day in the Life
Breakfast:
Most mornings I have a green smoothie loaded with deliciousness. My favorite combo is 1 very ripe banana + ½ cup blueberries + a few handfuls of kale + 1 cup water + ½ scoop plant-based protein powder (here I used Greens Plus, I also use Vega One). Sometimes I add a tablespoon of almond butter if I'm feeling wild! And if I am extra hungry I will add a side of berries or a ½ cup granola like I did this morning.
Lunch:
Yesterday's lunch was pretty untypical for me. I usually eat a big salad with lots of greens, avocado, carrots, and sometimes some tempeh or tofu. But yesterday I was in the mood for a big ol' bowl of oatmeal. I wanted something even sweeter, not sure what was going on there, but I blended up some carrots and zucchini to mix in so I could still get my veggies in.
Lemon Ginger Zucchini Carrot Cake Oatmeal– 1 tablespoon lemon ginger coconut oil, ½ zucchini, 1 large carrot, ½ cup gluten-free oats, cinnamon. // Blend coco oil, zucchini and carrot in a high-speed blender (add water if necessary, I added about ¼ cup) while you boil your oats over a medium-high heat. Once oats are fully boiled, pour zucchini-carrot mixture into the pot and stir until well combined. Add in as much cinnamon as desired. Voila.
Snack:
On a totally normal day I would have had a green juice or a piece of fruit (probs a green apple) as a snack, but yesterday I was taste testing recipes at Gingersnap's Organic for our upcoming event in June, so I got to try lots of yumminess. I actually regretted my bowl of oatmeal, because I would have been able to try way more had I not been so full! Whoops. Here is a d-e-l-i-c-i-o-u-s Za'atar hummus (all raw) with some sundried tomato flaxseed crackers, and in the back some delectable guacamole with fresh cut veggies!
Dinner:
For dinner I headed to Peacefood Café with my friend Clare. I hadn't seen her in a couple weeks, pretty much since our Woodstock trip, so we had a lot of catching up to do. I ordered the "Peace Bowl" with brown rice, kabocha squash (best part, heck yeah), steamed kale and steamed Brussels. (Sidenote: I order all of my restaurant veggies steamed with no oil, and if that's a problem at the restaurant then I order something else. You never know what kinds of oils a restaurant uses, and oil bothers my tummy to the millionth degree so I have to be extra careful.)
Clare ordered the green lemonade, so we snuck that into my photo too.
Dessert:
After dinner I felt like something sweet, so I headed to the nearby Whole Foods in Union Square to pick up some goods and my latest obsession: all natural bite-sized coconut chews. Not sure of the brand but I will check on that and get back to you!
There ya have it! A pretty typical day in the life. When your life revolves around vegan food (food blogger, recipe developer, 95% of the people I hang with are involved in the health world, NYC is brimming with healthy veg restaurants), you end up surrounded by food more often than not. That's why it is extra important to make healthy choices, to know your body so that you don't overindulge and/or make a decision that your stomach is going to pay for later, and to plan ahead whenever possible.
What does your typical day of eats look like?! Does mine seem weird to you? I won't be offended if you say yes. 😉