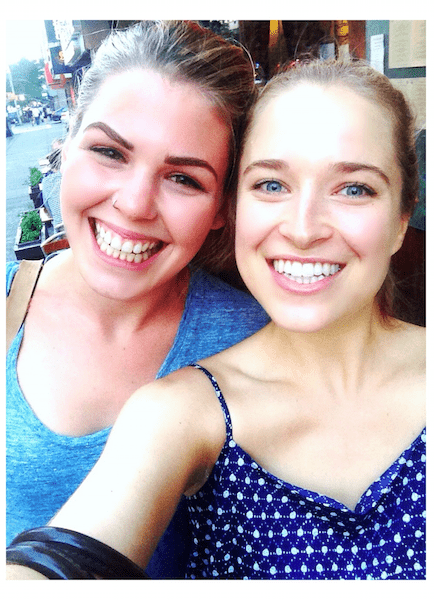 Skinny Strawberry Smoothie
So, I'm nearing the end of my Gingersnap's Spirit Junkie cleanse and what have I been craving? Not desserts, burgers, or a gooey, cheesy plate of nachos, but… smoothies!!! You all know I am a certified smoothie addict. In fact, if I could turn into a food I would probably choose a smoothie. I'd be cool, silky, fruity, delicious and bursting with natural flavors. Pretty sweet deal, right?!?!
Right.
Remember those super yummy and thick strawberry shakes from In n' Out (if you're a Cali kid like me, you know what's up) or whatevs your local burger joint was and how freaking good they were?! This shake rivals those, just sayin'. And it's not full of all the nasty additives, sugar, calories or fat content.
If I were going to be a smoothie, I would want to take a few things into consideration. First: I would want all of my ingredients to be organic. Who wants to be a genetically modified, pesticide-injected, ragingly hormonal glass of blendedness? Not me.
Sooo all I would have to do is take those few necessary steps at the grocery store to make sure I was buying the best ingredients to fuel my bod. And on the real, organic and fresh tastes 19348938201 times better than GMO produce in the first place. I don't know about you, but I can taste the chemicals on my beloved strawberries, apples and figs when they're nor organic – no bueno.
This smoothie is full of all natural ingredients, and only FOUR of them. Or, *gasp*, 5 if you're feelin' wild and want to add some local, organic honey like I did.
All of my recipes on this site are super simple, and that was something I was reminded of yesterday when I met with a lovely girl at a juice bar to discuss TBV Summer Cleanse. She was concerned that the recipes might be too complicated to follow, so I whipped out the cleanse to walk her through it.
After looking at about four recipes we were laughing because each one was a far cry from hard work. That got me thinking how important convenience is when it comes to health. No one wants to go way the hell out of their way to prepare their meals in the morning if it's not going to be a relatively painless process. Same with buying organic, shopping locally, and reading labels at the grocery store.
We don't have time for all of the unnecessary side work!!!
That's why it's unbelievably awesome when you find a brand that you adore that you can rely on time and time again. That's how I feel about Skinny Coconut Oil. They are 100% raw, cold-pressed, pesticide free, unrefined MCT, wild harvested and pure.
I have been trying to incorporate more coconut oil into my diet because I recently found out I have been pretty low on healthy fats. When you don't have enough of that in your system, you get tired more easily and your brain function goes bye bye (don't need that!!!). All-natural coconut oil provides sustained energy, increases brain clarity and also boosts metabolism. It's usually hardened and white, but since it is hot and humid as a mofo here in NYC, mine is totally melted. Yumminess! (Also great to make Raw Vegan PB Cups with!!!)
Plus, Skinny Coconut Oil is never heated over 100 degrees, so it actually retains all of its nutrients. And if you've been around this blog for a while you'll know that I am big on the nutrient density of foods. You can eat any way you want as long as your foods are nutrient rich and as close to their natural state as possible.
And because I knoooww you're gonna say, "where the heck can I buy this stuff?!" you can pop on over to their website and find their store locator here!
Sidenote:
And before I get to the recipe, two quick things (because you know I love love sharing my life on here above all else):
1. I know I said the site re-launch was going to happen today and that we were coming out with our new TBV Apparel designs, but we have decided to push back the release date until July 1st so that it is beyond perfect for all of you!
2. I met with Belle Gibson of The Whole Pantry last night and had the most incredible night with her—I don't remember the last time I was so inspired by someone. Lots more details to come in my next post! She has inspired me to make some TBV changes… cannot wait to share.
Now on to the extra good stuff, the recipe!
Skinny Strawberry Smoothie:
Ingredients:
5 fresh or frozen strawberries
1 very ripe banana
½ cup almond milk
½ cup water
1 tablespoon Skinny Coconut Oil
1 large handful ice
Optional: 1 tablespoon of raw, local honey, maple or agave 
Directions:
1. Blend thoroughly, and enjoy!
Nutrition Information: