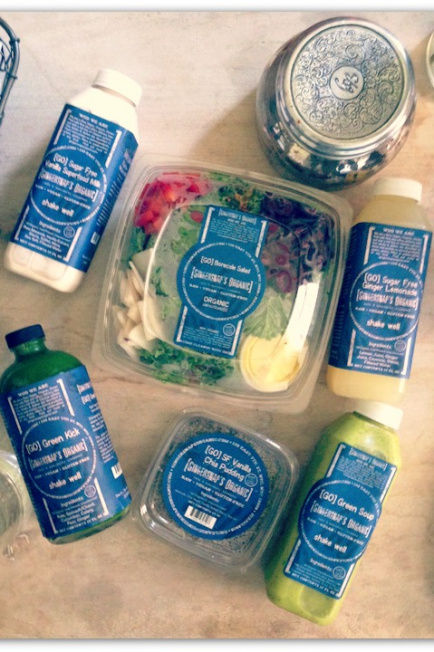 What I Ate Wednesday: Gingersnap's Organic Cleanse Style
Hey, all! Happy Wednesday! It's the middle of my DIY Health Retreat week, and although it's been a little hard for me to fully relax midweek, I have to say I've been doing a better job than I thought I would.
Yesterday was full of spending time with people I love, going to yoga, catching up on IIN classes and going on long walks in the city. Oh, and leading TBV Summer Cleanse email thread. Anddd getting excited about the relaunch of TBV Store on Friday with some of our exciting new designs! Now that's what I call a good Tuesday.
I've also been doing Gingersnap's Organic Spirit Junkie cleanse this week, which I mentioned on Monday. It has been going phenomenally well so far. Why am I not doing TBV Summer Cleanse, you ask?! Because I did it last week to be fully prepared for all of this week's cleansers and their questions, and because TBV summer cleanse is more or less how I eat on a regular basis. I wanted to partake in a solid food cleanse that was going to go a little deeper than my normal diet.
The Spirit Junkie cleanse is riiight up my alley, because it consists of two cold-pressed juices per day, a ginger lemonade, a raw salad, a raw green soup and a chia pudding. Solid food cleansing for the win! I've discovered over the past several months of cleanse experiments that while full juice cleanses leave me feeling amazing throughout and directly afterward, it only takes a few days for me to feel exactly the way I did before cleansing if not worse.
That's because drinking only juice is not sustainable, and I am interested in sustainable lifestyle changes around here! Cleanses that involve solid food teach us better eating habits, remind us that we don't need to snack throughout the day in order to feel good, and reinforces the "eat to live" mentally that I so believe in versus the "live to eat" mentally that it's easy to fall into during a stressful work week when mealtimes are the only "fun" times that we have to look forward to.
I want to give a huge thanks to Jamie at Gingersnap's for working with me to make sure I was choosing the right cleanse for my body and my current lifestyle choices. She is so knowledgeable and passionate about health, mindful eating and organic that it's hard not to want to pick her brain. I am getting so excited for our event at Gingersnap's next Monday. Hope to see many of you there!
Now, on to What I Ate Wednesday… Gingersnap's Organic Spirit Junkie cleanse style!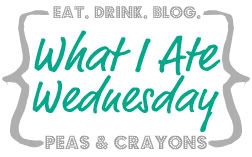 What I Ate Wednesday:
Juice 1:
I have been starting each morning with a Ginger Lemonade that consists of lemon juice, ginger juice, cayenne, stevia and filtered water. I actually just finished one right now and my mouth and throat are on fire, thanks to the ginger and cayenne! Since the body becomes acidic while we sleep, it's good to drink an alkalizing juice like this one first thing in the morning. Plus, it's delicious. I absolutely love the kick that it has.
Breakfast:
I switched up the order that Gingersnap's recommended, because this week I have been feeling like a heartier breakfast than a green juice. Having a chia pudding for breakfast seriously hits the spot, because it is filling and full of all natural protein to fuel me through my day. I have been alternating each day between vanilla and chocolate, and while they're both amazing I would absolutely have to say that the chocolate is one of the most scrumptious treats in the world. I think I am going to stick with having these chia puddings for breakfast long after the cleanse. Oh, and it's sugar-free! No agave or coconut sugar found here.
Juice 2:
I have been sipping on a green juice each day late morning after my chia pudding. I have been alternating between an all green juice and the GO "Kick" juice which has a little bit of pear in it. They are both delicious. I have to say that Gingersnap's green juices are unparalleled by any other juice company in NYC. You know I am a huge fan of many juice places in my area, but no one has mastered the all green like they have. I appreciate a good green juice for the health benefits, but this one actually tastes like heaven! Score. (Oh, and I got my nails done this week as part of my DIY Health Retreat, sooo I had to show that off in the photo! Duh.)
Lunch:
Big green salad with some raw deliciousness in it like olives, seaweed, sunflower seeds, etc. I am so looking forward to today's salad because I see that it's topped with a whole lotta nutritional yeast… so flavorful and delish!
Juice 3:
Whenever I am cleansing, I pretty much live for the nut milk part of the day. On full juice cleanses I usually have my nut milk last, because it helps me from going to bed too hungry. But since the nature of this cleanse is very different than a juice cleanse, I like having this juice earlier in the evening to revamp my energy. It's full of protein and tastes like a milkshake. And, like everything else on this cleanse, it's sugar free. It's made of almonds, xylitol, stevia, maca and vanilla. Holy yumness. Since I usually workout around 4pm, I have been having this when I get home from my workout and it's a serious treat. BTW… Who doesn't take selfies with their favorite juice?!
Dinner:
Raw green soup! It's made from kale, cucumber, apple cider vinegar, nutritional yeast, spices and olive oil. It's served cold. It is so flavorful and sooo delicious to drink after a day of yummy clean eats. I love the way having a light soup for dinner feels on my stomach. I go to bed feeling light and content, and wake up feeling amazing and energized. The first night I had the salad for dinner and my digestion was not as pleased, so I am finding what works best for me. Yahoo!
I am so in love with this Spirit Junkie cleanse… and I am almost in love with the name as the cleanse itself. It was inspired by the fabulous Gabby Bernstein, who I look up to in so many ways. If you live in the NYC area, I highly recommend Gingersnap's. If you're not a cleanse type of person, you should absolutely try it for the amazing raw food, the 100% reliable organic deliciousness, the cozy vibe and laidback atmosphere. I have been there every night this week to pick up my cleanse, but I have brought friends in each time to hang with me and grab a bite, and everyone has loved it.
What do your eats look like today? Do you like the sounds of the Spirit Junkie cleanse? Thoughts on solid food versus juice cleansing?