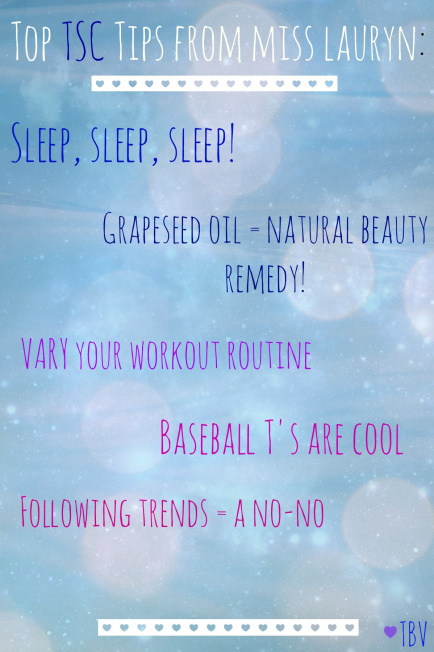 TBV Interviews The Skinny Confidential! (+ Giveaway!)
Hey guys! It's Friday, which means it's the beginning of my first weekend at home, relaxing, in a longgg time. I am mainly going to be spending the weekend catching up on emails (can't wait to get back to all of you who have shown your support about everything going on recently!), catching up on my IIN health coaching courses, developing new recipes for the app, spending time with loved one and enjoying some serious SLEEP.
How's that for a weekend plan?! 
Today is an exciting day on TBV, because I am interviewing one of my own favorite health and lifestyle bloggers, Miss Lauryn Evarts of The Skinny Confidential. I thought it was about time we do something fun and light-hearted up in here after a wild few weeks of lifestyle change craziness. (Especially because tomorrow I'm coming at you with my first recovery update post, since I know a lot of you has been asking what the heck is up with that.)
Basically, Lauryn rocks. She is an entrepreneurial powerhouse, a fit and fabulous fashionista, Pilates instructor, AUTHOR, and is newly engaged. I can't wait to connect with her once I get down to So Cal. I see lots of fun collabs in our future. Without further ado, I will let Lauryn take it away!
* Lauryn! Tell us how The Skinny Confidential came to be.
The Skinny Confidential was born while I was attending State University. There were not a lot of healthy options on campus so I started modifying my meals. I had the idea for a blog a year in a half before I launched it. You can find my whole story here and my blogging journey here. It's turned into a book, which can be found here!
* What does a day in the life of Lauryn Evarts entail?
A day in the life varies. It can be anything from going to the post office, going to the bank, returning emails, taking photos, and cooking and baking for the blog. Also walking the dog, cleaning the house, blogging and much more. I'm always on the go. And it's none stop 24/7. Blogging takes a big chunk of my day. I also co-founded Blog-Doo (www.Blog-Doo.com). It's a blog design company so I'm always working on that too! Currently I'm working on a fitness/diet subscription plan for TSC too. So everything else revolves around that. Basically I am always multi-tasking! Life of an entrepreneur is crazzzzy but fun.
* Describe your ideal health and wellness vision for yourself.
This vision would be all based on balance. Balance is key. If you obsess in one part of your life, other areas of your life will be neglected. I think it's really important to stay healthy in every area of your life. Whether it's your relationship, your body, or your mind. I'm also big on healing yourself from the inside and out. This means, eating foods that cure your system like vitamins and nutrients to heal your skin, hair, nails and body.
* The book, the book! Tell us about your book journey & what we can expect inside. 
The Skinny Confidential book is an extension of my blog. You can find tips on wellness, beauty, relationships, diet, fitness, DIY's, and more! There's lot of tips in the book that aren't found on my blog. I plan on writing a new book in the next couple of months too…stay tuned!
* Biggest fashion no-no.
My biggest fashion no-no is following trends. Do what works for you. Everyone's different. You know what works for you better then anyone else. Stick to what fits your style.
* Biggest fashion "hell yeah."
Dainty hand pieces, big hats, coin purses, anklets, over sized sunglasses, men's t-shirts, trucker hats, baseball T's, converse, black shinny jeans, maxis with slits, underwhelming perfume, everything black, everything white, structured pieces, dewy make up, nude nails, and/or top knots. My best fashion tip is confidence! I am dying over this skirt and this shirt currently!!
* Workout routine?
My workout routine varies. I don't like to plateau. So I change it up weekly. Some of my favorite workouts include, hiking, Pilates, strength training, barre classes, running, walking my dog, and yoga. My advice is to mix it up as much as possible and don't go over board. Keep it simple, stupid!
* Fav reading material?
I love to read. I just finished Gone Girl which was amazing. I also love autobiographies and have been reading a ton this year. Weirdly Kris Jenner's book is so good. It's about what she started with and where she came from and the empire that she has grown. I loved it. I'm BIG into autobiographies. Currently I'm reading Brain On Fire. [Sidenote from TBV: Brain on Fire is one of my favorite books as well. It's incredible. Read it.]
Some of my other favorite books include Shantaram, Sharper Edges, She's Come Undone, and all Jodi Picoult's books.
* What would you choose for your last meal on earth?
Definitely chips, salsa, guacamole and veggie street tacos. And  since it's my last meal on earth a skinny blood orange margarita! Throw in some dark chocolate & I'm good to go. [TBV Sidenote #2: Lauryn has awesome tips on her blog about certain foods to stay away from, like agave. She'll give ya the lowdown!]
* Latest food obsession.
Chia seeds! I add them to everything; Oatmeal, berries (I make my own jam to add to toast), smoothies, cold pressed juices and lemon water.
* Natural beauty remedy (you're a much better person to ask this question to than moi.) 
Take your make up off with grapeseed oil. I use grapeseed oil because a lot of people have those little white dots under their eyes which is sometimes caused by make up remover. The grapeseed oil is an all natural remedy that won't give you those dots.
* Little-known health tip.
 Sleep will heel you. It helps with your metabolism, hormones and helps your body be at it's optimal performance. It's not cool not to sleep— in fact, sleep is cool. Get your sleep!
Giveaway!!!
We are giving away THREE signed copies of Lauryn's The Skinny Confidential book!!! To enter, simply comment on this blog post saying why you would like to win a copy & how you would incorporate her health & lifestyle tips into your life. Xox.
* Time for me to take a page out of Lauryn's book and get some much needed rest this weekend. What is everyone else up to this weekend?! Fun plans? Excited for my recovery part 1 post? I'm looking forward to sharing. 
* Also… ZOOEY DESCHANEL shared this amazing Hello Giggles article on TBV from her Facebook today. I died 1,000 times over.
* And… Well + Good NYC did a pretty bang up job on this article, too. Thrilling.