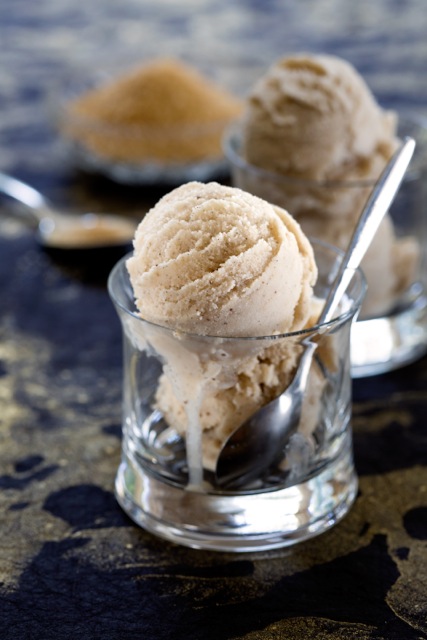 "Choosing Raw" Burnt Sugar Coconut Ice Cream Recipe + Interview with Gena Hamshaw
Sooo, one of my favorite bloggers of all time, Gena Hamshaw of Choosing Raw, just released her cookbook and I am thrilled for her / so honored to review it on the bloggy.
I know what you're thinking—"Jordan, you're reviewing a RAW FOOD cookbook just a month after you publicly came out about no longer being vegan?! With an EATING DISORDER? What gives?!"
Well, my dearies, I have a few answers for you there. The new motto I am trying to practice is everything in moderation, and Gena's book is very much in line with that ideology. The book details raw vegan recipes with a twist – there is a cooked element to nearly all of them! And I still eat a lot of raw (and cooked) delicious plant-based food from the earth. Just because I am no longer a full-fledged vegan doesn't mean I don't still enjoy good ol' veggie dishes with heaps of vitamins, minerals and antioxidants.
Now, on to Gena. She is a wellness advocate, certified clinical nutritionist, eating disorder survivor/thriver, pre-med, post-bacc student, and basically one of the most awesome girls I have had the pleasure of meeting through this awesome healthy blog world.
And her book is pure gorgeousness. You all know that as much of a sucker as I am for blogs and the Internet world, I am a total book nerd, literature freakazoid, and reading/writing maniac. I feel like all I do is write, and you can't write without reading… so technically, all I do is write and read. And I looove books with great photos – and Gena's book certainly has that covered (I mean, food blogger = built-in food photographer, right?).
Something I totally love most about this book is the fact that before she gets to the recipe section, she dives right in with a whole bunch of awesome knowledge about raw food, veganism, her own personal journey with food, foods to have in hand when choosing to eat more raw, and (my personal favorite) a "21 Days in The Life" Meal Plan section. Even better? Each suggested meal is available in the recipe section! Ugh.. is she a genius or what?
Recipes that immediately caught my eye? Dinosaur Kale & White Bean Caesar Salad, Sweet Potato Black Bean Enchiladas, Burnt-Sugar Coconut Ice Cream (yum!!!!), Raw Blueberry Ginger Ice Cream, & Chocolate Raw-Nola… I could go on and on.
Chocolate Raw-Nola
But instead of going on, I'm going to share this interview I had the pleasure of doing with Gena. I am so inspired by her in so many ways, and definitely strive to be more like her in my recovery process. I can't wait until I reach the point where I am finally over this whole mess and can have a healthy relationship with food again.
Interview with Gena Hamshaw:
1. How did you get involved with raw vegan food?
Well, veganism came before raw food. I went vegan in my mid-twenties, when a gastroenterologist suggested that I eliminate dairy as a means of managing my longtime struggle with GI illness. It made a tremendous difference, and I committed almost instantly to continuing a dairy-free lifestyle. I had stopped eating red meat as a kid and ate very little chicken, fish, or eggs, so at this point I was fairly close to being vegan. I hadn't yet started to identify with animal rights, but I'd read DIET FOR A NEW AMERICA, and I was intrigued by the idea of adopting a vegan diet for the sake of the environment, as well as for my health. I went vegan that year, and I've never looked back; it's probably the single best decision I've ever made.
About a year or a year and a half into my vegan journey, I ate at a few raw restaurants in New York and became totally smitten with the food. It was the most fresh, beautiful, creative cuisine I'd ever seen, and as a budding foodie, I was incredibly impressed that raw chefs could create such intricate dishes without any cooking. I bought a few raw books, and started to read more about the lifestyle. I hoped that it might be able to help my GI health improve even more (I was much better at this point, but still struggling), and it did. I was never a strict raw foodist, and I'm less raw now than I was back then, but throughout it all I've retained a total fascination with "uncooking" and raw food preparation techniques. Nothing excites me more than the challenge of preparing an innovative raw, vegan dish!
Raw "Cobb" Salad 
2. Can you tell me a little bit about your eating disorder history (because of everything I am going through right now I am super interested in hearing others' stories!)
Of course! Mine began early. I was about 11, and I'd gained some weight that year. It was normal, pre-adolescent stuff that likely would have equalized with time, but my pediatrician made a remark, and it lodged in my head. I lost a dramatic amount of weight that summer, and I also taught myself how to count calories, skip meals, and hide under baggy clothing so as to avoid alarming friends and family. My doctor voiced his alarm at my next checkup, and with the help of my mom I gained the weight back. But this event began a long, painful battle with food that lasted for the next thirteen years. I cannot remember a single moment during that time when I wasn't monitoring, controlling, obsessing over, or worrying about what and how I ate. I had a big relapse in college–my period stopped, and I was so hungry that stomach pains kept me awake at night–and another relapse in my early twenties, right before I found veganism.
I think I was able to find a lasting recovery for a couple of reasons. The first was sheer exhaustion. I was so, so tired of thinking about food, planning meals, weighing myself, and avoiding social scenarios. I simply didn't have the emotional energy for it anymore. I was also old enough during my last relapse that I could see–in a way I hadn't been able to see as a teen–how much the disorder was damaging my life. It was slowly eroding my health (I'd had two long bouts of amenorrhea and I was diagnosed with osteopenia, or early bone thinning). It was taking a toll on my social life. It was keeping me away from intimacy. Had I let it go any further, it may have damaged my career as an editor, which I cared about very deeply. I couldn't sustain it. My desire to reclaim life is really what lifted me out of the worst of it, and compelled me to commit to lasting recovery, no matter how scary and difficult that was.
Raw Banana Cashew Yogurt & Easy Breakfast Pizza
Finally, I credit veganism with enabling my longterm recovery. My eating disorder was defined by obsession over food, which was tremendously isolating. Veganism showed me that my food choices don't only impact me and my life; they also impact animals, the environment, and other human beings. This realization–the recognition that I could actually use my food choices to contribute positively to the world around me, to exercise compassion and love–totally transformed my relationship with food. I began to think about food as an avenue for activism and for doing good, as well as a source of nourishment. I've looked at food that way ever since; it's not just about me and my body. Food is an expression of the kind of person I want to be. It's a part of the mark I want to leave on the world.
It hasn't all been rosy, of course. When I got into raw foods, I slipped back into dangerous territory. It wasn't an obsession with weight loss, per se, but when I was deep in the raw food movement, I started flirting with orthorexia. I winnowed down the foods I ate, eliminating all sorts of things (soy, wheat, sugar, legumes) and became obsessed with the idea of "purity" in my diet. Fortunately, I'd been down the ED road enough times that I was able to recognize what was happening pretty quickly, and curtail it. I totally withdrew from the "detox"-minded communities I'd become a part of. I added a lot of cooked food back into my routine. I very consciously began to expand my diet.
Since then, I've maintained what I think is a healthy balance between being nutrition-conscious and being restrictive, or health-obsessed. I've learned that it's much healthier to enjoy certain foods that don't meet some folks' definition of perfectly healthy (rich vegan desserts, refined carbs, lots and lots and lots of coffee) than it is to bring on endless stress by worrying about what I'm eating and whether or not it's good for me. The human body is strong, and it is resilient. Plus, food is one of life's greatest pleasures, and it's meant to be enjoyed. I used to define by diet based on what I excluded; I took a lot of pride in saying "no" to certain foods that other folks enjoyed. Today, the only thing I can say about my diet is that it's vegan. Sure, it's health-conscious. But if there's a vegan food that looks good to me, I'll eat it, whether it's "health food" or not. I don't skip meals, I've never fasted, and I don't restrict. I make an effort to abide by moderation. For me, moderation is actually much harder than extremism–my first response to stress or pain is to feel the temptation to eliminate something, or go on some sort of "clean eating" initiative, or become more strict with food. But I know how false these urges to control my life through controlling food are, and I fight against them.
3. Tell us about the cookbook journey!
It was a wild one! I sold the book while I was smack dab in the middle of a pretty rough pre-med, post-bacc program (at the time, I was trying to get into med school, having not taken a science class in about a decade). I wrote the book in between taking the MCAT last March, and September of this past year. Most of the recipe development and writing happened in a single summer, which happened to be the same three months in which I applied to 34 medical schools. To be honest, it was a terrible slog, and I probably didn't get as much pleasure from recipe testing as I would have if I'd been on a more reasonable deadline. But I also chose to take the project on at a crazy time, so it was really no one's fault but my own!
The book grew out of the same set of intentions that my blog did. I wanted to show folks that vegan food can be abundant, joyous, and fun. I wanted to share recipes that would make people feel that veganism (and raw foods) are accessible and easy. I wanted to make clear that you don't need a fancy dehydrator or tons of kitchen skill to make this kind of food; you just need some creativity and a passion for vegetables.
I also wanted to create the kind of resource I wish I'd had when I was first getting into raw food. When started exploring raw recipes, I found a lot of them to be pretty difficult and complex; I also found that a lot of the rhetoric in the raw movement was a bit too black-or-white for my liking. I wish I'd had a book at the time that emphasized how possible it is to make more raw food without too many fancy appliances; one that assured me that I didn't have to go 100% raw to be healthy; one that made the lifestyle feel easy. I also wish that I'd found a resource that shared raw food along with sound, evidence-based information.
This is the resource I've tried to create with CHOOSING RAW. My goal was to demystify raw foods and also to emphasize that you don't have to "go raw" simply in order to explore raw food. You can try one recipe at a time, and move at a pace that works for you. Finally, I wanted to add a sane, credible voice to some of the bigger misconceptions surrounding raw and vegan diets.
4. Tell me a bit about having the name "Choosing Raw" even though you aren't fully raw– I know you said you get some crap about it from internet crazies. How do you rise above the occasional negativity?
Eh, I guess I understand the confusion. People hear "choosing raw," and they think I'm saying "choosing a 100% raw lifestyle." That actually isn't what I mean to suggest at all. I settled on the word "choosing" because I wanted to suggest that you can approach raw food as a choice; you can choose to make one meal, then another. You can choose to make a smoothie every now and then. If you choose to go further with it, that's awesome, but it should always feel like an active choice–not something you're doing because you think you should.
For me, the words "choosing raw" signify not a 100 percent raw foods lifestyle, but an overall approach to eating. Choosing raw means eating foods that are a little closer to the earth. It means minimal food preparation. It means dishes that are simple, nourishing, and whole. It often means raw food dishes, but it doesn't have to.
As long as I can remember this–remember my own words and intentions–I don't mind how other folks respond to the title of my blog. And for the sake of transparency, I give a pretty clear explanation of why my blog is called "choosing raw" in the FAQs. 
5. Fav recipe in the book?
Oh gosh, that's tough! I love the "heat free lentil and walnut tacos" and the "zucchini pasta with quinoa meatless balls" because they book embody my approach to raw food, which is to make a mostly raw dish and include a cooked component (often cooked legumes or grains). I do this to boost the satiety of the meal, as well as the nutrition, without detracting from the crunchy, fresh taste of the meal.
I also really love the raw fig bars, the burnt sugar coconut ice cream, and the raw blueberry cheesecake (I'm particularly proud of that one!). I'm also a bit of a salad dressing fiend, and I fell in love with the spicy cilantro vinaigrette and the green herb dressing.
Raw Blueberry Cheesecake
6. What would you choose for your last meal on earth?!
Another hard question 🙂
Lame as it sounds, salad is my favorite food, so I'd likely do a meal-sized salad with all of the fixings: quinoa, avocado, nuts, seeds, cashew cheese–the works! I also really love toast, so I might do some avocado toast as well. Or a bowl of sweet potatoes roasted in coconut oil. Or some brown rice with scallions and sesame oil and a creamy tahini dressing. Or a really good, creamy risotto with tons of nutritional yeast. I could go on!
For dessert, something chocolate. Obvs. And a soy cappucino. If the world were ending, I wouldn't need to worry about the caffeine keeping me awake!
Burnt Sugar Coconut Ice Cream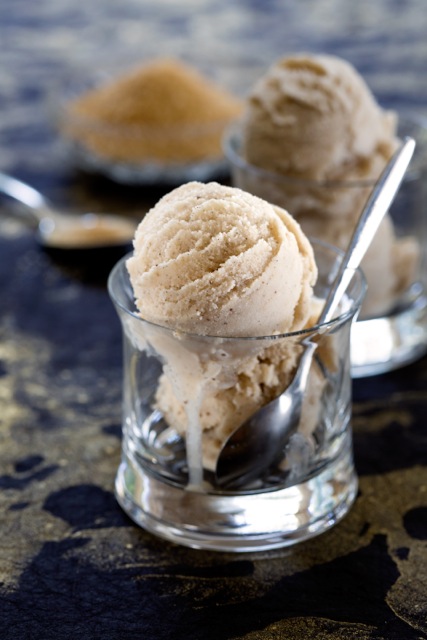 Makes 3 to 4 Cups of Ice Cream
2 cans full-fat coconut milk, chilled in the fridge overnight
3⁄4 cup coconut crystals or cane juice or organic sugar
Seeds of 1 vanilla bean, scraped, or 1 teaspoon vanilla extract
Pinch sea salt
1. Blend or whisk the ingredients together quickly (if you blend them for too long, they'll start to warm up, which will make freezing the ice cream harder).
2. Transfer the ingredients to an ice cream maker and freeze according to the manufacturer's instructions. Chill in the freezer for an additional hour, scoop, and serve.
Ice cream can be stored for up to a week in a sealed container in the freezer, then re-churned before serving.
From Choosing Raw by Gena Hamshaw. Reprinted with permission from Da Capo Lifelong, © 2014.
Thanks so much to Gena for sharing her book & her story with us! You can check out her cookbook here, and also check out her Green Recovery Series — about those who have recovered from eating disorders and mended their relationships with food by going plant-based.