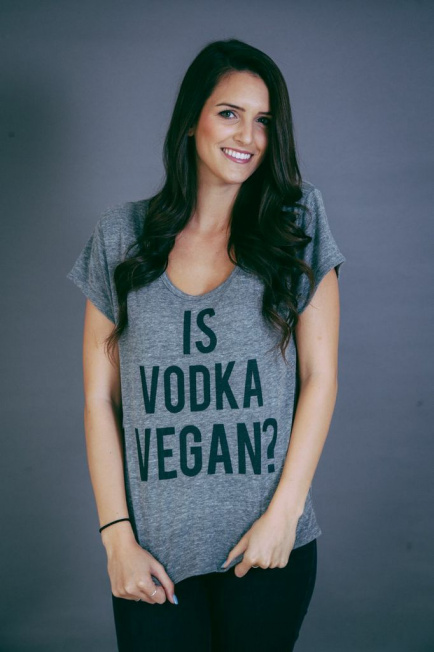 The Balanced Blonde Turns One!!! (+ TBV Apparel Discount Code)
It's a birthday celebration! TBV (now slowly but surely making the transition to TBB) officially turned one on August 1st. Rewind to one year ago on that day and I had just moved to NYC, launched the blog and was about to start my grad school creative writing program. If you had told me on that day that in one year I would be back in LA working on the blog full-time and taking a break from grad school… I would have laughed in your face.
Isn't it funny the way things work out?
Now, if you had told me back then that in a year I would no longer be vegan, not only would I not have believed you but I would have also been seriously insulted. People tried to have those conversations with me, "you know it's OKAY if you ever change your mind about veganism…", "have you ever considered reintroducing eggs?" etc. and I wouldn't have any of it. In my mind, those were people who didn't understand my lifestyle choice or my dedication to it.
Then, of course, little by little, things started to change. Isn't that how it always goes? Sometimes the changes are small, but there is no denying that things are always changing. And learning to embrace that change is what makes us well-rounded individuals who are able to move forward and accept whatever comes our way.
Let's continue this game because it's fun.
In the last year I would have never believed that…
–       My holiday recipes were featured on WorldLifestyle, and I have had smoothie recipes featured on Fitness Magazine and Well + Good NYC.
–       I was named one of Teen Vogue's '8 Fitness & Health Bloggers You Need to Follow' and Into the Gloss's 'Who to Follow on Instagram: The Health Food-tographers'
–       I created two cleanse programs that have helped transition people into healthier lifestyles and give their bodies a break from their every day diets, and one of them was featured on Elite Daily's '5 Simple Ways to Cleanse Without Making Yourself Crazy'!
–       I have been written about on blogs I LOVE and admire like The Raw Food Sisters, The Ink & Code, The Skinny Confidential, and Fit for Broadway.
–       I appeared on Good Morning America and Nightline (the Nightline segment airs this week!!!) to discuss my transition from veganism and my descent into orthorexia.
–       I have been featured on Women's Health, People.com, NY Mag, the New York Daily News, Refinery29 (the Anti-Diet Project… such an honor), Hello Giggles, Well + Good NYC, WorldLifestyle, the Daily Mail, Racked and more discussing my transition from veganism.
–       I made my radio debut on NPR and Toronto's CBC Radio.
–       I created TBV Apparel clothing line to promote health and wellness in a fun and trendy way – total dream come true.
–       I hosted two super fun events in NYC before I moved – one at Juice Press and one at Gingersnap's Organic.
–       A TBB App is in the works right now and will be available this Fall for purchase… eek!!!
–       I am working on a BOOK about my journey and experiences — the ultimate, ultimate dream come true.
This week I am appearing on two talk shows, Radio NZ in New Zealand, and being interviewed for Harper's Bazaar and Cosmopolitan in Australia. Not to mention I am going to be interviewed for one of my best friend's YouTube channels (Philosophie Mama)… so thrilling!!!
When I started the blog I totally didn't think it would turn into my entire life, my love child and basically my boyfriend, AND when I came out about my changes on the blog I certainly didn't think it would end up being a good thing for my brand. You never know how the cookie is going to crumble. It's been wild, and I wouldn't change an ounce of this journey for anything in the world.
 Thank You!!!
To celebrate, I want to thank all of YOU!!!! My lovely, loyal, fantastic readers, many of whom I have been in contact with directly through email and I have even gotten the chance to meet some of you in person. To say thank you, I am discounting all TBV Apparel sales (shirts and tote bags!) at 10% off for the next 3 days – just type in the discount code "tbbturnsone" at checkout.
And to keep the celebrations going, here are some favorites from the last year in blogging:
Favorites!!!
Recipes:
– Raw Vegan Peanut Butter Cups (HEAVEN ON EARTH!)
– Pumpkin Almond Butter Oat Bars
– Southwestern Baked Sweet Potato
– Gettin' Figgy With it Baked Oatmeal
Lifestyle:
– You Know You Have an Extreme Personality When…
– Why I'm Transitioning Away from Veganism
What is your favorite post? My all-time fav recipe is the PB Cups, and my all-time fav lifestyle post is A Year in Photos. What should I make this week (recipe-wise) to celebrate?!?!