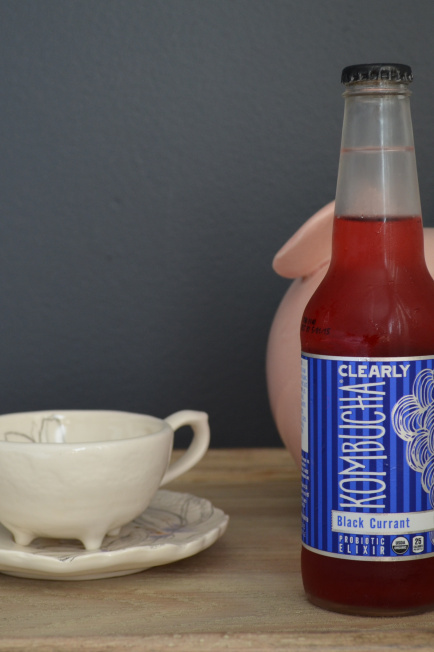 TV Appearances + Kombucha Giveaway!!!
Good morning, and happy Wednesday! This has been one wildly fun week. Last night I was on Take Part Live being interviewed by Meghan McCain, Jacob Soboroff & Jack Osbourne about all things TBB & orthorexia, and I had a blast. They were so supportive and it was great to get the opportunity to spread the word of orthorexia alongside some very esteemed faces in television! We also talked "thinspiration," & my view on the role social media plays in the health world.
Here is the link to watch!!! (You'll find the video on the page).
There have also been some fun magazine interviews and a another SUUUPPPEEERR exciting TV interview tomorrow, but I have clear instructions not to give it away so I'll keep my mouth shut (for now). Oh, and the book proposal is basically done-zo as of yesterday so glory, hallelujah! I officially have a few minutes of free time (wait, no I don't) to spend catching up on some IIN classes and getting some fun content up on the bloggy. Oh, and the app. Making some YUMMMM-O recipes for the app.
Can you tell I'm in a caps lock kinda mood today? I'll spare you the full effect and stick to normal lettering for now. And speaking of something else I'm currently in the mood for, a.k.a always in the mood for… Kombucha! Specifically… Clearly Kombucha. Only the coolest San Fran based kombucha company around.
I've had a lot of people ask me lately, "What brand of kombucha do you recommend?" Well, my friends, this is me telling you. I like local, I like delicious, I like light and refreshing and all-natural and low sugar. And it's totally organic and non-GMO, because you knooow that's how I roll. (Wow, I have a lot of stipulations, don't I?)
Anyway, the reason I like kombucha is because it tastes delish and it's also good for my tummy. I hate soda and basically any beverage other than water and all-natural Arnold Palmers (I've said it before, I'll say it again… I'm a five-year-old), so me discovering kombucha a few years back and totally loving it was a pretty big fete.
Clearly Kombucha is super original flavors like Chai Cola & Black Currant. I've gotta say, bein the chai fan that I am…. That Chai Cola was totally up my alley and definitely wins as my #1 fav.
Giveaway!!!
Andddd because I love you all lots, we are doing a giveaway! One lucky winner (within the US, sorry my international loves) will receive a case of kombucha– just COMMENT on this post answering the questions I've asked below & telling me why you'd like to win this yummy kombucha!!!
Because things like this fascinate me (and because I love to hang with my fellow Nor Cal natives), I caught up with Clearly Kombucha's Ali & Caleb to hear more about the company.
Interview!!!
TBB: How did you come up with the idea to create an organic kombucha company?
A & C: We were both avid kombucha drinkers and felt the health benefits but we wanted to experiment with making our own. We felt like we could make a better tasting one and we wanted to pick out top quality ingredients. Having organic and non-gmo ingredients is very important to us.
TBB: What are your favorite flavors?
Ali: It depends on my mood but my summer go to is Strawberry Hibiscus.
Caleb: Raspberry Ginger.
3. What are your most popular flavors?
A & C: We spent over two years developing each of our flavors. The 7 flavors that are on grocery store shelves right now have undergone lots of refining to get them just right. In the winter months Raspberry Ginger tends to be a favorite due to its warming ginger zest.  In the summer months our light and refreshing flavors tend to be favorites, like Strawberry Hibiscus and Tangerine.
4. What are the best foods to pair kombucha with?
Ali: I like to use our kombucha as the liquid base in my green smoothies [GREAT IDEA!!]
Caleb: I enjoy our kombucha with kale chips and avocado because it is a great afternoon pick me up.
5. The best health benefits of kombucha?
Ali & Caleb: Kombucha has probiotics and antioxidants from the tea and is a great healthy alternative to soda or an alcoholic beverage.
There you have it, my dearies. What a delicious treat and especially amazing for the end of summer while it's still hot and you are looking for a refreshing beverage… and if you're like me and you really don't enjoy sipping on anything alcoholic, kombucha is also a really fun party drink.
Also… don't forget there is a 10% off sale going on right now over at TBV Apparel!!! Use the discount code 'tbbturnsone' at checkout to get your goods!
What flavor would you like to try best? What did you think of the Take Part Live Interview?!Anything else exciting going on in your Wednesdays?!