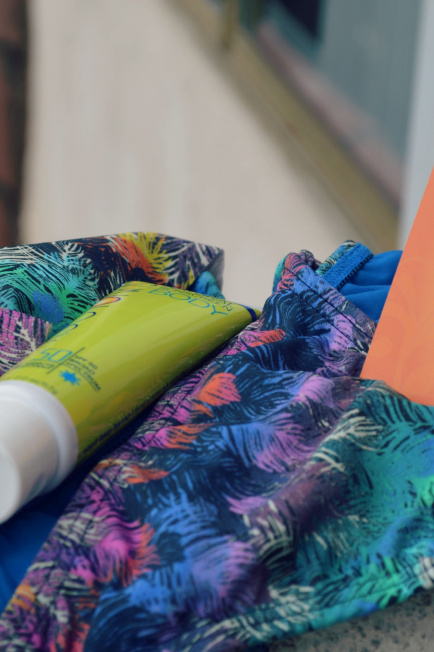 Weekend Recap + Sunology Giveaway
Hi babes! Sorry for my non-posting yesterday; my weekend was full to the brim with good stuff and by the time last night rolled around I decided to lay on the ground with my niece and catch up (and then pass out at 11) instead of pull together a posty post in advance.
And to make up for it, today I am coming at you with a triple whammy… a weekend recap, a thrilling announcement AND a Sunology giveaway! I suppose I should go in that order to keep things from getting confusing like they kinda can when I come at you with a major jumble of excitement.
This weekend was great, and I would say it had the utmost balance because I got in some yoga and exercise, unwound with my friends (look at me drinking on the weekends…), relaxed at the beach, had some delicious meals, hit up the farmer's market, checked out the Arts District in Downtown LA (I'm absolutely in love with it), got some writing done, and spent time with my family in the valley. Oh, and I had Pinkberry for the first time in about three years and it was glorious.
All in all, I'd have to say the number one highlight of the weekend was reuniting with my two favorite people on earth a.k.a my nieces Isabella and Olivia for the first time in WAY too many months. They are 11 and 6, and they are the brightest, funniest, most loving and adorable creatures I have ever known. One of the main reasons I moved back to California was because I missed them so much it made my heart hurt. Reuniting was amazing to say the least.
Oh, and Olivia started a YouTube. You have to check it out. She's going to be a famous producer someday because she has the mind of a creative genius… so you might want to hop on it so you can say you knew about her first. 😉
Exciting news… WE ARE RELEASING OUR NEW TBV APPAREL DESIGNS TOMORROW! That's right. Three new designs PLUS our current phrases in new styles. I. Am. So. Excited. And cannot wait to share with you all! AND this weekend was TBV Apparel designer & photographer Tynan's birthday, so send him some bday vibes because he is the best. ( Sneak peek… ▼ ▽ ▾ ▿ )
And, to celebrate the new designs & say thank you to everyone who has shown me support since the launch of the line, I am hosting a giveaway between now & tomorrow– repost your favorite TBV Apparel photo on Instagram or Facebook, tag @tbvapparel & hashtag #tbvapparel, and you will be entered to win a free tee and/or tote!
Also, since I'm officially back in California to stay, I've had to think about certain things that I haven't had to think about for the last year. Like, I don't know, wearing clothes that aren't covered by a floor-length puffy jacket and wearing sunscreen when I go outside.
I have been going to the beach a LOT lately (my happiest of all happy places), and being the fair-skinned chica that I am… I've been getting burned. Too much. I am normally really good about sunscreen but my pale NYC skin has been extra sensitive to the sun after being out of it for so long! (And after spending most of the summer indoors writing my guts out.) 
Also, I'm really weird about sunscreen. I like using products that don't contain chemical active ingredients or anything that will make my super sensitive skin inflame and turn into the color of a ripe tomato even without a sunburn.
If you want to learn more about why all NATURAL sunscreen is the way to go, check this out. It will open your eyes a little bittle.
Sunology is my sunscreen go-to. Plus, the founder has battled skin cancer and developed this all-natural sunscreen as a brand he could use and TRUST, so that is a huge win in my book. Their products provide SPF 50 and are made of zinc dioxide and titanium dioxide from all natural sources.
For all my fellow fair-skinned lovers, I am doing a GIVEAWAY of Sunology products so you can check them out & see what the hype is all about. Just follow @Sunology on Instagram, comment on this blog post and say why you'd like to win. Pretty simple.
Oh, and lastly… I met with my awesome app developer Cyrus yesterday, and we pretty much decided on a tentative launch date for the app. It should be out around October 10th (just in time for my birthday)… WAY too exciting. Details to come.
How was everyone else's weekend?! Do you need some new sunscreen? Excited about the NEW TEES?!!
PS: You can check out Sunology on their website, or their social media channels. Don't forget to follow them on Instagram for a chance to win the giveaway!