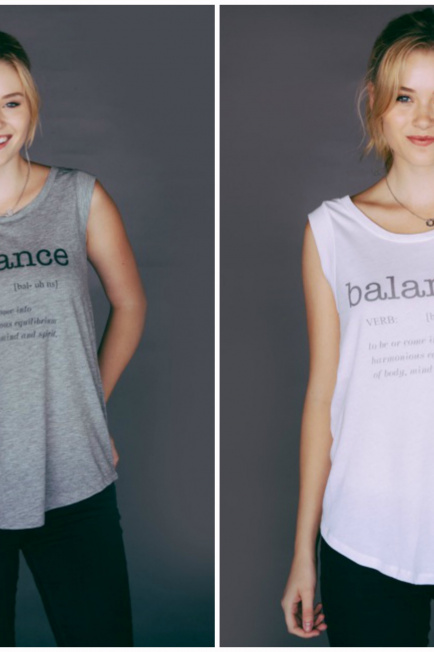 Annnd today is the day! We have released THREE new TBV Apparel designs, plus some of our original phrases in new styles. (Hint, hint: Yoga Junkie grey swoop neck tee? YES.)
We launched TBV Apparel at the end of April, and since then it has been an absolute thrill to watch it grow and to see my wonderful readers, friends and family rocking the designs and the overall message of health, balance and staying active in the cute, fun and comfy way I love so much.
It has also been absolutely AWESOME to run into people on the street that are wearing TBV Apparel and/or people who recognize the line when I am wearing it. If you are a small business owner, you know the unbelievable joy of seeing people support and fall in love with your creations and message first hand. 
Thank you to everyone who continues to support & rock the line. Seeing your photos & your awesome day-to-day adventures in the tees makes my heart burst with happiness. We have big plans for TBV Apparel, and each and every one of you are helping to make those plans a reality. I feel so lucky to have your support.
These three new designs are also very important to me because they represent my new message – balance. They are the first designs we've come out with since I changed my lifestyle, and after pouring my heart into recovery and learning to balance it feels good to have some designs available that support that message.
As usual, a HUGE thank you to my designer / photographer Tynan Daniels. I come up with the phrases, and he makes the magic happen. And big, big thanks to the stunning Ginny Gardner for modeling and making the shirts look flawless.
So, let me introduce each new tee to you so you can officially say hello to our new babies! (Tip: you can click on each photo & it will take you straight to its spot on the store site!)
BALANCE Definition Tee:
This t-shirt epitomizes my lifestyle shift and the guidelines I try to follow to live my life. When my mind, body and spirit are in harmonious equilibrium I feel whole, serene, and charged with creative energy. I think balance is something we should all strive for, and I am thrilled to have a shirt that portrays that message.
Loving Lately Tee:
Last month I did a little unofficial survey on Instagram and Facebook about people's "loving lately" items and what they would like to rock on a t-shirt. These are certainly at the top of the chart when it comes to my favorite things, and I hope you agree! (Especially dreaming… and dark chocolate. And sandy toes. Ok, all of it. You caught me.)
Loving Lately Tank:
High On Good Vibes:
Sweet, simple, cool. I will rock this everywhere… All the time. I can already feel it. Sometimes all you need is a bit of simplicity in your closet. This with jeans and converse? Done. This with black leggings and booties? Done. This with boy shorts for pajamas? Done & done.
Yoga Junkie Grey Swoop Neck:
Yoga Junkie has been a fan favorite from the start. People love the grey swoop neck tees (and for those of us with bigger boobs… this style seriously rocks)
Pop on over to our store site to purchase these bad boys! And don't forget to hashtag #tbvapparel when ya do, so I can see your shining faces rocking them!
What do you think!?!?!