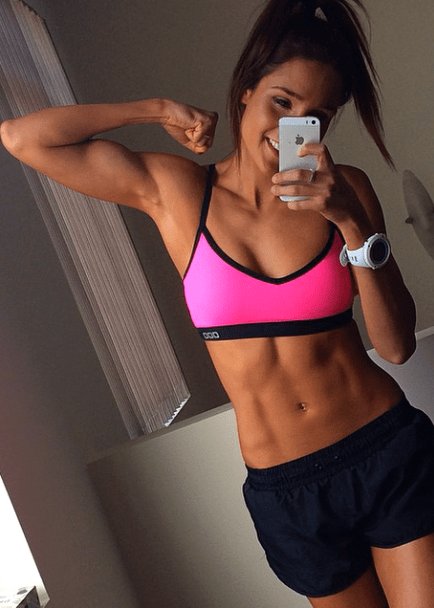 Interview with Kayla Itsines, THE Fitness Guru
Soo I have mentioned a few times that I have been very interested in starting the lovely Miss Kayla Itsines' Bikini Body Guide workout program. But let me stop you before you get any notions in your head… "Bikini Body Guide" sounds like something a littttle body image driven for a girl in recovery from an eating disorder, right?
Not exactly. After chatting with Kayla and doing some research on her credentials, not only has she impressed me with her philosophy but she has blown me out of the water with her knowledge and her outlook on fitness, food, balance and living an overall health-minded lifestyle.
The reason I love Kayla's plan is because I am a die-hard yogi (as you all know) and a three-ish times per week runner… so any time I get the opportunity to switch up my workout with a legitimate conditioning sesh, I am all in. The only reasons I haven't gotten further into Kayla's 12 week program are A) because the first week of it totally and utterly kicked my butt, and B) because I have been so busy with the book, app, apparel, blog and LIFE (oh yeah, that…) that I have had to be choosy with my workouts, and umm, yoga always wins.
Plus, even before I interviewed her I already knew I loved Kayla because I follow her on Instagram (where she is a massive sensation, BTW… 1.2 million followers!) where she posts daily inspiration, tips & nearly unbelievable (I'm serious) transformational photos of girls who have done her BBG workout plan. What I love about her goes beyond all of that– she is HONEST and totally has her head on straight when it comes to balance and living a healthy life, not a body-driven life.
Her big thing is that results do not happen overnight, and there is no "magic pill" (as much as we would all love that…) that will give you your dream body. You have to work hard for your goals and be consistent. And even though I am coming from the mentality that life is about FEELING good as opposed to LOOKING good, I feel my best when I am physically fit.
That doesn't mean perfect shape. It means fit enough to do everything you love to do, to eat the foods you love and to feel great in your own skin. For that reason I can't wait to get more into Kayla's guide once I have a little more time in my life. (Cue December book deadline!)
Now, without further ado… Kayla, take it away!
Q&A With Fitness Guru Kayla Itsines
Q: Kayla! So amazing to have you here on TBB today. Tell us a little bit about yourself and your fitness philosophy?
Hi! I'm Kayla Itsines. I am a 23-year-old personal trainer from Adelaide, South Australia. I have specialize in training women as I have a passion for helping them achieve their goals whether they are appearance, health or confidence based. I love to spend time with my partner Tobi, especially at the beach, as I absolutely love summer. I have a Siberian Husky puppy called Ace who keeps me very busy! I hope I continue to grow as a person and expand my knowledge to be able to bring more information to women all around the world.
Where did your passion for fitness originate?
Once I graduated high school, I actually started studying beauty therapy. However, my love of sport and basketball lead to me to Personal Training, and that's when I discovered how much I loved helping people to become healthier and happier! I have never looked back since, for me it was a great life changing decision. I wouldn't trade it for anything in the world.
Although your body is out of this world, even fitness idols have their own fitness idols, right?! Who would you say yours is?
This is so true, I idolise Iza Goulart like there is no tomorrow. I also love Candice Swanepoel AND she followed me on Instagram a while back. Possibly one of the best days of my life!
What's a day of eats like in Kayla's world? 
I generally change things up a bit because I believe variety is really important in your diet. But for example an average day of mine would look like this:
Breakfast: Toast with poached eggs, "lemony" avocado, tomato and spinach, plus a cup of herbal tea.
After morning snack: One piece of fruit.
Lunch: Chicken yiros (a wrap) with homemade tzatziki, lettuce, tomato and onion.
Afternoon snack: Tuna, corn and & a piece of fruit.
Dinner: Avgolemono (fluffy lemon & rice soup, my absolute favourite) with chicken
Evening: I always have a peppermint or chamomile tea in the evening.
Best tip for finding consistency with workouts?
Listen to your body! Find a regime that you can maintain and that works for you. Always remember to rest when you need to! A lot of the time girls burn themselves out by going too hard, too fast which only leads to prevention of weight loss. So be consistent, work hard but listen to your body. 
You know I am a huge green smoothie addict… What is your favorite smoothie recipe? 
My new favourite would be my Goodness-Me green smoothie! A combination of ripe fruit and leafy greens! The full recipe and method can be found here on my blog!
What does "balance" mean to you?
Balance to me is so important as I believe that it's unhealthy to have too much or too little of something in your life. One of my main tips to keep a healthy balance is to create a daily to-do list and plan your day in advance. That way you can aim to make sure that you are fitting in all of those things that are most important to you, such as exercise, work, family and friends. Mine would of course involve spending time with my baby puppy Ace 🙂
Because we are alll about balance over here, what is your favorite indulgence?
Dried mango! I LOVE it, but is so high in sugar I try only have it once every so often!!
Alright babes, there you have it! Fitness advice from the ultimate fitness guru. I adore Kayla because she knows that fitness is not just about the body, it's about health and feeling great overall.
PS… before I go, I would love your support in Katsuya + Keep A Breast's #RollOutTheResearch campaign. Vote for my sushi roll & it will be featured on their menu for the month of October if I win! 50% of the roll's proceeds will go toward funding breast cancer research. My roll is the fourth one in the righthand column. (The "Oh Kale Yes!" roll!). Oh, and you can vote once a day until the 29th!
Thoughts on Kayla's fitness philosophy? Is her bod banging, or what? Who's gonna go make that heavenly smoothie recipe?!