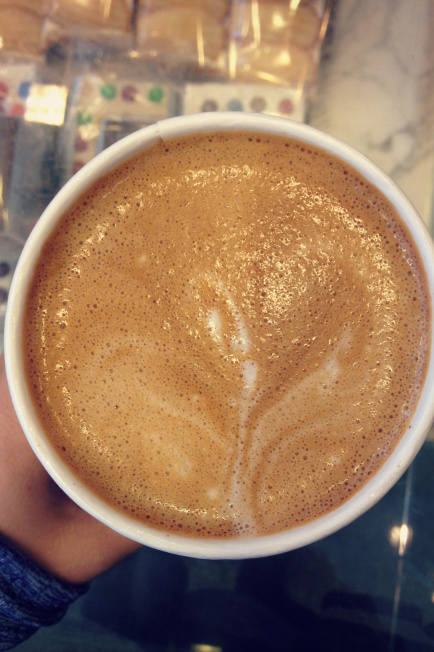 Hello from NYC: Story in Photos
Hello, hello from NYC! Currently dying in every amazing way possible because New York City is magic to me + it sets my soul on fire in the most incredibly inspiring & enlivening way… it's sensational.
Can you tell at allll by my rambling sentences and lack of posting that I have been having a G L O R I O U S time?! And no, I'm not an NYC newbie… this is my old hooommmee and that's why it makes it extra wonderfully amazingly cool to be here. I am getting to see the loves of my life, do work on projects that I adore and am thrilled about, AND getting to chill and frolic in my favorite city in existence.
I don't have a WHOLE heck of a lot of time because today I am workin' on the book, doing last minute app developments (when I say last minute I mean three days later than I should be, whoopsie daisy), running errands for tonight's TBV Apparel event at Gingersnap's Organic, and oh, ya know… exploring the west village because it's my most favorite thing to do under the sun.
However, I wanted to pop in and say HI and WHAT THE HECK IS UP? I haven't posted since last Tuesday and I have been having some separation anxiety and slight anxiety from not sharing and chatting and connecting and writing and loving on my favorite reader peeps.
(I'm on a bit of a coffee high.)
(Yeah, I drink coffee now.)
(Yeah, Juice Press was out of Black Label Latte this morning so I had a reg coffee and now I'm bouncing off the walls.)
Anywho, I wanted to share some pics & loveliness from the trip thus far. You'll be getting an official update from me tomorrow. And, if you're NYC local, COME SAY HI at the event tonight and/or at Modo Yoga throughout the week and/or in the village coffee shops where I will be hanging and working.
THIS is how I feel about being in NYC…
And being reunited with these people makes my world go round…
My love Clare is High on Good Vibes (TBV Apparel) at the Jeff Koons exhibition at the Whitney on Saturday.
And I was high on Scotch vibes (actually, this reminded me of someone I like a whole lot, & made me wish he was here to have a post-museum glass on the rocks with a twist)…
We take selfies in reflections of metal balloon sculptures, because we freaky like dat.
Because Warhol is life.
And Central Park afternoons are magic.
Cousins who match…
CANDLE 79. Life is made.
East village morning romps.
The happiness oozing out of this photo speaks for itself.
Chicken salads at Serafina 🙂
Almond. Milk. Latte.
Sis is a goddess.
OATMEAL BAR.
( A lot) More to come. How is everyone's week going thus far?!