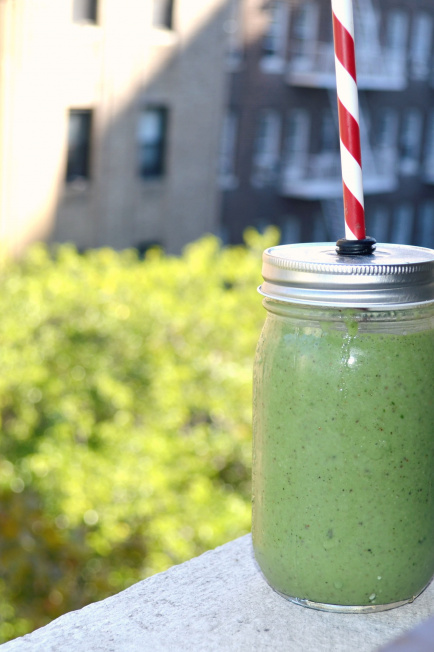 Fatigue-Buster Green Smoothie + Health Benefits of Medicinal MUSHROOMS
Hey babes! Let's talk about something I've been obsessed with lately.
Actually, let's back up for a sec. You know me, and you know what qualifies as an "obsession" around this blog. It's gotta be healthy, it's gotta be yummy, and it usually has to have some sort of superfood qualities, since nutritional value is huge, huge in my book when it comes to any kind of food-related obsession.
And I use the word obsession LOOSELY, peeps, because I'm actually really extreme and we all know this. I'm not about to get super obsessed with anything unless its directly beneficial to my health.
So, now that we have that out of the way, I'll tell you what I am currently obsessed with:
Medicinal. Mushrooms. And specifically, Mushroom Matrix medicinal mushrooms. It's sooo freaking awesome because they come in these cute little packets in powder form and you can add them into pretty much anything you'd like. Smoothies? Yes. Oatmeal? Yes. Pre-workout / post-workout juices? Yes.
My favorite way to have them is (surprise, surprise) mixed into a green smoothie. And depending on what kind of mood you're in and what you feel you want supplemented, you can choose between the several great rejuvenating options. ( My favorites are Beauty, Immune & Reishi. )
Who knows about Reishi, BTW? It's a superfood to the utmost extreme– used to boost the immune system, fight against viral infections, lung conditions, chronic fatigue and ( my personal fav ) to help with INSOMNIA. Is this my perfect 'shroom or what? It is also used to reduce stress and protect against diseases. Boo yeah.
I have been making myself a yummy little sleepy-time drink with the Reishi powder. Almond milk + water + Reishi + ¼ banana + 1 tablespoon cacao. Umm, excuse me but bedtime chocolate milk just got a whole lot better ( and loads more effective. )
Another thing I love about Mushroom Matrix is that they are grown and produced solely in Southern California, so these babies are local to moi and 100% organic. Mushrooms have been revered and used as natural remedies in Eastern Culture for thousands of years, so it's about time we hop on the bandwagon.
I probably wouldn't have come across these lovely specimens had I not been offered the opportunity to try them, so naturally I want to offer you all the same opportunity. I am giving away one pouch of Fit, one pouch of Beauty, and a 10 pack of NRG Sticks. ( The NRG Sticks are for energy, muscle recovery & immune support. )
Here's my Fatigue-Buster Green Smoothie Recipe:
Ingredients:
1 teapsoon Cordyceps Mushroom ( for stamina + endurance )
½ frozen banana
½ cup blueberries
1 tablespoon almond butter
1 cup kale
½ cup almond milk
½ cup water
½ cup ice
Directions:
Put all ingredients into a blender and blend until smooth.
P.S. If you want to learn more about this awesome company, check out their website here or find them on Instagram @mushroommatrix, Facebook at NRG Matrix, or Twitter @mushroom_matrix.
Have you ever tried medicinal mushrooms? What are your thoughts? If you haven't you really should. Fabulous immune booster.