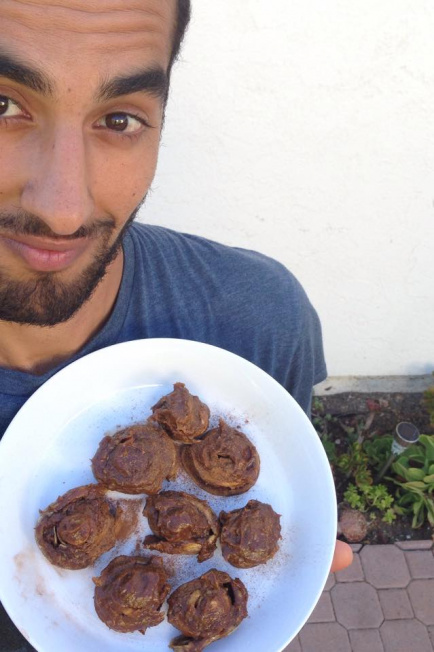 Behind the Scenes: The Balanced Blonde Team
Of all of the questions I get asked on the bloggy blog, one of the questions I get asked the most is, "Do you do this all alone?!" The answer is no. I write the blog, I manage most of my emails, I'm writing my book, I created the cleanse programs, the recipes and guides for the app, and came up with the concept for the clothing line… but I have a ridiculously awesome team of peeps who make this all possible and help me bring a lot of my ideas to life.
There are almost no words I can use to describe how grateful I am for my rocking TBB team. Without them, I would A) be in WAY over my head, B) not be able to accomplish half of the things I have taken on, and C) (If you're Morgan or Jess) I wouldn't even have a website!
The coolest thing about my team? They are all my friends. In Tynan, Morgan and Jessica's cases I was friends with them before we started working together on TBB-ness. And in Ali, Sarah and Cyrus's cases we have become good friends through working together – I would go so far as to say really good friends! I am kind of in contact with these people all day every day, which for a people person like me makes my job exponentially more fun and exciting.
The friendship aspect is hugely important to me, because where there is friendship there is trust. In this crazy blogging world there is a lot of password sharing, late night phone calls, manic text messages / emails / last minute crises, new wacky ideas that sometimes come WAY out of left field, opportunities that come and go in the blink of an eye if you don't jump on them, the pressure of being in the public sphere and a whole lot of creative energy and juices flowing.
With that said, there needs to be a strong backbone between you as a blogger and the people that you work with. If you want your site and your brand to be the best it can be, you have to find the areas where it is most important to focus your time.
Would I like to manage all of my brand partnerships and negotiate all of my deals? Chya, if I had 48 hours in the day. Would I like to be printing t-shirts and sending them out and designing the new ideas? I mean yeah, if that's something I was good at (but it's not). Would I like to code my own website and draw up my own logo? HELL YEAH but that's not in the cards for me. I'm a creative soul, what can I say?!
And here, my loves, is where my amazing team comes in. When I started sending them these questions and got their responses back it seemed clear to me that I need to split this post in half or else it would be a mile long, so today we will be highlighting my manager Ali Grant, my TBV Apparel Coordinator and photographer Tynan Daniels, and my app developer turned killer graphic designer Cyrus Kiani.
(Next TBB Team post will feature my literary agent Sarah Passick and my awesome web designers Morgan Oliver-Allen and Jessica Revesz).
Ready?! Let's get to know TBB Team! (And their thoughts on working with my crazy self.)
Behind the Scenes // TBB Team
Ali Grant; TBB Manager
Be Social PR; @besocialpr
1. Ali! You rock. Tell us how you got started managing bloggers + helping brands be social at Be Social PR. 
Oh, J! You're the cutest. To answer your question…on the brand side, we (Be Social PR) help businesses with securing press placements, planning and executing launches and events, managing social media marketing, and developing blogger and influencer relationships. As a full-service PR firm, we are consistently matching influencers with our clients and we continue to see the growing impact on these collaborations for brands and businesses. During our time sourcing these relationships and connecting influencers with brands, we saw a gap in the market…developing the spark to launch our boutique-style influencer division where we manage influencers, such as bloggers, YouTubers and social media stars.
2. What's a typical day in the life of Ali Grant look like?
Hectic, but in a good way. I usually wake up and TRY to get to the gym or go for a run. I just do better if I sweat before heading to the office. I will head over to the office and grab coffee almost immediately. I have about 3 cups a day…yikes! Throughout the day it usually consists of checking emails, posting on Instagram, conference calls, in-person meetings, replying to media requests, handling client inquiries — basically a bunch of busy (BUT exciting) work in front of my computer! I think I send about 1,000 emails a day…easy, probably more. That makes me sound really boring, but realistically I am doing a lot of different things and I love every minute of it, so it works for me. After work I usually will go to dinner with my boyfriend and watch SNL. Am I the only person who still watches SNL religiously? I'm obsessed because it's so mindless and makes it easy to unwind to. And then I usually will log on to my email for a bit…and go to bed. Wow…I wish I could say I live this totally glamorous life of red carpet events every Thursday night and midday facials….yeah, but I don't. You said "typical" day! Weekends are a different story…
3. How did you get involved working with TBB + what is your fav thing about working with TBB?!
I started following TBB a while back. I was reminded of TBB's growing brand when I saw my girl, Lauryn, of The Skinny Confidential post a q&a on YOU! I saw so much potential in your blog, app, upcoming book, and overall brand, that I reached out. The rest is history! I'd have to say my favorite part of working with TBB is your bright and bubbly personality…you're a genuinely kind, caring person and that is reflected through all forms of communication — via emails to brands, text messages, and in-person meetings. It's rare these days — seriously, people can be RUDE! I also like your determination — I see a lot of growth in your near future, and your dedication behind your brand and your loyalty and commitment to your readers is very valuable and unique. Are you crying??? I am!!!! 
4. How do you stay balanced?
Such a good question. I lost my balance a year or so ago, and the past year has been a rebirth of so MUCH balance in so many different ways — from my outlook on life, work and life balance, building healthy habits and relationships with friends and family. The hardest part for me, is balance between work and out-of-work life. What has helped me the most is learning how to say "no" when it's just not meant to be — especially when it comes to work projects.
5. Any funny behind the scenes TBB stories you can share?
Probably our relentless pursuit to capture the perfect Instagram photo! Last time we gathered a crowd, asked multiple strangers for help, and stopped traffic trying to get that Instagram-worthy photo. We didn't even use any of those photos I just realized…
Tynan Daniels; Photographer + TBV Apparel Coordinator
@tynandaniels 
1. Ty! You're the best. Tell us how you got started making tees + taking the killer photos you have now built your business around. 
Travel was actually the first thing that got me in to photography. I was in 7th grade and I took a trip to Costa Rica with my family that really ignited an interest in wanting a way to savor my experiences. Then in high school, I loved photographing my friends and found a passion in trying to capture and share the moments that I spent with them.
I got in to printing when I started a clothing company that was featuring my photographs on shirts. While I was doing that I was also slowly building my graphic design and printing business.
2. What does a typical day in the life of Tynan Daniels look like?
Hmmm I really don't have a typical day haha! However it almost always starts with a bowl of oatmeal and a large cup of coffee. After that I'll go and check on what orders have come in for TBV Apparel and I'll pack up shirts and send them out. If I'm not working on TBV Apparel, I'm editing and taking photos or trying to grow my printing business by reaching out to possible clients.
3. How did you get involved working with TBB + what is your fav thing about working with TBB?!
Jordan and I met 4 years ago in Public Speaking at LMU and have been friends ever since. One day Jordan asked me if I would take photos for her blog that she was starting… 6 months later she asked if I would be willing to help make her idea of TBV Apparel a reality. So we made some shirts… photographed them and here we are today. Haha! Maybe not quite that simple but really, it all happened so fast that it sort of feels that way. Working with Jordan is awesome, when you meet her you realize that her spontaneity and her charisma are infectious. But my favorite thing about working with Jordan is that her ambition and work ethic is a constant reminder to me that if you want something, go work your ass off and go get it, because nothing can stop you… Not even an extremist vegan cult. [TBB sidenote: LOL]
4. How do you stay balanced?
I live a pretty hectic and scattered lifestyle so staying balanced is something that I am always trying to work on. Eating healthy and getting exercise are definite musts but I think the biggest thing for me is keeping things in perspective, whenever I think I am having a stressful or crazy day, I find its always nice to take some time to reflect to remind myself that life is great. Spending time with friends and family is always a good reminder.
5. Any funny behind the scenes TBB stories you can share?
Haha I would have to say the one that sticks out the most was behind the scenes of the TBB shoot in New York. Here we are trying to get some photos in Central Park and next thing I know these two guys are trying to do pushups with their shirts off to try and impress Jordan and the rest of the models, needless to say their tactic didn't go over super well. I was actually pretty pissed about it when it was happening but looking back I realize how absurd it was.
Cyrus Kiani; TBB App Developer
TouchZen Media; @thepersianvegan
1. Cyrus! Tell us how you got started developing apps for influencers in the health and wellness world. 
My influences for becoming an app developer started right after I finished my Computing Arts degree at UC San Diego. Literally the day after I received my degree I started working at a software company called Oceanhouse Media which produced over 300 apps with brands like Dr. Seuss, The Berenstain Bears, and Hay House. I started to get a feel for the process of creating an app, all the way from the initial design phase up to the point where the product was launched. I wanted to dive deeper in the programming side, so I started teaching myself how to code in Objective C (language used to program iOS apps). This was a challenge for me because I barely passed my computer science classes in college. When it came to programming I was one of the worst students in the class. If you were to tell the professor that I would of been a future app developer, they would probably have laughed.
In July of 2013 I met up with my friend Yovana Mendoza (aka Rawvana), and I decided to take on the challenge of creating my first app. After hours of learning on Youtube, in April of 2014 I finally launched my first app, which was one of the most exciting days of my life. The amount positive feedback from this app inspired me to work on more projects. I soon had way too much work that I could handle, so I decided it was time to move on from Oceanhouse Media. Realizing the growing interest in mobile applications, I founded TouchZen Media, in July of 2014, to synergize my love of art, technology, and innovation. The goal of TouchZen Media is to work with popular and inspiring social media figures and to bring their content to the mobile device. So far starting my own business has been a dream come true.
What does a typical day in the life of Cyrus Kiani look like?
I wake up around 9-10am. I make a huge smoothie in my Vitamix that almost always has bananas, chia seeds, flax seeds, and some pumpkin seed powder. I start the day off roaming around the App store to see what new apps are out, and what is trending in the App store. After that I respond to client emails, and eventually get to work on the next TouchZen Media app.
3. How did you get involved working with TBB + what is your fav thing about working with TBB?!
After the release of my first app, I searched around Instagram to see who were popular and growing individuals in the health movement. A few friends suggested I check out the Blonde Vegan account, and I was really glad I did. I felt like people really connected with your authenticity, and honesty, not to mention you have some pretty amazing recipes. My favorite part about working with your brand is that you took your time making each recipe and you didn't rush any part of the process. It was really convenient that you were local as well as because I got to actually meet and show you a demo of the app in person. I also love how many other blogs you connected with and they in turn shared and reviewed the app. I think you did a fantastic job getting the word out, and that type of passion is any developers dream to work with.
4. How do you stay balanced?
I have lots of hobbies that take me away from the computer which I believe give me a good balance. Every Monday and Wednesday I play in an adult basketball league. Every Tuesday I take a parkour class at Tempest Academy in Chatsworth. I occasionally go Contra dancing in Pasadena. Starting in January I will be coaching a girls club volleyball team.
5. Any funny behind the scenes TBB stories you can share?
I think the funniest part was a few days after we launched TBB app, I went to a Fruitluck (potluck with fruit) in Santa Monica where I ran into my friend Robby Barbaro who works for Forks Over Knives. Their app had been number 1 in the Food and Drink Category for the past month, and TBB took over the top spot during its first week of launch. I gave him a little smile when I saw him, and he knew he exactly what that meant. He promised me his app would be back on top shortly. [TBB sidenote: the REAL funniest part was when I was caught red-handed giving our app rate reviews on iTunes because I thought it would be anonymous…]
There you have it, loves! Three out of the six (ish) amazing individuals behind The Balanced Blonde. I am so lucky to have them and couldn't imagine my work without them. Plus, it makes it pretty fun to have awesome people to chit chat with all day.
Other bloggers… your thoughts?! Have you expanded into working with a team or do you prefer to have sole control?!