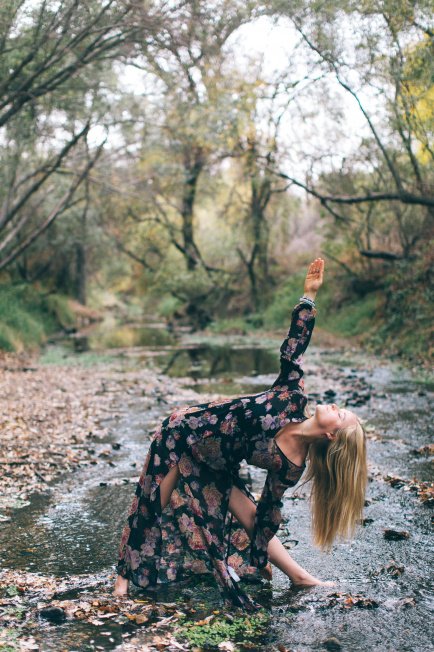 Pumpkin Chocolate Chip Banana Split Shake
Heck yes, you read the title of this post correctly. TBB is doing a recipe post. For the first time in… probably about four months. Why is that? For a few reasons…
A) In recovering from my eating disorder, I have found it incredibly liberating to eat whatever the heck I please without trying to make it pretty for a legit photo shoot and/or be concerned about planning it out in advance and giving food so much extra thought, and B) I wrote 75+ recipes for The Balanced Blonde App and am in the midst of writing 25 recipes for Breaking Vegan, so a lot of my new and fun recipes are going toward those awesome projects. Oh, and C) Now that I'm no longer vegan, I am only just beginning to get the hang of making non-vegan things and I wouldn't want to lead you all astray with my sometimes very subpar creations.
But, alas, I am still a smoothie addict and I still like to create yummy concoctions in my VitaMix just about every day. With Thanksgiving coming up it only seemed right to post a yummy pumpkin recipe to add to your healthy holiday repertoire. One of my FAV things to do is blend pumpkin with cacao, banana, almond milk and oats to make one delicious nutritionally dense and well-rounded meal.
As far as pre-workout fuel, it tops the charts. Buttt if you're going to do a kickass class like Orange Theory and/or any type of intense cardio, you might want to hold off on having this smoothie 
after 
your workout. Trust me, after a few bouts with nearly throwing up this morning while sprinting at a 9.0 incline, I kinda wished I had done that.
ALSO… I wanna make a quick note about something. My posting schedule. When I have my druthers (I've always wanted to say that), I like to post 5-6 days out of the week on TBB. Typically Monday-Friday, sometimes with a Saturday or Sunday thrown in there if I'm feeling extra inspired. Lately, with working on the book and busting out some new projects in the fitness world… my posting schedule has been more like 3 times per week.
Mainly, I don't want to let you guys down. Your readership allows me to do what I do, and I shudder to think of being one of those unpredictable blogs where you never know what you're going to get. Consistency is suuuuper important to me, so for the time being (while finishing the book) I might cut down to a 3-4 times per week schedule. How would you all feel about that?
I just want to be consistent. And bring y'all the best content I can possibly bring.
Things I want to write about that happened this week: An AMAZING dinner hosted by the sensational Tess Masters, Whitney Lauritsen and Jason Wrobel at SunCafe Organic in Studio City, a freakishly magical and ethereal "Into the Woods" photo shoot with the fab Miss Katie Shuler, my newfound obsession with Orange Theory Fitness, my new writing gig with Livestrong, and my musings on the importance of connecting with our community in this rockin' health + fitness world.
But, for now, PUMPKIN CHOCOLATE CHIP BANANA SPLIT SHAKE. And, because Arman & I hate when people title their recipes something totally inauthentic, I can single-handedly promise you that this shake actually tastes like a pumpkin chocolate chip banana split… vegan (because I know you'll ask) + healthified, of course.
Pumpkin Chocolate Chip Banana Split Shake
Serves 1-2 Ingredients: 1 overripe banana (overripeness is important for digestion/nutritional value + for sweetness) 1/4 cup organic pumpkin puree 1.5 tablespoons cacao powder 1/4 cup gluten-free oats (uncooked) 1/2 cup almond milk 1/2 cup water 1/2 cup ice *Optional: 1 scoop chocolate protein powder (I like Vega One) Toppings: 1 tablespoon cacao nibs; additional handful of raw gluten-free oats Method: Combine all ingredients into a blender or food processor and blend thoroughly. Top with cacao nibs and a sprinkle of oats, and you're golden! Enjoy! Sip, sip, sip away!
Any other Thanksgiving recipes you'd like to see on the bloggy next week?! Share away! Happy Friday, lovelies!