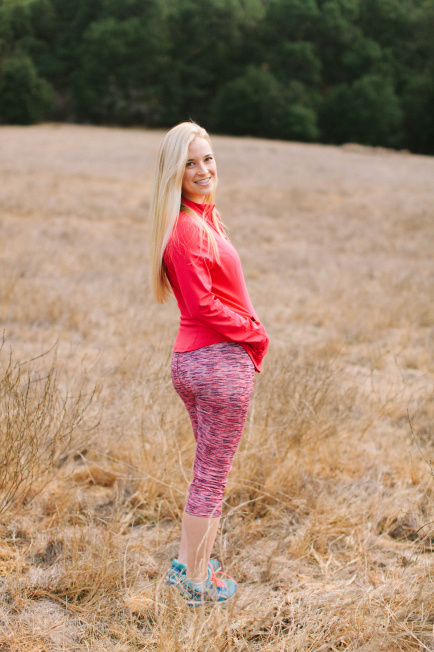 Calling all workout gear lovers! Those of you who know me know that I am certifiably obsessed with comfy, stretchy, exercise-friendly clothing. Anything I can rock with my tennis shoes and my hair in a pony, and extra points if it doubles as an outfit I can lounge around in, run around town in AND exercise/do yoga in. (Major bonus points if I can also sleep in it, but then I just sound lazy for not taking the time to change into real PJs. Which I also love, but that's a whole different story.)
When I started this bloggy I made a vow to introduce you to everything I am super interested in and use in my daily life, and workout gear is no exception. You can even "Shop the Post" at the bottom of this post, because that's how confident I am that you will looove what I'm about to share with you.
FTC Disclosure: Although I was compensated by Maurices to write this post, all opinions are my own.
But real quick, I want to mention something else (relevant yes, because she took these rockin' photos). Last week, I did a glorious "Into the Woods" photo shoot with the incredible Katie Shuler. I had seen some photos that Katie took of my bestie Sophie and immediately felt in love. If there is anything I love as much as all things health, fitness and exercise it's working with other creative people to create something awesome. Seeing people in their creative element making magic happen is SO inspiring to me.
I knew Katie and I were going to hit it off and make some magic right when she sent me her inspiration Pinterest board for the shoot. It was everything I had been dreaming of and more, and from the shots I have seen so far we brought them to life and I couldn't be more thrilled about it.
We snapped some shots at the end of the shoot for this post, and through them you can get a little glimpse into how brilliant Katie is at her craft.
So… back to workout clothes. My latest find & obsession is Maurices active wear. The clothes hit all of my active wear requirements: comfy, stylish, fun and actually durable/comfortable DURING workouts. There is nothing worse than a workout outfit that doesn't hold up while you're actually getting your sweat on… *ahem, the neon lightning bolt capris I fell in love with and fell directly out of love with the moment I started sweating in yoga and they became extremely itchy and encased my legs in rising heat*
Needless to say, since I am sharing it with all of you, Maurices not only held up but I was able to stay out post-workout and run a bunch of errands without needing to change, and that is a major score in my book.
Plus, look how adorable their designs are!! And compared to some other tried & true brands we all know I am a fan of, Maurices is super affordable, which means you can add not one or two but a whole collection of these beauts to your closet. 😉 
If you're looking for some good workout clothes and/or a good holiday gift for a friend or family member, Maurices is your dude. And to directly shop the post, see below!


What is your favorite activewear brand?! What is everyone up to this week? It's almost Thanksgiving… the most wonderful time of the year has officially arrived!