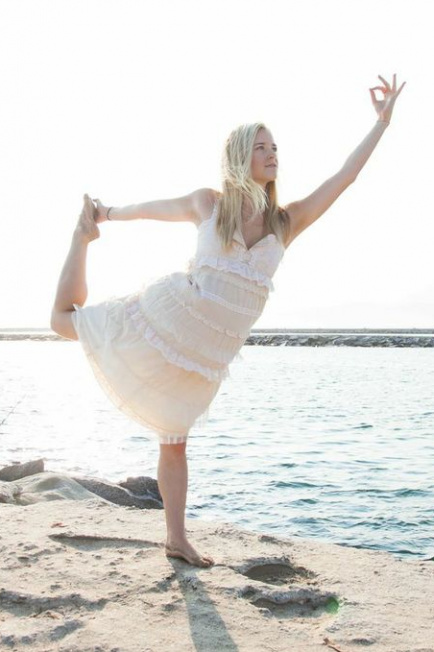 Tips for Staying Active As the Season Changes
Disclosure: This post was sponsored by Target® C9 through their partnership with POPSUGAR Select. While I was compensated to write a post about Target® C9 all opinions are my own.
Yo! The seasons are a' changin' over here… and even though I am a California girl again, there is no denying that there are certain workouts that are just easier to do in the summer.
When it's warm out, I like to swim, hike, bike, and go on super long nighttime walks with my friends and fam. When the winter starts to creep up on us… even us So Cal peeps are forced indoors a little more often. That's why it's been especially fun lately to try all different types of workouts. You know I am a yoga junkie, but I have also been having a blast with spin, treadmill conditioning, weights and Orange Theory (combo of sprints, weight training and conditioning while wearing a heart monitor).
However… I know we are all different, and not everyone enjoys the same things when it comes to exercise, food, relationships, life in general… you feel me. Because of that, today's post is all about tips for staying active as the season changes, no matter what your preferences are!
Ready? Let's go!
Tips for Staying Active as the Seasons Change
1. Stay Active to Feel Good, Not to "Look" Good
Keep in mind that while wintertime is for cozying up by the fire with hot chocolate and marshmallows and cuddles with our loved ones, it's notttt an excuse to do that every night instead of getting to the gym or staying active. It's something to look forward to after we get our workout on! Sure, Christmastime is a GREAT reason to be jolly and merry and eat cookies in our onesies, and I would even go so far as to say take the whole week off if you feel like it, but then get back on the grind. There is no worse feeling than January rolling around and feeling sluggish from excess food, alcohol and lack of workouts throughout the holidays. Stay on top of your workouts so you can FEEL good throughout the whole season!
2. New Years Goals Are MUCH Easier to Achieve If We Get a Head Start
Let's be real. Who here has ever had serious success with New Years goals? I get it, we are all super excited about them for the weeks leading into early January and maybe even into February if we are really on top of it, and then at a certain point our goals drop off and we save them for the following year. The most success I have ever had with New Years goals is making a LIFESTYLE change. And guess when I made that change? November. Come January, I was feeling incredible and nothing was going to get in my way or stop me. I was able to kick start my health and maintain the great way that I felt because it was more about maintaining than beginning. Start now so you can maintain feeling amazing into the New Year!
3. Find Exercises You Love So You Can Be Consistent With Them
No one is going to remain consistent with a workout they aren't excited about. And there is no reason to feel bad about disliking a particular type of workout. I love yoga, but Pilates kind of bores me. I adore spinning and running and weights, but certain types of conditioning classes just kill me and I don't enjoy them. Find what you love so you can stick with it… And yes, that requires trying new things! Get out of your comfort zone!
4. Make Yourself a Damn Good Playlist.
Good music makes every good workout even better. Just do it. What have I been loving lately? T Swift, Hozier, Eminem (ALWAYS) and a whole lot of country amazingness. Oh, and weirdly I have also been loving the Kinky Boots soundtrack (specifically, the song "Soul of a Man" — AMAZING.)
5. Remember That a Short Workout = Better than Nothing
The holidays are busy! We will all be juggling family, friends, shopping, get-togethers, cooking (or grocery shopping…!), tying last minute things up at work, etc. If we can spend 20 minutes of the day being active instead of sitting on our butts… you better believe that is better than nothing! A 20 minute treadmill run will get your heart pumping, and a 20 minute stretch sesh on the ground is incredibly good for our joints and our muscles.
How are you going to stay active this season?! If you ever feel at a loss, glance at this list and hopefully you will find a bit of inspiration. Sending you all a whole lot of love!