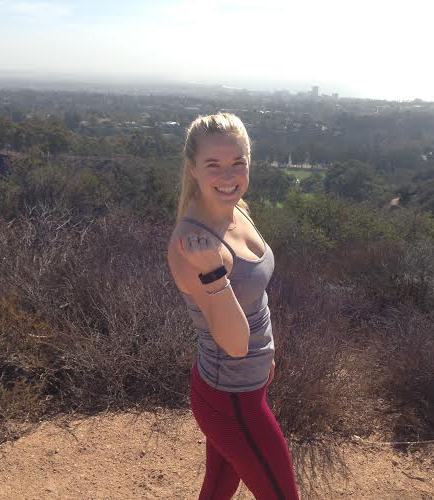 My Dirty Little Fitness Secret: My Fitbit!
FTC Disclosure: This post was sponsored by Fitbit through their partnership with POPSUGAR Select. While I was compensated to write a post about Fitbit, all opinions are my own.
Hi all! The holidays are coming up (and if you count Thanksgiving, which I do, then they are already in full swing!), and I have been getting a lot of questions and concerns from you fab peeps about how exactly to go about maintaining balance over the holidays.
Let's be real… Holiday balance can be hard. We dive into the fall fresh out of bikini season feeling on top of the world. Thanksgiving starts to approach, and we pump ourselves up by saying, "This year will be different, I feel so healthy and balanced! No turkey leg or buttery stuffing or big old chocolate pecan pie will change that THIS year," and next thing we know… the entire chocolate pecan pie is in our stomachs and we are well on our way to 15 Christmas and New Years parties full of baked goods, alcohol and a whole lot of spiked eggnog.
So let's let this be the year that we take control. No more, "Next year I'll be better about it." How about we let ourselves indulge on the yummy stuff this season without going overboard? It's all about moderation. And one way to exercise moderation is to do just that… EXERCISE! Move our bods. We're good at that… we were born for that!
And for those of us looking to up our antes when it comes to exercise this season, I want to let you in on one of my favorite dirty little fitness secrets… my obsession with my Fitbit Charge! Fitbit Charge is an awesome little wristwatch (and hawt to boot) that tracks steps, distance, calories burned, floors climbed, active minutes out of the day and sleep.

For someone (cough cough, myself) who is addicted to being aware of the details of my workouts, who can use some major help in the sleep department, and who definitely benefits from some extra motivation to take more steps in a day, this product is kind of like a dream come true.
And no, I'm not just writing about it because it was sent to me and because it seems like a logical fit on the bloggy. I'm writing about it because ever since I started using it I have really enjoyed it, and for people who are looking to stay strong with their own health and fitness goals (especially with the holidays rapidly approaching), I would highly recommend it.
Also, here's something you should know about me. I get freakishly competitive with myself. With a Fitbit you are able to set goals for how many steps you want to take in a day, how many calories you'd like to burn, pounds you'd like to lose, etc. You know my motto, and I am NOT into obsessing over calories or the number on the scale. But what I am very much into is leading the most active lifestyle possible, and having a kick in the pants to do just that is something we can all benefit from.
I went on a gorgeous hike in the Palisades last weekend with some of my girlfriends. I wore my Fitbit, and was immediately thrilled to have an excuse to surpass my goal of 10,000 steps per day. After about an hour and a half of uphill hiking, I glanced down at the Fitbit to see how many steps we had taken, SURE we had gone far past the goal, and… we were at 6,500. Chicka whhhaaa?
Even though I generally feel quite aware of my workout details, I was pretty shocked to see how many steps 10,000 really is. Then I started thinking (and frantically mentioning to my friends who I was hiking with), how do people take a healthy amount of steps in a day when they are leading their solitary, sedentary desk job lives?!?! Even I sit at a computer for the large majority of most days and I don't even have a desk job.
That's why it's extra important to be aware of how active we are being – life gets away from us sometimes! We are all busy; we all have a lot going on. It's so easy to accidentally sit tight all day, skip our evening workout in favor of a fun meal out with friends (or whatever you enjoy), and valet our cars instead of parking in the lots across the street and taking the extra steps.
In using the Fitbit so far I have noticed I have been extra inspired to take those extra steps. It feels so good to get that little buzz when you reach your daily goal, and even better when you surpass it! Of course moderation is to be used here, as with everything, because there WILL be days you are too busy to get in your workout or days where you need a relaxing break, but that's where balance comes in. Work hard some days so you can relax other days. Don't coast along in the middle… with anything you do! Not with exercise, not with work, not with relationships, not with your relationship with your SELF. Give it your all so that breaks feel like legitimate breaks.
This holiday season I challenge you to join me to #findyourfit. And guess what that means? Find YOUR fit, your own beautiful, unique, individual, personalized version of it. Maybe you're training for a marathon, or maybe you're just looking to take an extra 2,000 steps a day (a short, brisk nighttime walk would give you that and more!)… find your version of fit.
For the next few months I will be posting about my experience using Fitbit Charge and hashtagging #findyourfit on my Instagram, Twitter and Facebook. Some days I will be in a hole writing the book and the best I can do is a long after-dinner walk or a walk from my car into the grocery store… and that's okay! Because other days I will allow myself to dedicate some time to the gym or the yoga studio or a hike, and I will sweat my booty off. And it will feel GOOD.
Who's ready to #findyourfit?! I know I am! Let's do this thing.