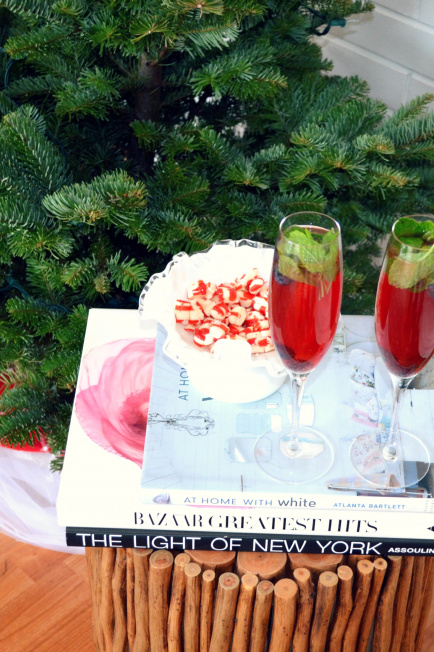 Holiday Minty Blueberry Cocktails
Deck the halls with boughs of MINTY BLUEBERRY COCKTAILS, Fa-la-la-la-laaaaa-la-la-la-la! (Be happy I didn't decide to make a YouTube video today, because let's just say my singing voice leaves much to be desired… Ask anyone I've ever lived with.) 
That's right, today we are talking alcohol. Healthy peeps celebrate the holidays with fun cocktails too, and we damn well enjoy it. And we don't like being hung over the next day, because we like to wake up and do yoga and run and be productive and/or lounge the day away in our Christmas footie pajamas feeling awesome and hydrated sans raging headaches and bloating.
That's where this cocktail comes in. The antioxidant cocktail. Remember antioxidants? That fun little buzzword that we like to throw into sentences but might not even be positive what it means. Antioxy's (yeah, nickname basis) are natural substances found in lots of yummy healthy foods that help prevent cell damage and keep our immunity levels high.
Blueberries are a fab natural source of antioxidants, and guess what – also keeps us from getting hangovers! Yippee dee doodah! That means we get to have our holiday cocktails and drink them too.
And in case you weren't already convinced about the healthiness of this cocktail, insert Bai 5 Brasilia Blueberry.  This delicious sippy sipper is a blend of organic coffeefruit extract, white tea extract, Vitamin C and yummy berry juice concentrates.
Ever since Bai 5 joined me at my TBB App Launch Party back in November, I. Have. Been. Hooked. I knew I wanted to incorporate them in a holiday cocktail post, especially after countless people ran up to me at the party to announce that they'd invested in a case of Bai to use as mixers for holiday parties (and for weekends in general… if we're being honest.)
It also helps that the people behind Bai are extremely nice, health-oriented and fun to work with. Supporting those types of companies is my jam.
You know what else is my jam? Getting tipsy off of ONE cocktail. With my stomach ulcers I can only drink alcohol very sparingly, so one-ish cocktails per holiday party has been doing the trick for me. #Scooooore because I hate drinking too much and feeling like crappola the next day!
Cheers! Now let's get to it. Holiday blueberry minty vodka-y deliciousness… coming right up!
PS. Bonus points if you wear this shirt while mixin' & sippin':
Ingredients:
1.5 shots vodka (I prefer Tito's organic vodka)
½ cup club soda
½ cup Bai 5 Brasilia Blueberry juice
1 small handful muddled fresh mint leaves
¼ cup fresh blueberries
1 squeeze of fresh lime juice to taste
1 small handful ice
Directions:
1. Muddle the fresh mint leaves with a drink muddler or with the back of a fork until desired consistency is reached.
2. Place muddled mint at the bottom of a cocktail class and add blueberries and ice. Pour in vodka, club soda and Brasilia Blueberry juice. Squeeze lime to taste. (And, if you're like me, drop in the squeezed lime wedge for extra limey flavor!)
Now get on it & go make this amazingness! And blast some T-Swift Christmas music and dance under the mistletoe while you're at it!
Fa-la-la-la-laaa…
Any other fav holiday cocktail recipes?! If you have one on your blog or a blog that you love, leave the link below & I'll be sure to check it out! 
Xox, TBB