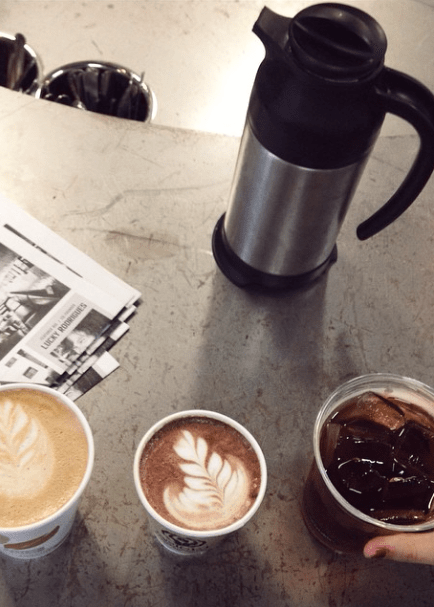 How to Order at Coffee Shops When You have Acid Reflux
Hi sweet loves! As promised, today I am writing about my go-to coffee shop order. As someone who has never been much of a coffee drinker, it has been hard-ish for me to find my niche among morning pick-me-up bevs, but a few months ago I finally got it down. I am so happy with it annndd it's healthy & natural as can be (are you surprised?), so naturally I want to share with all of you.
But before I tell you my go-to order, let me walk you through the cycle that went down that eventually lead me to my beloved choice.

Jordan's Coffee Journey: Phase 1
Everyone can probably relate to that time in high school when all of your friends are discovering coffee and Starbucks becomes a staple morning pit stop and afterschool hangout. When I first started going, I stuck to hot chocolates and peppermint hot chocolates like the inner little kid that I am, but eventually I started branching out and trying other things.
Sophomore – Junior year of high school was the era of the iced mocha. We used to stop there on the way to dance team practice in the morning (yes, I was on the dance team. I actually created the dance team at my extremely small school) and why wouldn't I order what everyone else was ordering?
Nice, big, cold, sugary, dairy-filled, chocolatey, creamy mochas. I never even liked them that much, and the acidity of the coffee was hard for me to choke down. But, alas, I drank them every other (ish) morning along with the rest of my dance team and BFFs in the early morning before school.
 Phase 2:
Then my stomach started majorly acting up, as it often does, and it was recommended to me to cut out all caffeine. So I did. I went many years without it, including the college years of all-nighters and drinking benders. It never even looked or sounded appealing to me, and I went along just fine without it.
Phase 3:
Cut to about five years later when I went through my "Breaking Vegan" running wild phase where I wanted to let go of every food and drink restriction I've ever had.
"Coffee can't be THAT bad on my stomach," I told myself. "I mean it's pretty much all NATURAL. And people say it regulates digestion and hey, it kinda actually tastes good, and it's a fun ritual to add into my daily routine… ESPECIALLY when I am trying to procrastinate and it would be way more fun to walk down to a coffee shop than sit here and work."
So I started drinking it for real this time. Usually iced, because hot drinks suck. And, in true Jordan fashion, I started drinking it every single morning. Sometimes even twice a day. I loved it, and I even loved the weird jittery feeling it gave me, and also the way it suppressed my appetite and kind of served as a breakfast replacement. (Great idea for someone recovering from an eating disorder to get freakishly attached to something equally addictive…JK.)
 Phase 4:
Then, a couple months later… boom. STOMACH ULCERS. So many of them. I developed acid reflux times a million, to the point where my stomach was consistently rejecting the acidity (not just from coffee, but from everything) and throwing it back up every chance it got.
Of course the first thing to go in my newfound "freedom" diet was the coffee. And to be honest I missed it. I liked being in on the very adult world of coffee, drinking it with my friends/parents in the morning (wherever I happened to be) and taking midmorning coffee breaks at cute little Brentwood spots like Groundworks and Café Luxe.
But I took it right on out, along with plenty of other acidic foods and drinks in hopes of healing my tummy.
Phase 5:
Well, after all that, I still wanted something to sip on throughout the day other than water and green juice! I'm not really even drinking alcohol these days, and I did get used to the fun ritual of coffee with my breakfast, etc.
SO, finally, I'll go ahead and tell you, drum roll please… My new go-to order is: a medium hot green tea in a large cup, so that I can fill the rest of the cup with cold almond milk. It's not acidic, it's caffeinated but doesn't give me a caffeine overload, and the almond milk cools it down enough so that I don't burn my tongue off with every sip and it also adds a delicious creaminess.
A straight tea bag in water is kind of boring. I'll be honest. Pouring in the almond milk gives it a thicker consistency and makes me feel as hipster and cool as my coffee-drinking counterparts. AND it's so subtle that I can literally drink them all day, and come afternoon time I switch to a decaf variation.
The best part is… Green tea helps tummy issues! It can be used medicinally for indigestion, energy and anticancer effects, and has been used for years in Eastern medicine to treat poor digestion and help flush out excess stomach bacteria. And I've always been jealous of my coffee-drinking friends for the burst of energy they seem to get from their morning caffeine, and this does the trick perfectly.
For a while I went through a phase of drinking Chai Lattes and Matcha Lattes, before I found out they were FULL OF SUGAR and also pretty acidic. So this is the perfect way to keep my sugar intake down (don't need that excess sugar in my drinks, I eat plenty of dessert as it is!), it's nice and light on my tummy, it tastes amazing and it has plenty of nutritional benefits.
And if I'm craving something extra delish and more indulgent, I will add GLOBS of cinnamon (I am a cinnamon freak) and soooometimes a little bit of honey.
 So yummy!
So, there you have it. Thoughts, my loves? What do you like to drink? I wish I could drink coffee, but it just doesn't work with me! Are you a tea drinker? I am seriously so into it lately.