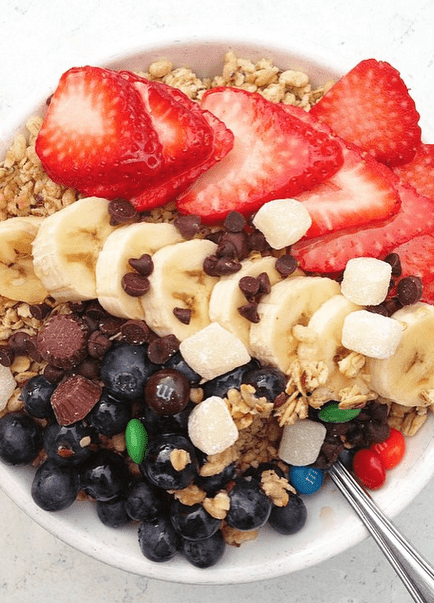 Snippets from my Mini Vaycay
Hi everybody! If you follow me on Instagram, you know that I have just spent the weekend in Newport Beach on a "bookcation" – a.k.a, if you're not as obsessed with joining words together as I am, a vacation for writing my book. Initially I was telling myself that this vacation was to finish my book, but right when I got there I realized there was no way on earth I would be finishing the book right then and there. It was also a staycation, because Newps is only about 45 minutes from L.A.
For the last six months or so, this book-writing journey has been a whirlwind. At times it has been extremely difficult because of all the personal details I've included in the book about my eating disorder and my struggle to realize what I was dealing with. At other times the journey has been a dream come true and such a breath of fresh air to sit down and write the day away.
Essentially, the journey has been exactly how everything in my life has been: up & down!!! All-or-nothing. I'm an extreme person, what can I say?!
I also had the awesome opportunity to meet with a huge part of the team from my publishing company this weekend and talk book sales, future giveaways, events (book tour in the Fall, anyone?!?!) and to chat with the sales team about what my book entails.
(To give you an idea, I walked into the dining room on Saturday night and a bunch of sales guys started saying: "It's the BREAKING BAD Vegan!!!!" I loved it.)
For those of you who are not currently working on a book (I'm assuming that's probably about 99.9% of you, haha), take a second to picture a huge goal or project that means a lot to you. It could be anything! Even a fitness goal or an event that you're planning.
Now… take a sec to think about how much anxiety you feel when you realize how far you still have to go before you reach your goal / finish your project. It can get pretty intense, can't it?!
Well, I can and DO get filled with ungodly amounts of anxiety when I know I still have a long way to go with something that means a lot to me. Before I finish this book, I know I will continuously feel like I should be working on it and brainstorming all sorts of new chapter ideas in my free time. (I'm a dork, I know.)
So – my advice to you, if you have ever been in my boat, is to TREAT YOURSELF to a mini vaycay. It doesn't have to be anything fancy, it could even be just driving to a different neighborhood, posting up at a nice coffee shop or somewhere where you feel creatively stimulated, and going to town on your work. (And/or, depending on your goal, a work break that entails nothing but relaxing!!!) 
If you are in the mood for something that really takes you out of your comfort zone, research cool places nearby, book a hotel, take a drive and do whatever you need to do.
After a few c-r-a-z-y weeks (who am I kidding? Months…!) of jam-packed meetings/projects/collaborations and having little to no alone time, I knew I needed some serenity in order to get into my writing zone.
And believe it or not, this was my first EVER solo trip. I have always idealized the idea, but I had never actually taken the leap. Even after I booked my hotel in Newport I was beyond tempted to have friends come and join me throughout my stay, but at the end of the day I knew my reason for going was to buckle down & write.
It's pretty awesome to go somewhere beautiful, totally alone, and do something you absolutely love to do. And the first night I got there I sprawled out in the super comfy king-sized bed and watched the movie Boyhood in my hotel room (hotel rooms are literally the only places I ever watch movies, don't know why) and it was BLISSFUL to finally take the time and just chill to do something entirely relaxing.
Sidenote: really, really, really good movie.
 (If you follow me on Instagram, you also know that I ordered copious amounts of room service food and enjoyed every single bite of it. Especially while I was writing about my years of intense restriction, this was a very cool experience for me.)
ANOTHER thing I thought a lot about on my trip – and then I'll stop for now, I promise – is how it really is great to juggle a ton of things that we love, but if we don't take the proper amount of time to dedicate to each and every thing we commit to, it certainly won't be as good as it can be.
And more importantly, we won't FEEL as good about it as we deserve to. Especially if it's something we know we are excited about.
So, regardless of how many projects I take on or how many things I say "yes" to, I know it is super important for me to dedicate the time to make each one great. New 2015 Goals!! #TBBMadeMeDoIt).
On that note, I am starting with the book – I have about four chapters left to write and boyyyy are they going to be from the heart. Keep your eyes out for all of my upcoming Breaking Vegan news, because I can promise you there are exciting things to come.
How I love you all!
PS… I ate this in Laguna. Acai bowl + Fro Yo toppings. I died.
Thoughts on mini-vacations / staycations / self-cations / bookcations? Do tell! I, as you may have guessed, am a huuuuge fan.