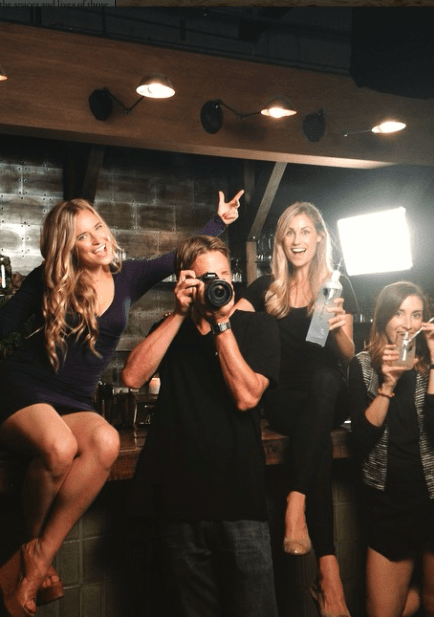 My All-Natural Beauty Routine
Wellll, what do ya know? I finally did the all-natural beauty routine video that I have been talking about doing for ages upon ages!
Top: Vince || Leggings: Zella || Lipstick: Cate McNabb 'Vamp' || Kiss Wall Art || Champagne: Bon Affair
One of the number one questions I get asked via the bloggy is my stance on makeup. Do I use all-natural, paraben-free, cruelty-free, easy on the skin makeup? If so… HOW do I find the right shades that still come in beautiful hues & are long lasting? Also– do I even WEAR makeup, you ask, (?!?) since in most photos it appears that I don't.
If you know me, you know that I don't wear a whole lot of makeup in my everyday life. I go all out for TV appearances, photo shoots and extra special events, but on the daily the most makeup I will possibly wear is a bit of natural foundation, some lipstick/lipgloss and MAAAYBBBEE some mascara. And I say maybe because mascara gets freakishly stuck on my lashes and ends up under my eyes more often than not. (Which is why the right all-natural makeup remover is so important to me– my favorite of which is featured in the video!)
The main takeaway here is… B A L A N C E ! I love to get dolled up on special occasions & I definitely have my brands that I stick to. In the video I mention my favorite lip wear, foundation, mascara (that smells like BLACK TEA! Yummm), makeup remover, deodorant (the best ever. You will fall in love) & sunscreen.
Without further ado, here we are. And if you haven't yet subscribed to my YouTube channel, I would be eternally grateful if you hit the little 'Subscribe' button under the banner on the homepage. I have lots & lots of fun videos to come– including a super personal "Mess Up Your Life" video that we filmed on the beach this weekend.

Video is produced by Enjet Media, a.k.a some of my absolute favorite people out there. Here we are having a blast this last weekend during filming at Tastemade:
Thoughts on the video?! What are your feelings about all-natural cosmetics? Do you wear a lot of makeup, or a lil bit (or none)? Love hearing this kind of stuff. Xox