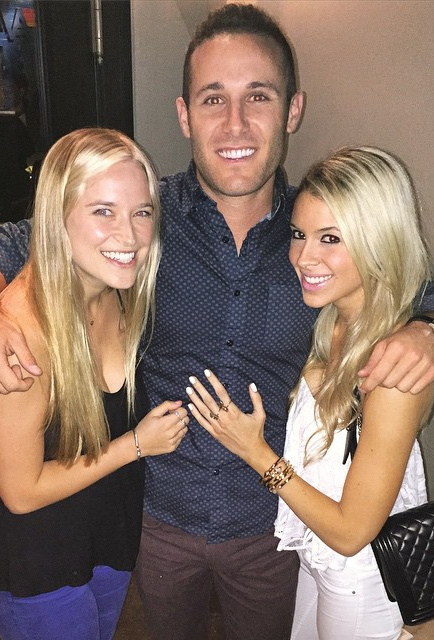 Hi loves! I want to start doing more of these "behind the scenes" survey question posts because I know that when I am reading someone else's blog, I want to feel like I know them. If I like someone's blog then above all I pretty much just wanna be friends with them (and I find what they have to say interesting)– and I consider all of you my friends, so in between writing about wellness, beauty, products I love, inspiration, etc. I want to share my SELF with you — and what better way to do that than answer a boatload of fun, non-worky questions?
No better way, if you ask me. 😉
So today I am playing the "Name Your Favorite…" game! And just for fun, I am going to tag a few of my favorite blogger babes & friends to do the same, if they want to, so we can see what their favorite things are too! I tag Annie from Blawnde, Lauryn from The Skinny Confidential, Kaitlynn from The Western Wild, Tara from The Whole Tara, Talia from Talia Furhman & Lottie from Running On Veggies. Name Your Favorite things, boo loves!
Oh, also, I want YOU guys to participate too (everyone reading) — in the comments, answer a few (or all, if you want) of these questions so I can get to know you too. And tell me where you are writing from! I like to have a visual of where all of you beautiful souls are.
Name Your Favorite ▶ ▷ ▸ ▹ ►
▵ Place: My favorite place to travel is the island of Maui in Hawaii. I grew up going there every summer, so even the smells bring me back to incredible memories of being a young & carefree ocean dweller and having the best, closest times with my family. Tropical places bring me so much peace, and the ocean calms my soul. My favorite local place is my yoga studio– it's my go-to spot whenever I need to clear my head, get a good sweat or reconnect to a community of like-minded individuals. I love it.
▵ Person: Well, that's a hard question to answer! I only surround myself with people I love, who inspire and support me and lift me up– so they all have their place. But the favorite person that comes to mind is my mom– we talk at least 15 times a day, and there isn't a single thing that she doesn't know about me. She is the yin to my yang (a.k.a the calm to my storm, haha) and she is one of the most patient, loving and FUN people I have ever had the pleasure of knowing. I strive to be like her every single day
▵ Color: Lime green, 1000%.
▵ Food: Dark chocolate everything, green smoothies & lemony, garlicky kale salads. I could live off those three foods for all of time and be completely happy.
▵ Smell: Eucalyptus. I can't get enough of it.
▵ Book: There are so many. I am a huge reader, but Defending Jacob is an amazing thriller that has always stuck with me. As far of memoirs, It Was Me All Along by the amazing Andie Mitchell is stellar, annndd lately I have been reading (slowly but surely) The Leader in You by Dale Carnegie. Thanks to Brandin for the recommendation. 🙂
▵ Movie: Remember The Titans will always be my fav, it gets me every time. And as far as newer movies — I adored Boyhood. I like alternative stuff… the more emo, the better.
▵ Music Artist: Eminem + Adam Levine will be tied in my book for life. I would marry either one in a heartbeat — just sayin. 😉
▵ Genre of music: Contrary to my two favorite artists, my fav genre would have to be chill, folky, alternative music. Anything that would be played in a yoga class that has great lyrics and a soft beat… I will probably become obsessed.
▵ Genre of literature: Autobiography/Memoir. I like to read about people's lives. (Hence why I like to write about people's lives, too!)
▵ Magazine: Vogue + Elle are always goodies, and of course I am partial to Yoga Digest…
▵ Texture: Soft & silky. Like a kitty cat except I don't love cats. Anything that's not velvet! That ish makes me cringe.
▵ Time of day: Early morning when I have the whole day ahead of me, and sunset when dusk washes over the beach & makes the world perfectly beautiful and serene.
▵ Day of the week: I might be the only person in the world who loves Mondays. I love what I do, and hopping back into work in the beginning of the week gives me a jittery excitement feeling every time. And it's the only day of the week when I know I have lots & lots of days left in the week to make plans / do collabs / write / create – and inevitably the time slips away from me every single week. 😉
▵ Blog: Clearly I have a lot. I have always been a huge Gal Meets Glam fan for beauty & blog inspo, as well as Chocolate Covered Katie for food & My Name is Yeh for aesthetic.
▵ Thing to do when bored: I am rarely bored because I like to stay super busy, but when I have free time I love reading blogs, reading books & binge watching Orange Is The New Black & (R.I.P) Breaking Bad. And I am that friend who will text you at 7:30 a.m. on a Saturday morning and beg to go on a spontaneous morning hike or a beach walk.
▵ Celebrity: Sienna Miller is such an effortless beauty and amazing actress. Magic Johnson, as of Monday night when I got to meet him, is one of my favs because he is so humble, down to earth & hardworking. Also a huge Adam Levine, Aaron Paul & Eminem fan.
▵ Drink: Green tea with almond milk & stevia, Suja Lemon Love annndd vodka soda with lime when I go out!
▵ Precious stone: Opal & Turquoise. Opal because it's my birth stone and it is known for its magical, luminescent quality that transfixes its onlookers. What a frickin' cool trait. And Turquoise because it's gorgeous, bright and my favorite gemstone to wear on rings, necklaces and bracelets.
▵ Animal: Monkeys (spirit animal), piglets and puppies. Put me in a room with all three of the above and I would be happier than life.
▵ Flower: Sunflowers! They signify happiness & sunshine to me and I love that. I am allergic to many, many types of flowers… so beware if you ever thought about getting me any for a special occasion. 😉
▵ Time in history: The Roaring 20's! Ah, it seems like such an elegant and transformative period– I would want to be BFFs with Hemingway, Zelda & F. Scott Fitzgerald and their crew. I am such a literature geek but I would totally kill to go back and live in that time– for a while, at least. What would I do without blogging/the Internet?! Lol.
▵ Font: Courier New, Times New Roman… I like my fonts simple. Curly-Q and handwriting type of fonts annoy the shit out of me– no offense if you use them. They always look like they are trying too hard.
▵ TV show: Orange Is The New Black, Breaking Bad, House… those are some of the only three I've ever liked (read: been obsessed with), and I can get sucked into reality T.V. from time to time — you can't be surprised, with my love of analyzing and getting to know people/characters!
▵ Play: The Glass Menagerie. Depressing but so well written and amazing. And Anne of Green Gables is my jam ever since our middle school rendition– we killed it. I will try to dig up some old photos for your viewing pleasure. 😉
▵ Fruit: Bananas + berries!
▵ Vegetable: Broccoli, kale, sweet potato, bok choy, cauliflower, brussels… I love so many.
▵ Store/shop: Wildfox Couture, The Fifth Label, Jen's Pirate Booty, Lovers & Friends, MinkPink, rag & bone… TBV Apparel, duh. 😉
▵ Article of clothing you own: I would have to go with my green & white pinstripe boxers & oversized Katy Perry concert shirt– sorry, but I sleep in them almost every night (and wash them often too, don't worry). Nothing beats the comfiness of getting home after a long day and throwing those on with my Ugg slippers!
▵ Fashion/style: Bohemian chic all the way. The flowier, hippier, beachier the better. And I am a Lulu Lemon freak… Never not in workout clothes.
▵ Workout: Yoga, Orange Theory HIIT, running… I love it all. 🙂
▵ Quote: I am a quote junkie, but one of my very favs is: "Be who you were meant to be, and you will set the world on fire." Also, simple but sweet & SO TRUE: "Fall in love with your life, every minute of it." – Jack Kerouac
▵ Historical figure: Oscar Wilde + Anne Boleyn are pretty damn cool.
▵ Boy's name: Ryder & Sawyer
▵ Girl's name: Piper Jane! And Isabella + Olivia but those are my nieces names so I won't be stealing those. 😉
▵ Ice cream flavor: Dairy-free mint chip!
▵ Season: Fall! It's the beginning of all of the best holidays & the coziest, most gorgeous time of year.
▵ Month of the year: October, for the same reason. #LibraLove
▵ Memory: Mostly all of my memories from studying abroad in Italy & traveling Europe with my best friends. Specifically our Lake Como trip, Paris romps & London adventures.
▵ Dessert: Brownies, all the way.
▵ Language: Spanish, although it frustrates me because I used to be borderline fluent & have totally lost it. I need to study & re-learn! I always tell myself I'm going to!
▵ Thing to learn about: Other people's lives, their passions, what drives them — especially people who are doing awesome things that they love… Like these killer friends of mine. Say hi to Annie & Brandin!
▵ Thing about yourself: That I dream huge & never give up on the things I love, whether they be people, work-related things, goals, or anything else. Being connected to the people in my life is what's most important to me at the end of the day, so I make sure to balance that with everything else so that they are my numero unos, always.
Whewww!! That was a doozy. Would love to hear what your favs are, or if there is anything on this list that particularly surprises or inspires you!