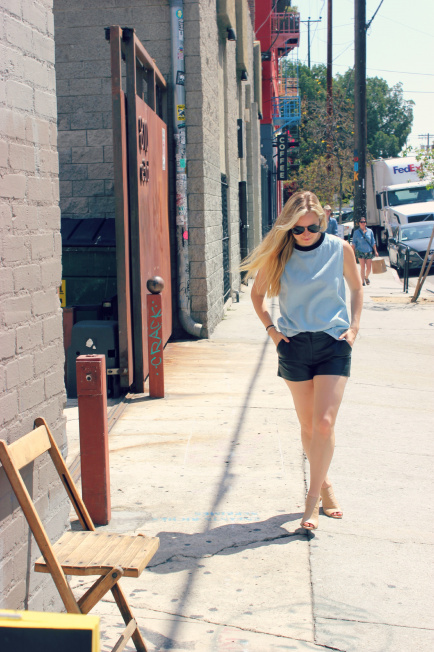 Chambray & Stripes // "What Kind of Blog Is This Anyway?"
I've been thinking about this blog recently & the way that it has evolved over the past two years. When I first started, this was a vegan food blog (really?!?). Over the period of that first year, it evolved from food to more and more lifestyle until eventually I was just writing about my life, my passion for wellness, my travels, grad school, friends & family and more.
Then I transitioned from veganism, and all of the sudden I had a new platform to not only grow the blog in a more versatile way (by no longer having a strictly vegan name or label to hold onto) but also to talk about things that I love.  I promised myself that my new blog name would be broad enough to allow me to write about anything that fits my personality: because this blog, after all, is an extension of my personality.
I have struggled a bit here & there with trying to remain in a certain niche when it comes to blogging. Am I a wellness blogger? Am I a fitness blogger? Am I a healthy food blogger? Or is it okay if I write & make videos about beauty, fashion, home decor, relationships & life advice too? I see these awesome blogs who have their very specific purpose: fashion, food, beauty, travel. I have had thoughts where I feel like I should have a purpose if I want to continue making a real name for myself in the blogging world.
But now I realize more than ever… I do have a purpose. My purpose is to share my lifestyle with all of you, which, even masked as a vegan food blog, was exactly what I was doing in the first place when I began The Blonde Vegan nearly two years ago.
This blog has grown into something that captures my whole life. I've written about personal things from my eating disorder recovery to my juice cleanse addiction to leaving graduate school and more– and I have written about exciting, monumental business moves like creating TBV Apparel (because of the blog!), writing my memoir, starting my YouTube channel, and partnering with my favorite brands to name a few.
So, here I am to tell you that I finally, for the first time in a longgg while have an answer to that pesky "What kind of blog do you have, anyway?" question.
I have a lifestyle blog.
You can expect to see posts about health, fitness, travel, fashion, beauty, relationships, friendships, eating disorder recovery, building a business & following your dreams, yoga and the occasional "I feel like writing about this today so I'm going to."
I hope that works for you (yes, you!) who is reading– because I am oh so excited about it and it feels good & extremely relieving to have a purpose.
There is no better way to commemorate this realization than by sharing a series of photos we snapped in Downtown LA yesterday. My photographer Danika Miller captured this playful day in her talented way… She gets me. She gets it. She gets creativity. She is a rockstar. Little does she know but her involvement with my brand has helped me come to realize what is most important to me when it comes to what I share on the blog. Sometimes it helps to have a great visual to come to the full realization of a vision.
Wearing: Chambray Top: The Fifth Label || Striped Top: The Fifth Label || Leather Shorts: Piper Lime || Aviators: Ray Ban
Similars: Chambray Top: CWST || Striped Top: ASOS || Faux Leather Shorts: Nasty Gal || Aviators: Nordstrom
More photos from this fun shoot day to come. In the meantime, what are your thoughts on my lifestyle blog realizations? I supposed I've really known this all along, but it feels good to share. <3