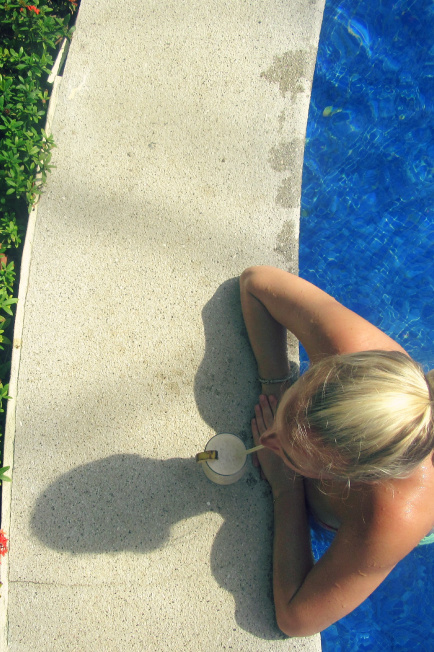 I'm Back… With a Banana Shake Recipe + BIG Giveaway!
First of all, hiiii!!! I've missed you. I am writing from the sunny & perfectly serene Costa Rican jungle, and I wish I could teleport everyone reading right here next to me. All you need is sunglasses, a swim suit & a spicy pineapple margarita in hand. Oh, and yoga clothes – if you're on the retreat I'm on, at least! And sunblock. It's hawwwttt out here.
I can't tell you how incredible it's been to take an Internet break for a whole entire WEEK! I just opened my email in a second tab and seeing the rising numbers flashing (let's just say we've reached quadruple digits) would normally give me an unreal amount of anxiety, but I am surprisingly calm. I will get to them when I get home, and this time in Costa Rica, surrounded by incredible souls & basically living on the ocean, has been invaluable for my mind, body and heart.
I needed a vacation more than I realized. And the fact that this was a vacation with a killer group of yogis who are allll here for different reasons but we all love the same thing (y-o-g-a) made this trip totally different from what I am used to and really helped me unwind. I turned my texting off for nearly the entire week — say whaaattt?! Yeah. Amazing.
I have a few fun Costa Rica posts lined up (in my mind) for when I get back… but today I want to share something else with you. It's a two in one because it's my go-to vacation smoothie recipe, especially on this trip, AND it also includes a giveaway hosted by the awesome Bai antioxidant infusion drink company. You should remember them by now if you spend time on this bloggy, because I work with them quite frequently. (Read: I am obsessed with them. It's a mutual love affair. For the record, their Molokai Coconut flavor is my all time favorite.)
Giveaway!!!
Bai & I have teamed up to do a pretty amazing giveaway if you ask me. As a part of their fun Smoothie Madness campaign, they are giving away $1,500 total to Whole Foods, 40 free cases of Bai, a Vitamix, a year's supply of Bai, and a FLVR shirt.
To enter, all you have to do is post a smoothie recipe with Bai in it & tag them on social media. Simple as that! I will be choosing the Blogger's Favorite award, which is $100 to Whole Foods + 10 free cases of Bai! Hell to the YEAH!
And in honor of the giveaway, I am sharing my favorite banana shake recipe with you. We have all been drinking it here in Costa Rica because, well, let's just say that the food and water isn't 100% agreeing with all of us here… And bananas + rice milk together are so unbelievably tasty, healing, full of nutrients and easy on the tummy.
One of my BFFs that I am here with likes this with whole milk (or maybe it's 2%? We can't tell) and it legitimately tastes like a milkshake. He was shaking his head while I was sipping on it during this lil' photo shoot, because we all know what dairy does to my tummy… NO bueno.
Warning: This recipe is very simple.
Double Warning: That's the awesome part about it.
Banana Shake Recipe:
1 banana
1 cup rice milk (or any type of dairy-free milk)
1/2 cup ice
Optional: a few pinches of stevia or coconut sugar
I'm telling you guys, it's REAL good.
Head over to Instagram to enter the contest– you could be the winner of $100 to Whole Foods + a free case of Bai! Oh, also, CONGRATS to Miss Emily Korengold for winning my Suja giveaway of $500 to Whole Foods + a Breville juicer!!! FUN FUN! I will be choosing a winner on May 15th!
Alright, love you all so much. This was fun. I've missed blogging. But now I am all recharged and energized and excited to hop into next week with some fun posts for you all!