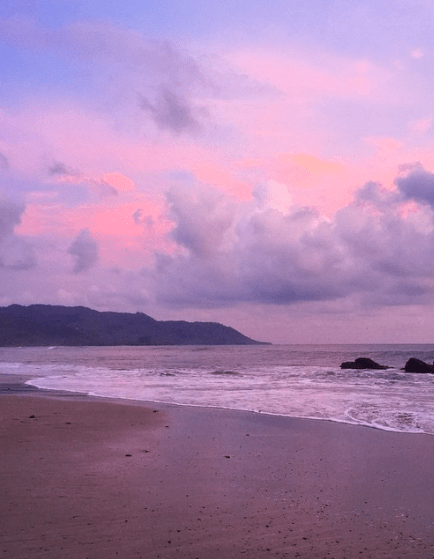 Hi loves! I am officially back from Costa Rica, and I don't even know where to begin. We were staying on the beach, in the middle of the jungle, in one of the most serene and tropical places I have ever seen. We did yoga twice a day, hiked to a gorgeous waterfall in Montezuma, snorkeled on Tortuga Island, swam in the warm-as-bathwater ocean, ate lots of fresh fish (and maybe a little fresh gelato!!), lounged in hammocks on the beach, did a lot of journaling, soaked in the sun and made some incredible new friends.
To say that I fell in love with Costa Rica & had an incredible time with the people I was with would be a vast understatement. But I'll say it anyway… I fell in love with it and had an incredible time.
It was a different kind of trip than I am used to — when do you travel with a group of 30 people, almost all of whom you've never met before, to a remote location that is 8 hours away from any airport or main city?! The fact that it was so different from what I usually do made it such an awakening experience for me. It was totally out of my comfort zone, and I needed that more than I even realized.
Yoga retreats are pretty personal journeys to begin with. People decide to go on them for all sorts of reasons… sometimes to gain perspective, to get a break from everyday life, or as a way to cope with something tough going on.
I went on the retreat for a few reasons. One, because I love yoga and one of the teachers leading it has been my longtime teacher and friend. Two, because I have always wanted to go on a yoga retreat and have the chance to deepen my practice in a beautiful, peaceful setting. Three, because I am a sucker for a good tropical vacay and saw photos of the beach we'd be staying near and couldn't turn it down. And lastly because one of my BFFs was down to go so I knew if nothing else we would have a great time.
Those were my initial reasons for going. After being there and unwinding for a few days, I realized I had a lot of other reasons to be there too. I have taken on a lot work-wise in recent months… So much that the thought of sleeping through the night with no stress and having any semblance of a regular schedule was laughable to me before I went. Then I got there, and slowly but surely, with no computer or phone or email or social media or obligations to distract me, I started realizing… there are some places in my life where I can let go.
And once I realized that, the things that were previously stressing me out became SO much easier to handle. I started thinking about the things I needed to do once I got back, and I was able to shift them around and organize them in my mind in a grounded, realistic, non-stressed kind of way. Suddenly certain issues/work obligations that once seemed glaringly important were easy to put on the back burner, while the importance of other things I had been neglecting became more and more clear.
I wouldn't necessarily say that this was a radical shift from how I've always been, but it was a reminder that in order for me to feel calm and in control, I need to take time to myself. I need time to rest, reflect and above all… to do YOGA! Yoga quiets my rambling mind and allows my body and head so much peace. Doing yoga twice a day in Costa Rica was a great reminder that a consistent practice makes alllll the difference in how I feel. And check out this incredible yoga room (photo by the beautiful Hillary Oneslager… One of the gorgeous girls who came on the retreat via my blog):
You can't tell me that doesn't scream perfection to you! And as Hillary said in her caption of this photo, "Savasana will never be the same."
And to give you a brief rundown of the trip beyond the yoga and the awesome personal journey I experienced… A little list should do the trick. ; )
THE HOTEL: Hotel Tropico Latino in Santa Teresa. Our hotel had two gorgeous yoga rooms onsite that were directly open to the beach… which I am already finding is going to make it hard to practice indoors ever again! The hotel was much more "jungley" than anything I had ever experienced before — and what I mean by that is that there was no lobby, one outdoor restaurant, and the rooms were all over the property in different bungalows. Our room totally rocked — we had two bedrooms, a huuuuge bathroom with a nice, big shower and a big bath tub. We also had a balcony that overlooked the ocean. It was a charming place. I would totally stay there again.
THE FOOD: To my surprise (and everyone else's, for sure) I didn't have any issues with the food! The hotel had a wide variety of options from fresh local fish with rice and beans to burgers and fries to raw vegan pad thai (seriously?!). We did get a tiny bit sick of the hotel food after several days, because the menu never changed and we ate a lot of our meals there, but I ordered the burger upwards of three times and it was soooo good. Nearby there were a lot of cute restaurants, including a sushi restaurant, an Israeli restaurant, a supermarket that I went to nearly twice a day to get something or another, a gelato place (yum!!!), a pizza place and more. There was no shortage of food options! Except there were basically no vegetables which started to become an issue. Some people got sick with tummy problems, but I was more or less fine until the end of the trip when I had a bad reaction to something — but it only lasted for a night!
THE EXCURSIONS: All in all, I am not a big excursion girl. I like to do a lot and be super active on vacation, but what I do not like is long shuttle rides and feeling like I am wasting time going from place to place when I am more than happy to stay at the hotel and swim, read, do yoga, hang out with people, write, etc. The longgg shuttle rides were a bit much for me since Santa Teresa is far from a lot of things, but we did go on a waterfall hike in Montezuma & a boat tour / snorkel excursion on Tortuga Island. Both of those things were awesome. I opted out of surfing and zip lining because I didn't want to spend every day in a shuttle — part of my unwinding experience meant listening to my heart about what I did and did not want to do. Next time I definitely want to zip line! But the amount of excursions we had this time was perfect for me — especially since we were doing yoga twice a day.
THE PEOPLE: The people you travel with and meet while you are traveling absolutely make or break a trip, in my opinion. The people on our yoga retreat were fantastic. I adored all 30 people we were with (yes, it's rare to like every single person… but I actually did) and fell in love with the second yoga teacher on our trip, Jesse Schein, who teaches in LA and I am so excited to take her classes all the time now! Plus I was with one of my dear friends Tommy (you'll read all about him in MY BOOK!) and we had a blast together as always. Oh, and he played photographer (and then model!) for me for a few days so he's kinda the best.
Now, back to reality & I am lucky to say that I love my reality — life in L.A., writing this blog, getting ready for the book to come out, running TBV Apparel, making YouTube videos, surrounded by awesome people… Yeah, life is good. : )
TBV Apparel on the beach!
So many smiles : ) || Wearing Sofia by ViX + ViX swimwear
Mermaid Life
My number one spot
Oh, and the sunsets were like nothing I had ever seen!
Sooo happy to be back. Counting down the seconds until I can announce something RIDICULOUSLY exciting. Eek! What else would you like to see now that I'm back?! Love you all! Xox 
P.S. Search the hashtag #tbbtravels on Instagram to check out all of my travel pics!