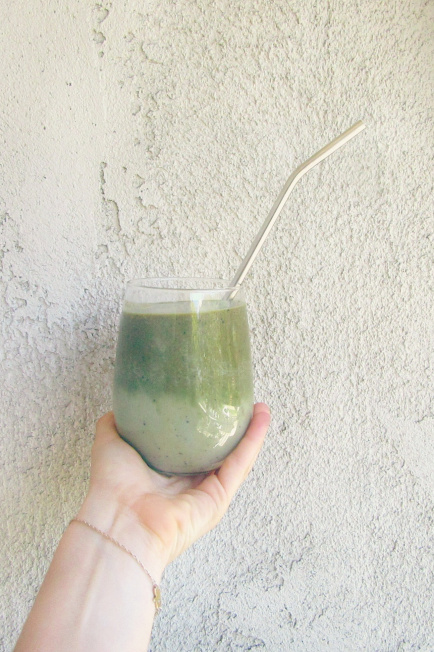 Low Glycemic Green Smoothie Deliciousness
Hi beauties! I hope everyone is having a phenomenal week. I know I am — LA may not be Costa Rica, but it has been gorgeous here and I have been feeling extremely lucky to live in such a beautiful city. I spent the day at the beach yesterday with my photog taking pics for a couple of fun upcoming projects… And I left sun kissed, happy, grateful and at ease. I am such a beach freak.
In other news, today I want to share my all-time favorite low glycemic green smoothie recipe with you. I will be the first to say: I love sugar. I have a sweet tooth, and having a good amount of fruit (mainly banana + mango) in my morning smoothies tastes delicious to me. However, I also like to eat dessert. And drink wine. And make yummy healthified chocolate treats. So I don't necessarily want to pump my breakfast with lots of sugar (even natural sugar, yes) because I know later in the day I will want to indulge with something sweet and delish. Probably dark chocolate. Or raw vegan PB cups.
The other appeal of low glycemic smoothies is that they won't spike your blood sugar, meaning that you will stay fuller for longer and your metabolism will work more efficiently. Your insulin levels will remain normal, and as my beautiful nutritionist has taught me, that means more fat burning and more efficient use of fuel and energy.
Oh, and if you know anything about this bloggy then you also know… just because it's low sugar, doesn't mean the taste is compromised. It still tastes as yummy and satisfying as ever. And if you have no problem with a little more fruit sugar in your smoothies, be my guest to add a banana, 1/2 of a banana, 1/4 of a banana… (you get the gist!). Sometimes I love adding a banana to this combo and subbing out the avocado, or leaving it and doing both, reaping the benefits of all those healthy fats and fiber.
In this particular recipe I used Organic Girl romaine as the main green in the smoothie. If you prefer spinach or kale, go for it! I like to switch it up, and romaine has a nice strong flavor that reminds my taste buds I am drinking something oh so good for my bod and my system. Especially after a week in Costa Rica where there was a major shortage of veggies in my meals, I need all the extra greens I can get! My body responds so well to a nice, healthy, balanced breakfast.
Organic Girl (unbiased, I swear — I just like to share real, amazing, rockin' companies with you guys) is my favorite brand of greens by far. They use organic produce with no synthetic pesticides, and they prioritize using recyclable packaging. PLUS, their greens are washed three times prior to packaging, meaning irrationally busy folk like myself don't have to worry about slaving and scrubbing over the sink before using. Just grab a handful, and toss them in!
The AVO in this smoothie (a.k.a the most underrated, delicious & creamy smoothie ingredient known to mankind!) brings you a healthy dose of fats, which is a fabulous way to stabilize blood sugar, give your brain and body a boost of energy, and start your day out right. And the CHIA brings you fiber, meaning you will feel nice and satiated, and fiber helps with absorption of all the other nutrients you are getting in this smoothie.
So… You ready for the ingredients?! There's a yummy herb in there you might be surprised to hear, but it makes the smoothie even more fresh and yummy.
 Low Glycemic Green Smoothie Deliciousness:
Ingredients:
1 cup Organic Girl greens (I used romaine hearts)
1/4 cup blueberries
1/4 avocado
1 tbsp. chia seeds
1 tbsp. cacao powder
1 handful fresh mint leaves
1 cup almond milk
1/2 cup ice
Method: Blend!
Annnddd the final product is pretty darn tasty!
If you want to get any of the tasty superfoods on this ingredients list (or a few other things I use on the daily) I've created a fun little shop section for you below!

Let me know if you try it, and enjoy!!! PS countdown til the release of some SUPER EXCITING news… 4 days!!!