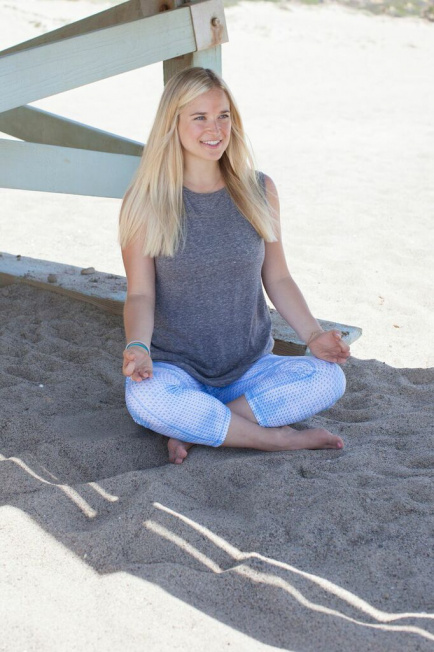 How to Fall in Love with Working Out
FTC Disclosure: While I was compensated for writing this blog post in affiliation with the fab Old Navy, all opinions are my own– as always!
And BTW, how freakishly cute are these workout clothes? I'm dying.
I am so excited to share this post with you because it showcases something I am ever so passionate about: making working out fun. You don't think I'm such a fitness addict because I spend time doing workouts I am not entirely in love with, right? Right. Everything I do fitness-wise I do because (through lots of trial & error) I love doing it. Life is too short to waste time or energy doing things you don't thoroughly enjoy. Might sound silly or cliche but I mean that wholeheartedly.
I do not waste my valuable time doing things I do not like… Including taking fitness classes from a teacher I have never tried or never heard any great recommendations about. It might sound a little harsh, but I know myself and I know that I am the type of person that feels like time has been wasted if I finish a workout class I didn't enjoy doing.
Our time is too precious for that, my loves!
And if that makes me harsh then I am okay with it, because that was Step 1 in my journey to choosing & solidifying a super consistent workout routine that works for me.
There is an enjoyable workout out there for all of us.
Hate running? Try yoga, pilates, hiking, HIIT, rowing, weights, volleyball, jumping rope, swimming, kickboxing, surfing, rollerblading, spinning or biking to name a few.
Hate group classes / sports? Try out solo activities like running, home practice yoga (there are so many great podcasts you can download), weights and non-equipment workouts you can do at the gym.
Yeah, I'm not buying it if you tell me you aren't into working out. If you haven't found what you love yet, that's a whole different story! And I am here to help you do just that. : )
In order to do so… I've partnered with Old Navy to remind you that our workout clothes are #BuiltForPlay! A.k.a, we've gotta have fun doing what we're doing, or else there is no use doing it at all.
Here I am balancing it up in these super comfy cropped yoga pants (see the design peaking out?! Where are my purple lovers at?!) & grey Go-Dry tank with pink straps, and black sports bra (SO COMFY).
Here I am meditating in Malibu in one of my favorite Old Navy #BuiltForPlay outfits. Meditation is a huge part of my life and my fitness routine. When I work out, I work out HARD. It's part of my personality — I take a lot of stress and anxiety out on exercise. It's an amazing release. Because of that, I have to make sure I set aside time to be kind to my body, mind and spirit. A bunch of pavement pounding and cardio flow body classes are great for the bod, but they don't do a WHOLE lot for our innermost psyche. So, I have to balance my tough workouts out with zen, zen and more zen. Meditation does the trick for me, along with stretching and yin yoga classes.
Speaking of varying up my usual fast-paced workouts, here I am getting my stretch on post-yoga in the same fab outfit:
If you are going to work out hard, then you absolutely, 1 milllllionnnn and fifty percent cannot forget to stretch.
And if you aren't an indoor fitness person, I highly recommend doing one of a few things:
1) Getting outside.
2) Putting aside all judgments. (I.e: "I'm not a good runner, so I'm not going to run." or "I'm not flexible, so I can't stretch in public!"). Save those judgements or hesitations for someone who is not ready to take the plunge & fall in love with their workouts! I know it can be challenging at first, but you wouldn't believe how nice it can be to get outside and clear your head by doing something active.
3) Try either running (on the beach, if you're near one!), hiking, walking your dog / with friends, or going to a calm, peaceful place and doing some stretches and meditation. I promise once you're done you will feel on top of the world. And if you don't, accept it as a learning experience & know that it's time to try something else next time!
Hello, beach run! The shirt says 24/7 because that's how dedicated you should feel when you are working out – in my opinion. Wellness is a 24/7 commitment, baby. Not to be obsessed over, but to be enjoyed and prioritized in a healthy, balanced way. And I love these shorts — I am still wearing them as I type! It's hard to find a good, comfortable, well-fitting pair of running shorts when you have short legs…
My personal favorite workout: It's no secret that I love yoga, and I love the beach. So you can't be too surprised when I say that my ideal workout is an intense yoga class on the beach (in the SHADE!), with people I love / a kickass teacher, and then some deep stretching and a dip in the ocean. The yoga class, to be my most ideal, would get my heart rate pumping & would definitely make me pour sweat. I would probably vary it up with a run the next day, so my body doesn't get too burnt out doing one thing. I may get addicted to workouts I love, but I know that the burnout is REAL and I have to vary in order to be consistent & on top of my game!
Beachy breeze meditation in this awesome grey tank that I want to wear every day of my life & print TBV Apparel phrases on (!!!). : )
And some smiles, because yoga makes me happy. Also… these pants!! Ocean pants. Make me feel like a mermaid.
And last but very certainly not least… Yoga. My lifeline. My zen. Also, this black tank is life — I will be wearing this baby everywhere.
How do you have fun with your workouts?! These comfy, breathable, sweat-friendly & super cute clothes certainly help motivate me to get outside and get my heart pumping each & every day!