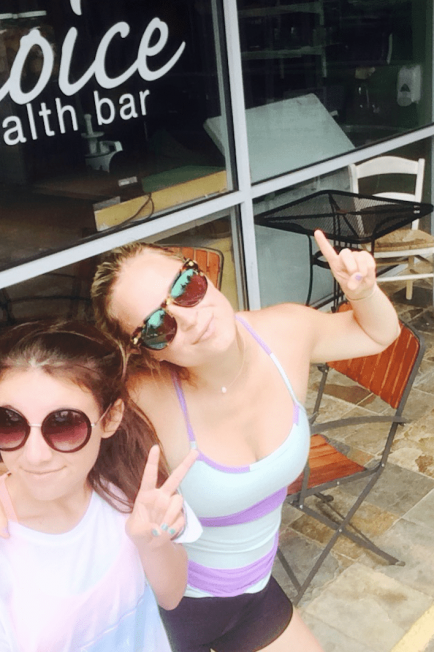 Updates from Hawaii, Thus Far…
BTW, this post is mainly a photo diary. Fun, right? 😉
Hi beauties! I am writing to you today as a sun-kissed, ocean-soaked, beach-blissed out, vacation-brained, mermaid-haired (a.k.a beach waves+not a whole lot of hair washing or brushing) tropical smoothie-drinkin' Maui islander. I first started writing this blog post by explaining all about how I am on vacation with my family, and when I am on a family vacay I try to unplug from work for at least 3/4 of the trip.
But then I stopped writing and deleted all of it because it sounded boring and explanatory and it didn't capture the true essence of what I'm feeling right now.
What am I feeling?
Total, pure, happiness and gratitude for where I am, where I've been, who I'm surrounded with and the fact that after years of being such a tightly wound person, I can actually unwind & bliss out on vacation and know that my business will still run just fine. It will still be there tomorrow, and more importantly it will be there when I get  back and have my full energy to pour into it.
I'm going to give you the fulllll run down of my trip, what we did, the books I read, the yummy foods that I ate (including the acai bowl spot I FELL IN LOVE WITH and forced my mother to approach Helen Hunt at), but at the moment I am still here and soaking it all in. And when I have island brain like this, my posts are fewer and further between because I'm on the beach dreaming up novels I want to write, dipping into the ocean with my niece babies and the rest of my fam, and going on long beach walks!
But for now here's a little breakdown:
A) I got a GoPro right before this trip. and I am OBSESSED WITH IT. I have been taking so many pics and can't wait to share them with all of you!
B) We just moved from the Kaanapali side of the island to the Wailea side of the island, and I am all too stoked about it. The Wailea side is like home to my family, since we've grown up coming here every summer since before I was born, and pulling into the familiar surroundings yesterday afternoon was one of the most calming, comforting feelings I've felt in a long time. If you have ever experienced a true home away from home feeling, you know what I'm talking about.
C) So much beach yoga. So much amazingness. I'm even getting little Liv to join in the fun with me!
D) Finished Breaking Vegan edits fully & for real this time since I've been here, and it feels amazing.
E) Surfing tomorrow! Yippee!
F) The best freaking ahi bruschetta I've ever had in my life went down on this trip.
G) Daily Burn did an amazing piece on Breaking Vegan and I am thrilled! Check it out!
H) Photos speak louder than words, so….
I would really, truly rather be a mermaid. <3
To follow along with the rest of my trip via Instagram, check out my photos & my #tbbtravels hashtag. Xox