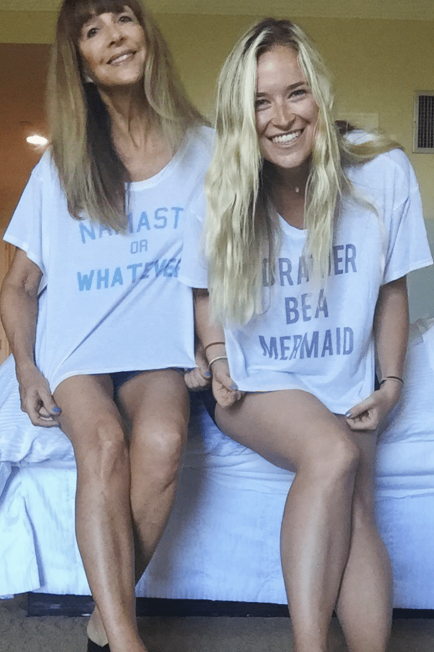 Island Style: What I Wore in Hawaii
Hello, hello! I am back in Los Angeles after my wildly fun (major combo of relaxation + cray cray) six weeks of travel. The last two weeks were spent unwinding, reflecting, surfing, writing, planning (think RETREAT! *cough cough*) & spending time with family on the beautiful island of Maui, Hawaii.
If you only know one thing about me, you should know this: I love the ocean. It makes me feel alive, and gives me a surge of passion & energy that inspires my creativity to be boundless. The ocean, both swimming/surfing/paddleboarding in it & gazing out at it, reminds me how small I truly am in the scheme of the world… how small we as humans all really are. In the same way it reminds me that because we are so damn small, there is no reason we shouldn't all be ridiculously, madly, insanely, hugely in love with the lives we live.
I am a city girl, but the island life suits me well. I am 99% sure that one day I will move to Maui for at least half a year, if not more. Maybe I will write my next book there. 🙂
I am playing major catch up over here in TBB Land this week. (Did you know that while I was away we sold the MOST TBV Apparel tees in a 2 week period than we ever have before?! Thanks to Elite Daily for the killer shout out). FIRST UP ON MY CATCH UP LIST: What I Wore in Hawaii bloggy blog post.
I have been organizing photos from the trip & gathering links upon links so I can share all of my #islandlife outfits with you. Whether you are traveling this summer or just chillin' by your pool, I think you'll find a lot of these outfits to die for. They are all at the top of my summery list.
What I Wore in Maui… #IslandStyle
ViX dress: This ViX maxi is an absolute favorite of mine. I love throwing it on after a beach day and dressing it up with some wedges & delicate jewelry. I also love dressing it down with beach waves, my Wildfox wayfarer sunglasses & a good, icy cocktail in hand. Ridiculously comfy & oh so beachy chic.
Dress (On sale!) || Similar, diff brand || Same print, bikini || Same print, coverup || Wildfox Wayfarer Sunglasses
Nike Swimsuit: This sporty suit has been my go-to ever since I bought it two summers ago (gasp!). But don't worry, they have lots of new, cute styles that are very similar & just as colorful. (Links below.) I love the way it fits because it's snug & supportive, so it's perfect for swimming, paddle boarding, surfing & my endless beach walks. One note: they run small, so you might want to size up!
Similar colors, diff brand || Similar suit, same brand (So sporty I love it) || Similar suit, same brand
Target Swimsuit: I adore this Target suit. Not only is it super affordable but it fits great, is always comfortable & I always get a ton of compliments when I wear it. It makes me feel good about myself… and that's the point of clothes/swimwear in the first place, right? Again an appearance by my Wildfox sunnies.
(Exact style sold out) || Same print, diff style || Same brand, diff style (I need it) || Same bottoms (Comfiest I own) || Sunglasses
Crop top, Maxi Skirt, Kimono get up: This is my favorite outfit that I wore on the trip. It combines my hippie, boho style with the the elegance and class of a simple sheer maxi & fitted lace crop top. The long, beachy hair and haiku booties top off this look & make it the perfect dinner (or date!) ensemble. Also special about this outfit is the paisley duster kimono made by the fab Anna Slevin Collection. (Totally unrelated to me wearing this kimono, I met one of Anna's best friends on my recent Costa Rica trip & we became super close– how's that for a small world?)
Bustier crop top (Exact style sold out) || Very similar top || Similar, inexpensive  top || Similar, scalloped lace top (Need) || Sheer maxi skirt (Exact style sold out) || Very similar || Similar || Similar (gorgeous) ||Dolce Vita booties
Free People maxi: Bought this dress right before my trip & I am so glad I did, because it's the perfect throw-on maxi for dinner, drinks, lunchtime, post-beach, anything! You can dress it up or dress it down. I love the fun color and print, and my mom has it in the more subtle black & white. Both fab. Plus, I love how high the neckline is… makes it fun & different for a change!
Dress || Similar, darker (Obsessed) || Free People Racerback Bralette || Sunglasses
Here's the 'fit in action with my beautiful fam in our yearly photo spot at Mama's Fish House. 🙂
Jen's Pirate Booty: Okay, it's no joke that I LOVE, LOVE my Jen's Pirate Booty tunics. I am wearing one on the cover of my book (how's that for special?!?!?), and I love wearing them as coverups or over little underdresses/camis/neon bralettes etc. for going out.
Janis Tunic (On Bella) || Wildflower Tunic || Topshop Strappy Sandals (On Bella)
DNKY Swimsuit: I don't wear one pieces very often, but when I do they usually have cutouts, fit like a glove (I have no choice, my torso is extremely long) & are so freaking comfortable I could do cartwheels for days. Plus, they are supportive enough to run it! Love, and love sticking with a timeless brand like DKNY.
ViX Caftan Coverup: This photo is from Costa Rica, but it counts because I wore this coverup on the daily in Hawaii, too.
L Space Cover Up: Love the cold shoulder, love the breathability, love the flowy bell sleeves, love the color.
TBV Apparel: Because I WOULD rather be a mermaid… Wouldn't you?!
Last but not least, if you want to shop these looks, you can Shop the Post below!!! I was there for so many days I only picked all of my fav / most island relevant outfits to share with you… but if you want to see more, just holler and I will do a second #whatiwore in Hawaii post!

How is everyone else's week going?! What else do you want to see from my Hawaii trip?! Food, surfing, local spots, shopping, musings/reflections?! I am happy to share it all… I've missed ya! PS I am regulating my posting schedule AND my YouTube video uploading schedule, and I am stoked to be back on the regularity thang. LMK what you want to see!!! Love you all!