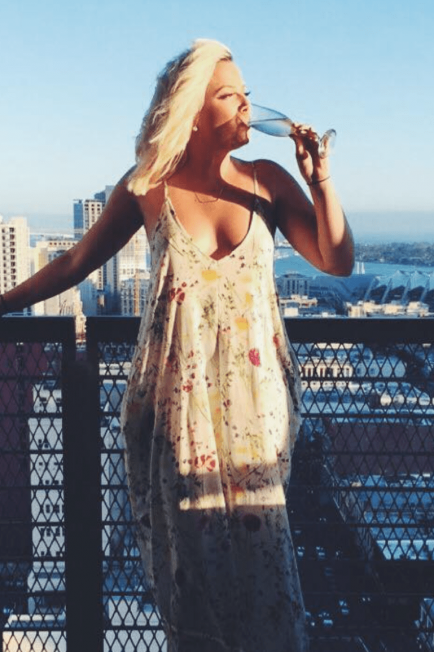 Mini-Vaycay to San Diego: Treat Yourself w/ some Good Vibes & Self-CARE!
Soooo you might have noticed from my Instagram that I took a little mini vaycay to San Diego last weekend & had the time of my life. First of all, living in LA, it's almost ridiculous how few times I've been to San Diego. One of my best friends from college is from there, one of my bloggy BFF's Annie lives there & so does my blog manager / good friend Ali, not to mention a handful of other really amazing people that I know.
Long story short: I will be taking a lot more trips to San Diego from now on. It is SO easy to get there from where I live. Once I picked up Danika in OC, my travel companion / photographer all around right-hand-woman, we got there in like… less than an hour. Easy peasy. And it's one of those extremely cool cities that fascinates me because parts of it can be so urban, yet it's literally ON the beach. My two favorite environments mixed into one.
D & I were lucky enough to stay at the Hotel Palomar in Downtown SD. To say we were blown away with our second-to-the-top-floor corner room would be a vastttt understatement. Our views were so beautiful, we screamed upon walking into the room. Screamed. Yeah, we are dorky and excitable & we don't even tryyyy to hide it. I think my excitement also had something to do with the facts that:
A) I have only been to San Diego twice-ish and have never gotten to take in the beauty of Downtown SD from above like that… and you know how I love city life.
B) It's been a rather stressful few weeks of apartment searching & personal life happenings, and I really, really needed a getaway with a good, down to earth soul. It was so refreshing and relaxing.
There was chilled champagne waiting for us, and if you follow me on Snapchat (@jojoyounger), then you know I popped right into that baby on the balcony after a minor few minutes of struggle…
Our shower had a bathtub inside of it — and not in the way a bathtub and shower can often be combined, but actually a huge walk-in shower with a huge bathtub IN it. Here are some photos in case my explanation doesn't make a whole lot of sense…
After we settled in & toasted our champagne overlooking Downtown San Diego, we headed to True Food Kitchen to meet none other than the fab Annie Lawless for din din. Only I would choose to go to a restaurant in SD that I can also drive 5 miles to in Santa Monica… but I love the place and hadn't been there in a while, so it seemed like a great choice for three healthy gals like us.
We had a blast & shut the restaurant down… as we always do… too much fun to be had. Then it was back to our hotel for a night in our bigggg comfy bed (I am such a sucker for hotel beds + comfy bedding), and then a relaxing morning of workouts & downtime before our Jurlique facials.
I will spare you the story of waking up at dawn to meet Annie for a workout class that I ended up not making it to (car issues…), but I ended up working out in the hotel fitness center & LOVING having such an early start to my day. I got to explore the downtown area after that, check out one of the city's hottest cold brew places (god, what an oxymoron), and then popped back over to the hotel to snap photos with D before our spa appointments!
Wearing: Nasty Gal Pin Stripe Shirt Dress. (In love.)
We snapped the morning away in the gorgeous sunny room and then headed down for our facials. I have gotten a lot of facials/massages in a lot of hotel spas (because this is my number one favorite pastime in life… I truly get giddy over it), so I was eager to see how this one would compare.
After having experienced it, I can say, in my unbiased opinion, Jurlique blew me out of the water. Let's start with the fact that my skin has been a bit of a mess for the last several months… Don't ask me why, maybe it's stress, maybe it's working out & sweating too much in yoga/running without washing my face quickly enough, maybe it's hormones (I personally think it's all of the above), but my skin has not been so great lately.
It's been a week since the facial, and I have noticed drastic positive differences with my skin. Yesterday I woke up to a clear, un-irritated face for the first time in a very, very long time. (Too long.) I couldn't help but stare at myself in the Orange Theory mirrors during my workout class yesterday because I am so used to seeing a face full of irritated, red skin staring back at me. And all I saw was clear, clear, clear!!! Until I really got heated of course…
The spa itself was gorgeous and so peaceful. The seating area was open, tranquil and inviting… Three of my major stipulations for true relaxation. We got super comfy robes to put on and relaxed until our appointment times.
In the facial room itself, there was an awesome STEAM shower that was the perfect beginning to an unwinding massage. She used a ton of awesome Jurlique products on me throughout the facial and walked me through the process step-by-step. My personal favs were the balancing foaming cleanser (balance, baby!), the calendula redness rescue restorative treatment serum, and the rose moisture plus daily moisture balancing serum.
The extractions were painful, but that's because I really, really needed them. The whole experience was so relaxing I didn't wanna leave, and neither did Danika. Then we popped into Be Social PR to say hi to the team and we had GLOWING red faces and probably looked/seemed high, from the experience, but that's okay. 🙂
This is why I think spa days are necessary, every so often, for the modern, busy woman:
We have to TREAT ourselves, and sometimes in order to relax you need to put yourself into a totally different environment than we are used to, away from the noise of our everyday lives. One of the best ways to do that is to let go and allow someone else to take over… Namely, someone who helps people relax for a living!
You are worth it. You are worth spending an extra buck on yourself if you're going to come out feeling refreshed and relaxed. You are worth spending some time ALONE, in a tranquil & calm environment, one away from technology/cell phones/life. You are worth treating yourself… Doing something special and out of the ordinary, something that makes you feel like you are celebrating you. You are worth celebrating.
If you have skin problems, facials can be extremely beneficial. You get a one-on-one session with someone who is trained to take care of skin and make it look beautiful, so you might as well pick their brain and ask them what you can do to take care of your skin on a daily basis. Everyone's skin is so different– once they get to know yours throughout the facial, they can give you tailored advice and help you choose products that are right for YOU.
If you have back problems or soreness, massages are soooo beneficial (I know I'm deviating from the whole facial thing, but I am talking about spa days in general now too). I know so many people who avoid getting massages/facials because of the cost, and then try them for the first time in a while and remember how AMAZING they are. In my opinion, it's worth skipping a couple expensive meals out to get a massage once a month. Self care should be prioritized.
If you are easily stressed, a day at the spa… followed by a restorative yoga class (or vice versa) works WONDERS on the psyche. I am a notoriously stressed, tightly wound, anxious individual. Sometimes exercise cuts it, sometimes taking time off work and spending time with friends cuts it, and other times I need to switch it up and do something different and entirely relaxing — where I get pampered. It may sound excessive, but taking care of yourself should never be viewed as excessive. It's called prioritizing.
So, there you have it, our mini-vaycay in San Diego at the Jurlique Spa & Hotel Palomar. Sometimes exactly what you need is to get out of your comfort zone, go on a little roadtrip with someone who makes you happy, and do something totally relaxing and enjoyable. BOOM.
Thoughts on pampering ourselves / taking time out of our busy lives for self-care? I think it's so important and highly underrated. Also, who has tried Jurlique products?! They are GREAT for sensitive skin — trust me, I would know. My skin blows up in flames at the sight of potentially inflammatory products. Do tell!
All photos by Danika Miller, Iselin & Hale Photography. @iselinandhale