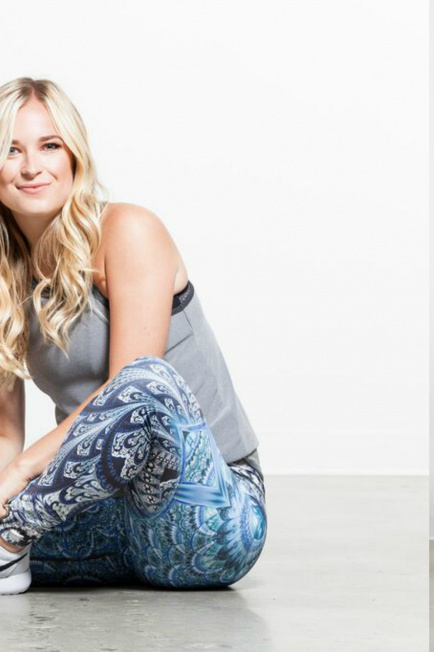 7 Secrets for Finding Balance in this Crazy Life…
( BTW, if you don't feel like reading my ramblings, pop right over to Carbon38 to check out my full spread & my "7 secrets" on their site! Such a killer collab. )
P.S. If nothing else, you must, must check out this Spiritual Gangster hoodie from the collab. Photos below, but I had to share it up front because woah. I saw it on the racks pre-shoot & ran to it.
Wearing: Rio Legging | Tencel Racerback Tank | Koral Activewear Divert Jacket | Dance Crop Sports Bra
It's no secret that "balance" is something I largely prioritize in my life. But, what a lot of people don't know is that I don't always consider myself an entirely "balanced" person. I actually struggle to find a middle ground with a lot of different things. I am a very extreme person, so every day I have to check in with myself and make sure I am practicing the art of balance & moderation.
Wearing: Teeki Eagle Feather Hotpant | Labyrinth Luna Explorer Bag (*Love) | Zoe Karssen Stripe V-Neck (SO COMFY.)
Need examples of my extremeness?
I am obsessed with Orange Theory Fitness (a rigorous high intensity interval training class), and I went through a phase where I went every single day of the week. It might not sound super intense to you, but it IS. Even the owners of the studio had their eyes popping out of their head when I said I'd been in every day for three weeks straight. Then I didn't do Orange Theory for nearly a month, mainly due to travel, but still. I am on ONE end or the other.
I am either doing yoga twice a day or once a week. I struggle to just do something a normal amount… whether it be fitness, eating healthy (we all know I went way overboard with that), writing, working, etc. I am ALL or nothing.
Wearing: Spiritual Gangster Hoodie (!!!! OMG. Perfection alert. THIS HOODIE.) | Nat + J Tatiana Tank | Alo Yoga Ascendant Legging
Soooo, because of that, I have had to teach myself a few tips & tricks to stay on top of the art of balance. It kind of reminds me of when I was in high school & was diagnosed with ADHD after years and years of struggling to concentrate in school. The doctors told my parents I got by for so long without being diagnosed because I had taught myself ways to compensate — by asking my friends what the teacher had instructed us to do, by scanning the room to see what people were doing when I didn't know what it is was that we were supposed to be doing, by distracting from the fact that I was distracted by making people laugh/pretending like I was just too immersed in my drawing/doodling to care.
It's kinda like that with balance, too. Because it's such a struggle for me to escape my extremes, I have had to learn some basic tactics.
Wearing: Michi Hydra Crop Legging | Throttle Tank | ALALA Neoprene Jacket | LeSportSac Large Weekender Bag
I've teamed up with Carbon38 to share my 7 Secrets to Finding Balance in this Crazy Life, & you can go here to read them and check out our full editorial on the site.
Sidenote: I had soooo much fun working with Carbon38 on this feature. Those girls know what they are doing when it comes to activewear, photography, styling & everything in between. I am a full-blown fangirl of what they are doing with their company. (Women-run business, yes yes yes.)
Wearing: The Upside Yoga Pant | Nux Exhale Tank | Nux Paloma Bra
Sooo let's just finish out the post with a bunch of pics & outfit deets! You in?
Wearing: Alo Yoga Coast Legging | Koral Activewear Slope Pullover Hoodie | Vitality Crop Top
Wearing: Koral Activewear Dart Vest | The Upside Yoga Pant (Left) | Rio Legging (Right) | Nux Exhale Tank (Left) | Tencel Racerback Tank (Right) | Nike Juvenate (Left) | Topshop Platform Sandal (Right)
SHOP THE POST…

& CHECK OUT THE FEATURE!
If you guys were in need of activewear / yoga clothes / cute, versatile & comfy clothing, I hope this post gave ya some guidance!!!! Who's in for another TBB x Carbon38 collab soon?! I know I am!